Radio Facts: Radio Facts: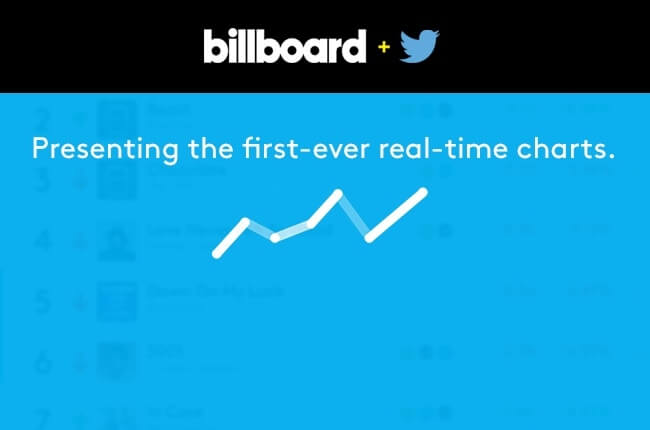 Every now and then a game changer comes along in the music industry and today Billboard and Twitter have collectively changed the game.
Billboard, the leading global destination for charts, news, trends and innovations in music, and Twitter, the global platform for public self-expression and conversation in real time, today officially launch Billboard Twitter Real-Time Charts. The new interactive charts — Billboard Twitter Trending 140, Billboard Twitter Emerging Artists, and the weekly Billboard Twitter Top Tracks tally — redefine how fans interact with, and influence, popular content by ranking the most popular songs being shared on Twitter in the U.S.
Pop sensation Austin Mahone joined Billboard and Twitter to launch the charts that will track the online chatter surrounding his special track "Shadow," off his much-anticipated debut EP "The Secret," which dropped at midnight. In celebration of the charts' launch, Mahone gave a special pop-up show today in New York City, performing songs off the new EP.
"It's so cool to be one of the first artists to see my songs move on the Billboard Twitter Real-Time Charts," said Mahone. "For me, it's always about my fans, and I love seeing what all my Mahomies are saying about the new EP – it's exciting that now there's a chart that tracks what the fans are saying about music in real-time."
The Billboard Twitter Trending 140, which is exclusively presented by McDonald's, summarizes the songs that are being talked about in real-time on Twitter, measured by acceleration during the past hour. This chart can also be filtered to present a view of the most shared tracks over the past 24 hours, with a weekly summary presented in the Billboard Twitter Top Tracks chart, on Billboard.com and in print weekly in Billboard.
The Billboard Twitter Emerging Artists chart, exclusively presented by Hollister, measures, in real-time, the songs by artists that are on the rise on Twitter –- those artists without a Billboard top 50-peaking song on the Hot 100 and fewer than 50,000 Twitter followers — based on the current total volume of track sharing over the past 24 hours. Billboard Twitter Emerging Artists is also presented as a seven-day/weekly round up on Billboard.com and in print in Billboard.
"Inclusion on the Billboard charts has always marked the highest standard of success for musicians," said John Amato, Co-President of the Entertainment Group of Guggenheim Media. "The Billboard Twitter Real-Time Charts redefine this success by reporting how fans, other artists, and industry leaders are talking about and responding in the moment to new tracks and emerging acts. The rapid tweets around Austin's debut release today, and Billboard's up-to-the-minute reporting of this information, exemplify how the new charts work."
The Billboard Twitter Real-Time Charts update on a "real-time" minute-by-minute basis. Billboard's Twitter account, @Billboard, provides chart updates and music news to its 1.7+ million followers multiple times per week. Twitter's own account, @TwitterMusic and Twitter's media blog will also provide chart updates.
In tandem with the Billboard Twitter Real-Time Charts launch, Billboard will premiere a weekly video show dedicated to the Billboard Twitter Trending 140 chart, presented by McDonald's and distributed via Twitter's Amplify program. Hosted by Billboard editor-at-large Joe Levy, "Real-Time Rewind" looks at important moments in music that week, and artists and songs that sparked movement on the real-time chart. The show will be available next week on Billboard.com, Billboard's YouTube channel, and directly on Twitter.
"The Billboard Twitter Real-Time Charts is a new standard for tracking and surfacing the conversation around music as it happens," said Ali Rowghani, Twitter Chief Operating Officer. "Now when artists share songs and engage with their audience on Twitter, the buzz they create will get surfaced to fans and industry decision makers in real time."
Music fans avidly use Twitter to discuss what's current in music: the Billboard Twitter Real-Time Charts will lead and inform these conversations, and allow fans to influence the rank of their favorite artists and discover new bands through conversations and sharing activity on Twitter. Joining the long-standing, iconic Billboard charts, such as the Hot 100, the Billboard Twitter Real-Time Charts will set the standard in tracking music conversation as it happens. The Billboard Real-Time Twitter Charts will reflect discussions of top hits, as well as forecasting emerging hits and artists based upon Twitter conversations and data before they break-through to greater mass appeal.