Monday through Friday 6 am to 10 am EST
Effective March 8, 2021, Radio One Baltimore is pleased to announce The A.M Clique with Porkchop and AngelBaby. The show will be heard on WERQ-FM Baltimore, MD, weekdays from 6 am to 10 am EST.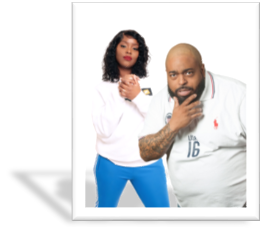 The A.M Clique with Porkchop and AngelBaby is a local, high-energy morning show that reflects the hip-hop lifestyle and culture. The A.M Clique with Porkchop and AngelBaby bring their listeners a show that is entertaining yet informative, complete with compelling interviews and some of the hottest entertainers and high-profile community activists bringing awareness to issues affecting the African American community.
Porkchop has been a staple in the Baltimore community for years. From dancing to rapping to even becoming a DJ, Porkchop's talents have taken him straight to the top of his game. Not to mention he represents Coppin State University and is also a member of Iota Phi Theta Fraternity Inc. Hard work, humility and perseverance are just 3 of Porkchop's attributes. The late great Khia "K-Swift" Edgerton gave him his start on 92Q as the producer of "Off The Hook Radio" with Reggie Reg. He moved up in the ranks after that, becoming the co-host of "Rap Attack." His sharp, funny wit got him a spot on "The Big Phat Morning Show." Shortly after, Porkchop joined Squirrel Wyde, making the 2-man wrecking crew perfectly named "Animal House." Being on the radio for almost 18 years, there's no telling where Pork can go… SKY'S THE LIMIT!
Dj AngelBaby, launched her career in Washington DC. She served as a host for The BET Music Matters Concert Series, guest host and correspondent for BET Networks, a Dj for the Coors Light Sunday Night Football Series, Dj for Nike's Annual Women's Half Marathon, and numerous events across the country. AngelBaby also serves as the official DJ for national recording artist Kash Doll. Dj AngelBaby has been featured in Hip-Hop publications like The Fader, Source Magazine, and Hip-Hop Weekly alongside her career achievements. Moreover, Dj AngelBaby is the founder of Urban Artemis, a non-profit organization geared towards uplifting and educating the youth with a special interest in mentoring young girls. Dj AngelBaby is a Violator All-Star Dj, Howard University graduate, and a proud Delta Sigma Theta Sorority member.
Together, this dynamic duo is excited and ready to provide relevant content and entertainment within their show, along with establishing a strong connection to the audience.
Howard Mazer, General Manager, stated, "Porkchop and DJ AngelBaby are two very strong radio talents who have an authentic connection to their audience, and I am confident that the show will be a huge draw for the local listening audience."