Morgan Becomes One of Only Two Maryland-based Universities with an Internationally Accredited Journalism School, Following Approval From ACEJMC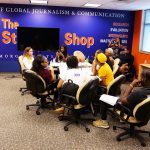 The Accrediting Council on Education in Journalism and Mass Communications (ACEJMC) voted unanimously to grant Morgan State University's School of Global Journalism and Communication (SGJC) full accreditation, a first for the school since its launch in 2013. The vote makes Morgan only the second university in the state of Maryland to have an accredited school of journalism, a distinction that means compliance with nine universally recognized standards. There are now 118 schools accredited by ACEJMC among the estimated 500 colleges and universities worldwide that offer academic programs in journalism and mass communications. Morgan's accreditation is valid for a term of six years.
"When I arrived at Morgan 10 years ago and we launched the University's first-ever School of Global Journalism and Communication, we did so with the vision of creating a globally recognized learning laboratory that would produce top graduates entering the journalism and communications fields. Receiving this highly coveted accreditation is a further realization of that vision," said David K. Wilson, president of Morgan State University. "I appointed DeWayne Wickham as the inaugural dean of the school because I knew, in him, we had the right individual with the right experience and the right foresight to bring this vision to fruition. I am proud of him, his dedicated faculty and staff and our students for this great accomplishment."
"An ACEJMC accreditation is a gold standard recognition for journalism and mass communication programs at higher education institutions all over the world," said SGJC Dean DeWayne Wickham. "It's also an acknowledgement of the hard work that SGJC faculty and staff have put into building our seven-year-old school from the ground up."
SGJC's accreditation has been more than a year in the making. In February of this year, an ACEJMC team visited the campus over a four-day period for a review of the school and to conduct in-depth interviews, including with faculty, students and members of the school's board of visitors. In its concluding report, the four-member site visit team found SGJC to be in compliance with all nine accrediting standards and offered the following assessment:
"Members of the team have done many accreditation reviews in the U.S. and abroad, and the creation and improvement of this school has to be among a handful of the best achievements in the last 20 years."
With ACEJMC's vote on Saturday, April 25, Morgan now joins accredited journalism/mass communications programs in the U.S. and other nations, including Chile, Dubai, Mexico, New Zealand, and Qatar. The University of Maryland, College Park's Philip Merrill College of Journalism is the only other ACEJMC-accredited program in Maryland. Morgan is only the fifth Historically Black College or University (HBCU) school of journalism and mass communications to receive accreditation.
SGJC offers degree programs in Multimedia Journalism, Multiplatform Production and Strategic Communication. The School has 23 faculty members and currently serves 414 students. Since its inception, SGJC has awarded a total of 486 degrees. Morgan now ranks 13th nationwide and 1st in Maryland in the number of bachelor's degrees awarded to African Americans in journalism and communications-related programs.
The Accrediting Council on Education in Journalism and Mass Communications is dedicated to excellence and high standards in professional education in journalism and mass communications. The Council endorses professional education that recognizes and incorporates technological advances, changing professional and economic practice, and public interests and demands. The Council, which embraces the value of a broad, multidisciplinary curriculum that nurtures critical thinking, analytic reasoning and problem-solving skills, believes that students can best prepare for careers in journalism and mass communications by studying in accredited professional programs at colleges and universities.
About the School of Global Journalism and Communication
Morgan State University's School of Global Journalism and Communication, created in July 2013, is led by founding Dean DeWayne Wickham, a former columnist for USA TODAY and a founding member and former president of the National Association of Black Journalists. The school is dedicated to giving voice to people who struggle to contribute to the public discourse that shapes the nation and the world through innovative teaching, cutting-edge research and exemplary service to Maryland, the nation and the world. The school seeks to instill students with the skills, knowledge and training necessary to become effective communicators and to add to the diversity of thought in the media.
About Morgan
Morgan State University, founded in 1867, is a Carnegie-classified doctoral research institution offering more than 126 academic programs leading to degrees from the baccalaureate to the doctorate. As Maryland's Preeminent Public Urban Research University, Morgan serves a multiethnic and multiracial student body and seeks to ensure that the doors of higher education are opened as wide as possible to as many as possible. For more information about Morgan State University, visit www.morgan.edu.
MEDIA CONTACT(S):
Larry Jones or Dell Jackson, University PR
(443) 885-3022