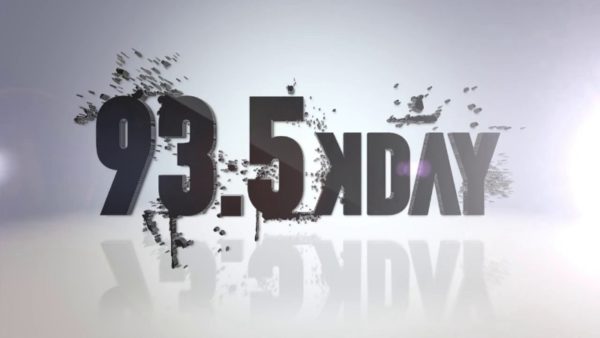 SoCal Legendary Hip Hop Radio Station KDAY 93.5FM (PRNewsFoto/Meruelo Media)KDAY 93.5 FM, Southern California's leading choice for original hip-hop and R&B, announced historic performance in the highly contested July 2016 summer book. KDAY achieved year-to-year growth in the key areas of AQH, cume, TSL and other vital indicators. "We are extremely proud of KDAY's results these last six months and in particular July," exclaimed Otto Padron, President of Meruelo Media. "Our continued commitment to the format and increased investments in research, programming, marketing and talent are delivering a winning performance in the highly competitive market of Los Angeles!"
LOS ANGELES METRO RADIO JULY 2016 PPM
KDAY FM L.A. PPM HIGHLIGHTS:
Total weekly listeners (Cume) reached 1,188,600 – highest in 2 years (since May'14)
KDAY's uptrend began at the beginning of the year.  Since then the station has posted 6 consecutive PPM surveys with more than 1 million weekly cume!
26% audience increases!  KDAY added 244,600 additional listeners since

Jan. 2016

10% Cume climb compared with last month cume
15 minute TSL (Time Spent Listening) improvement per average listener vs.

June 2016

15% total week and 13% M-F prime AQH (Avg Quarter Hour) growth compared with the previous month (6a-7p)
At 15,200 KDAY's M-F prime AQH is the highest since

May 2014

All major dayparts posted double digit percentage increases with AQH month to month – particularly in prime demographics!
KDAY'S Monday – Sunday, 6am – 12 midnight
Adults 18-49 AQH +15% month to month and 28% YTY (July'15 – July'16)
Adults 25-49 AQH increased 16% compared with last month and 33% YTY
Adults 25-54 AQH grew 16% month to month and 31% YTY
Composition
#1 Adults 18-49 cume and AQH composition total week in current 3 month average May/June/July'16
73% of KDAY's cume and 78% of AQH listeners are in the 18-49 demo
#1 Adults 25-49 cume composition total week at 57% (current 3 mo. avg.)
Diverse Audience
Significant growth with Blacks and Hispanics
Hispanics comprise more than 60% of cume and 50% of AQH total week;
1 in 4 KDAY listeners is Black
Millennials
More than 500,000 Millennials tune to KDAY weekly – approximately 44% of total audience in July'16
Month to month KDAY increased Millennials AQH 14% and cume 7% total week
Hispanic Millennials:
Two-thirds of KDAY Millennials are Hispanic.  In July, KDAY scored its highest cume with Hispanic Millennials in 9 months!
74% of KDAY Hispanic Millennials speak both Spanish and English
Bilingual Hispanic Millennials are now at their highest level of the year on KDAY!