Radio Facts: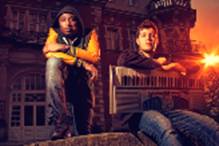 HIP HOP DUO CHIDDY BANG PREMIERES   "MIND YOUR MANNERS" MUSIC VIDEO ON VEVO
CHIDDY BANG WILL JOIN WIZ KHALIFA & MAC MILLER ON
"UNDER THE INFLUENCE OF MUSIC TOUR"
CRITICALLY ACCLAIMED DEBUT ALBUM BREAKFAST AVAILABLE NOW; OVER ONE MILLION SONGS SOLD TO DATE
"They've made the most exciting debut of 2012 so far. Breakfast is such an original album, it's coined a new term for swag: Call it swelly." "" Entertainment Weekly
"[Breakfast] brims with infectious beats and witty rhymes" "" USA Today
(NEW YORK, NY "" May 1st, 2012) "" Following the lauded single "Ray Charles" and successful release of their debut album BREAKFAST, which received rave reviews from national media such as People Magazine, Elle and Entertainment Weekly amongst others, Chiddy Bang has released the music video for "Mind Your Manners," the second single off their album, exclusively on VEVO. The single, which impacted Rhythm radio on April 30th and will hit Top 40 on May 14th, is an upbeat, carefree track that samples the now buzzed about Swedish group Icona Pop!.
"Mind Your Manners"
The video, directed by Tim Nackashi, whose credits include Maroon 5, OK Go, Death Cab For Cutie and Theophilus London, features Chiddy Bang in a warehouse with various characters from all walks of life enjoying the jovial track that expresses individuality. In just three short days, the "Mind Your Manners" video has received over half a million views on VEVO. Combined with YouTube the song has well over 5 million views. The duo had previously created a viral video for "Mind Your Manners" with famed professional skater, Billy Marks, which has since garnered over 650,000 views.
Chiddy Bang, comprised of rapper Chidera "Chiddy" Anamege and producer Noah "Xaphoon Jones" Beresin, released their lauded full-length debut album BREAKFAST (Virgin Records) this past February. With television performances on NBC's The Tonight Show With Jay Leno, Late Night With Jimmy Fallon, TBS's Conan and strong reviews in print, the highly anticipated album debuted at #8 on the Billboard Top 200 and #5 on the Billboard Current Albums. Chiddy Bang also claimed the top spot on the iTunes Hip Hop Chart, peaking at #1, as well as the iTunes Top Album Chart where it reached the #2 position. Building off the strength of their extensive catalogue and strong touring, as well as digital presence, this past week Chiddy Bang has officially sold over 1 million singles in their short career
Fresh off touring with the multitalented DJ/Producer, Diplo, Chiddy Bang will join Grammy nominee Wiz Khalifa and Mac Miller on the "Under The Influence Of Music Tour" this summer. The much hyped 9-city tour will kick off in Cincinnati, OH on July 26th and conclude on August 5th in Detroit, MI.   Chiddy Bang, known for prodigal touring, having spent the majority of the 2010 & 2011 on the road touring globally and performing at major festivals including Glastonbury, Bonnaroo, Bamboozle, Lollapalooza and Austin City Limits and will also perform at this year's Firefly Music Festival in Dover, DE alongside acts such as The Black Keys, The Killers and Lupe Fiasco.
UPCOMING SHOWS (Under The Influence tour In BOLD)
5/10/12
San Francisco, CA
KYLD Show
5/12/12
Los Angeles, CA
KIIS Wango Tango
5/18/12
La Jolla, CA
UC San Diego, Home Depot Ctr
5/22/12
Philadelphia, PA
WIOQ Show Wells Fargo Ctr
5/27/12
Allentown, PA
WAEB's Mayfair Event
5/29/12
George, WA
Sasquatch Festival
6/2/12
Buffalo, NY
WKSE Show
6/3/12
Poughkeepsie, NY
WPXY Show
6/6/12
Washington, DC
WPGC Show
6/8/12
Wilkes Barre, PA
WKRZ Show
6/9/12
Norfolk, PA
WNVZ Show
6/12/12
Rochester, NY
WPXY Show
7/20/12
Dover, DE
Firefly Music Festival
7/26/12
Cincinnati, OH
Riverbend Music Center
7/27/12
Chicago, IL
First Midwest Bank Amphitheatre
7/28/12
Indianapolis, IN
Klipsch Music Center
7/29/12
Toronto, ON
Molson Canadian Amphitheatre
8/1/12
Boston, MA
Comcast Center
8/2/12
New York, NY
Nikon at Jones Beach Theatre
8/3/12
Philadelphia, PA
Susquehanna Bank Center
8/4/12
Pittsburgh, PA
First Niagara Pavilion
8/5/12
Detroit, MI
DTE Energy Music Theatre