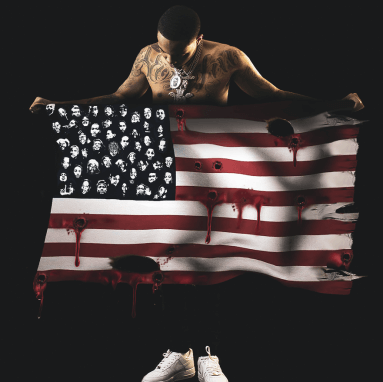 G HERBO GOES PLATINUM WITH "PTSD" FEATURING JUICE WRLD, LIL UZI VERT & CHANCE THE RAPPER
Reaching yet another major milestone on his path to superstardom, G Herbo's thought-provoking and timely anthem "PTSD" [feat. Juice WRLD, Lil Uzi Vert, & Chance the Rapper] just received a platinum certification from the RIAA. This marks the critically acclaimed Chicago luminary's very first platinum plaque. It also speaks to the sustained positive impact of the track. Its bare honesty and bold message continue to uplift with over 109 million Spotify streams and 24 million YouTube views on the static audio. "PTSD" quite literally defined hip-hop in 2020.
As a well-deserved victory lap, G Herbo and Chance the Rapper just linked up to perform the song on the Recording Academy's "PRESS PLAY" broadcast across GRAMMY.com. With a portrait of the late legend Juice WRLD watching over them, the candlelit full band rendition captures the essence of the track with emphasis on the words and emotion. Within just a day, it clocked over 44K YouTube views This continues ongoing coverage from GRAMMY.com who spoke to Herbo earlier this year at length about mental health and more.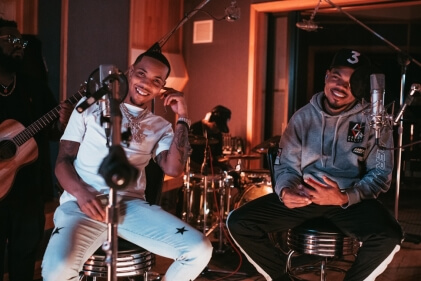 "PTSD" serves as the title track of his breakout 2020 album of the same name. It originally stormed the Billboard Top 200 with a #7 debut. Meanwhile, the recently released PTSD Deluxe served as the ultimate edition of the album. "Like This" [feat. Lil Uzi Vert] just surpassed 3.7 million Spotify streams, while "Ridin Wit It" leapt past 1.1 million Spotify streams.
Maintaining a commitment to mental health, G Herbo lets his action speak just as loudly as his raps. He aligned with preeminent artist-first music streaming platform Audiomack to introduce Swervin' Through Stress—a multi-tiered program, committed to connecting Black young adults with therapeutic resources that help inform and improve their mental health in pursuit of a better quality of life.
Stay tuned for more from G Herbo as he continues to lift up the culture and the game.
As a whole, PTSD tours the darkest corners of a psyche damaged by the everlasting cycle of inner city violence as witnessed firsthand by Herbo. On the gruff and gritty "Intro," he spits with purpose, passion, and power. From the jump, he announces, "I do it for the have-s and have-nots," as nineties production glistens. The intensity only ramps up from there on "Glass In The Face" [feat. A Boogie Wit Da Hoodie]. A centerpiece of the record, "PTSD" [feat. the Juice WRLD, Chance the Rapper, Lil Uzi Vert] unfolds as an emotionally charged confession, bringing together three of Chicago's most influential voices—the late Juice WRLD, Chance, and Herbo—and elusive Philadelphia multiplatinum star Lil Uzi Vert. It paints a picture of urban decay and highlights a pervasive theme with the declaration, "Don't stand too close to me, I got PTSD." Meanwhile, soul samples bleed into a crossfire between Herbo and 21 Savage on "By Any Means." Everything culminates on "Intuition" [feat. 2PRETTY & Sonta]. It offers a peek at the light at the end of the tunnel with heavenly vocals and a skittering beat and one final lyrical catharsis.
Quietly putting up over 1 billion streams and attracting widespread critical acclaim, G Herbo emerged as one of the Windy City's most important presences and a voice for hip-hop at large. He hailed from the notorious Chicago neighborhood of "Terror Town" and went on to drop one explosive project after another beginning with Ballin Like I'm Kobe in 2016. In the aftermath, he lifted himself up to the top of the charts with Humble Beast, which vaulted into the Top 25 of the Billboard Top 200 in 2017. He ascended to unparalleled critical peaks on 2018's Swervo with Southside. It clinched #15 on the Top 200 and bowed in the Top 10 on the Top Rap Albums Chart and Top 10 on the Top R&B Hip-Hop Albums Chart. Receiving praise from HotNewHipHop, HipHopDX, DJ Booth, The Four Oh Five, and more, Pitchfork proclaimed Swervo among "The Best Rap Albums of 2018" and asserted, "Through it all, G Herbo never abandons the puns and hater-dismantling bars that have helped him become one of the Windy City's very best." Boasting collaborations with Gunna "Trained To Kill (Big Body Whips)" and the late legend Juice WRLD "Never Scared," 2019's Still Swervin maintained his momentum followed by Sessions at the end of the year.