Radio Facts: Radio Facts: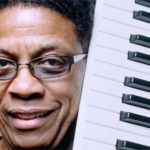 Deluxe box set features all 31 albums (across 34 CDs) released by columbia records; Includes first U.S. release of 8 albums which originally appeared on CBS/Sony (Japan)
Herbie Hancock: The Complete Columbia Album Collection 1972-1988 brings together, for the first time, the master musician's complete columbia records and CBS/Sony Japan catalog. The deluxe 34-CD box set arrives in stores November 12, 2013, through Columbia/Legacy, a division of Sony Music Entertainment. Pre-order now at https://smarturl.it/hancock_amzn.
Hancock's catalog on Columbia and CBS/Sony Japan is a microcosm of musical development in the 1970s and '80s, and an uncannily accurate forecast of many trends that would follow. Those developments played out over the course of 31 albums. Eight have never been issued in the U.S. (or outside of Japan), three others have never been issued on CD in the U.S. (Sunlight, Magic Windows, Lite Me Up), and some that were issued on CD have been out of print for years. Most importantly, all of them have never been gathered in one box set collection before.
The stunning box set structure is a chest with removable lid, housing 28 single albums and three double-CD albums (for a total of 34 discs). Each album will be packaged in a mini-LP CD cardboard replica of the original jacket, with original artwork including gatefold jackets where applicable.
Accompanying the discs will be a 200-page book, published exclu­sively for this collection. In addition to dozens of rare photographs, the book will contain several sections, starting with a comprehensive 5,500-word historical essay written by Bob Belden. Belden has won three Grammy Awards for his work with Columbia/Legacy on The Miles Davis Series, including album notes (twice) and compilation producer. An accomplished jazz composer, arranger, bandleader, and recording artist in his own right, Belden has served as CD reissue producer at Legacy for the Hancock albums Head Hunters, Sextant, Thrust, The Piano, V.S.O.P.: Live Under the Sky, Future Shock, Sound-System, and Perfect Machine.
The book will also contain individual commentaries on all 31 albums by Hancock discographer/historian Max Schlueter. The third major element of the book is one of the most detailed discographies ever included in a Legacy box set, assembled by box producer Richard Seidel. Included are full musician lineups and instrumentation, recording data (dates, producers, engineers, mixers, studios, etc.), exact original release dates in both the U.S. and Japan, cross references for additional appearances of various songs elsewhere in the box, Billboard chart information, R.I.A.A. certifications, and a short-form discography of Hancock's solo recording career before and after his Columbia years.
Also included in the book will be sidebars on Hancock as pianist, composer and synthesist, written by Belden. Schlueter has written a sidebar on noted record producer David Rubinson, who produced all but six of the albums in the box set, and is also known for his productions of Santana, Taj Mahal, the Pointer Sisters and the Chambers Brothers. A special sidebar is devoted to Hancock's late sister Jean Hancock, who contributed lyrics to many of his songs. And another unique feature of the book is a glossary of the more than 60 different electronic instruments played by Hancock and the other musicians over the course of the recordings.