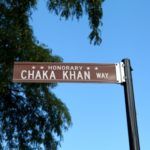 The City of Chicago honored ten-time GRAMMY® Award winner chaka Khan with a Street Naming of "chaka Khan Way" on Saturday, July 27, and declared Sunday, July 28, 2013, "chaka Khan Day" in Chicago, her hometown. The weekend-long celebration also included a free outdoor concert in Millennium Park.
The music icon, who was honored for her stellar 40-year career in music and entertainment, participated in the ceremonial unveiling of chaka Khan Way on S. Blackstone Avenue, between 50th and 51st Streets, with her family, including her mother Sandra Coleman, her sister, Tammy McCrary, and a host of other relatives in the Chicago area.
Several city officials, business executives and community leaders were among the participants, including Fourth Ward Alderman William Burns, Reverend Jesse Jackson, Father Pfleger of St. Sabina Catholic School, State Senator Kwame Raoul, State Representatives Christian Mitchell and Barbara Flynn Currie, and Carl McKenzie, a cultural event producer and the president of Artworks Chicago.
McKenzie organized the weekend-long celebration, which was co-sponsored by MINI USA. chaka Khan Way is located on the west side of Kenwood Academy, where Chaka attended high school during its early days of operation. The students of Kenwood Academy also had the opportunity to participate in the event.
"This is the biggest honor I have ever received in my life," says Chaka. "The people of Chicago have always loved me and have supported me throughout my career—through thick and thin. To have a street named after you in the third largest city in the country is a big deal.
To think that people will say 'make a right or left turn on chaka Khan Way' is mind blowing. Long after I'm gone, and my children and grandchildren are gone, the street named chaka Khan Way will still be here to carry on my legacy in the city where it all started for me. I never would have imagined that I would have been granted this honor.
I thank all the city officials responsible for making this happening—and I especially thank Carl McKenzie, who vigorously campaigned and almost single-handedly made this event a reality. My family and I thank God for this blessing. "Nearly 20,000 people attended the free outdoor concert at Chicago's Millennium Park, where Chaka performed all her classic hits, including "I Feel For You," "I'm a Woman," "Whatcha Gonna Do For Me," "You've Got The Love," "Everlasting Love," "Packed My Bags," "Papillon," "Tell Me Something Good," a medley of "Stay," "Sweet Thing," and "My Funny Valentine," "Through The Fire," "Do You Love What You Feel," "I'm Every Woman," and an encore of "Ain't Nobody.
"The weekend-long activities also included a visit to Operation Push with Reverend Jesse Jackson and a private reception at the DuSable Museum. A devoted activist and philanthropist, Chaka met with Reverend Jackson to discuss the issues facing and affecting the black community of Chicago. Operation Push and Reverend Jackson also hosted Chaka Khan Foundation's latest campaign initiative with the Chicago chapter of Dress for Success.