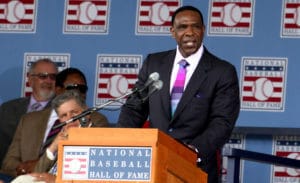 By Brian Howard
Former Florida A&M University (FAMU) baseball player, Hall of Famer Andre Dawson, was honored with the Major League Baseball's Players Association inaugural Curt Flood Award.
Flood, a former three-time All-Star and two-time World Series champion outfielder who died  in 1997, engaged in judicial battles to end baseball's reserve system. Flood's efforts laid the groundwork for player free agency.
The award is given to a former player who "demonstrated a selfless, longtime devotion to the players' association and advancement of players' rights."
"I look at this honor, and it's an accolade that I put up there with anything that I've ever achieved in this game because of what it represents and the player that it is named after," Dawson said. "Thank you very much to each and all of the players for nominating me, Andre Dawson, for the very first Curt Flood Award."
Don Baylor, Mark Belanger and Jim Bunning were the other finalists for the Curt Flood Award, which was voted on by a panel of distinguished former and current Players Association executives.
Dawson, who was inducted into the Major League Baseball Hall of Fame in 2010, was also known as "The Hawk" and twice received All-Southern Intercollegiate Athletic Conference Honors and led the Rattlers in hits, doubles, home runs and RBIs in 1974 and 1975, The slugging outfielder led his teams with a 64-19 record in his three years at FAMU, including historic wins over nationally-ranked Miami three times.
The Miami native finished third in NCAA Division II with 0.41 doubles per game and 10th in slugging in his sophomore season and hit .352 during his junior season (1975).
His professional career spanned 21 years with the Montreal Expos, Chicago Cubs, Boston Red Sox and Florida Marlins. He was known as a player who led through quiet example and effort on the field. Dawson battled a series of knee injuries during his career and his legacy includes a memorable decision prior to the 1987 season when he handed the Cubs a blank contract and asked Chicago to fill out a salary that it deemed appropriate for his talents.
The eight-time all-star was drafted by the Montreal Expos in 1975 and played only 186 minor league games before joining the major league team. In June of 1977, Dawson made his major league debut as the Expos starting center fielder and was named the National League Rookie of the Year. With Montreal, Dawson won six consecutive Gold Glove Awards.
Dawson won his eighth Gold Glove in 1988 and added to his four Silver Slugger awards. He played for the Boston Red Sox from 1993-94 and finished his career with the Florida Marlins from 195-96. He posted a .279 career batting average, with 438 home runs, 1,591 RBI and 314 stolen bases.
The post FAMU Alumnus Andre Dawson Earns Inaugural Curt Flood Award appeared first on FAMU Forward.