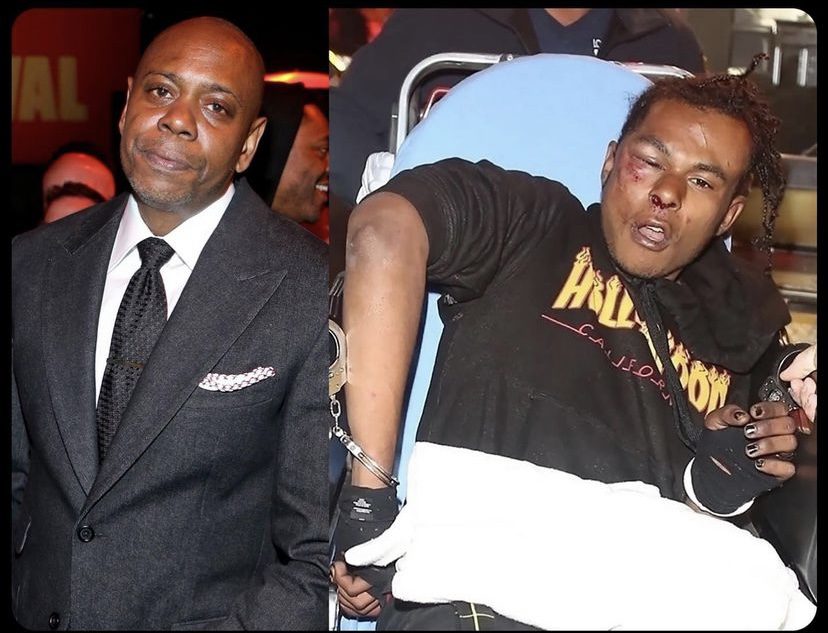 The alleged attacker of Dave Chappelle has been identified as Isaiah Lee after he attacked the comedian during his performance at the Netflix Is A Joke festival. 
In video footage shared across multiple different social media platforms, Chappelle, 48m was seen exiting the stage at Lost Angeles' Hollywood Bowl when Lee approached Chappelle and appeared to attempt to tackle the comedian.
A group of people, including Jamie Foxx and Chris Brown, jumped onto the stage to defend Chappelle before security detained Lee, a 23-year-old. 
A Los Angeles Police Department representative confirmed that Lee was arrested on a charge of assault with a deadly weapon and hospitalized.
"A famous comedian was performing at the Hollywood Bowl. As he was exiting the stage, a man jumped onto the stage and tackled him to the ground," said the representative. "The suspect was arrested for assault with a deadly weapon and transported to a local hospital. The suspect's last name is Lee. The first name Isaiah."
It has also been confirmed that Lee was in possession of a replica handgun that contained a blade.
According to the representative, Lee was booked on a charge of felony assault with a deadly weapon and his bail has been set at $30,000.
Although there was a ban on cell phones at the event, there were still a number of videos shared on social media of the incident.
One video clip shows Chappelle attempting to keep the audience laughing at the Hollywood Bowl as he began to crack jokes about the incident. 
When Chappelle regained control of the microphone he said "It was a trans man", which has ignited criticism online. 
Several months ago, Chappell was heavily criticized for his trans jokes on his Netflix special, which led to a walkout on the streaming services staff late last year. 
Another clip from the event showed the comedian thanking Jamie Foxx for rushing to his aid.
"Shout out to Jamie Foxx by the way." Chappell said in a clip posted on Twitter by ESQUIRE. "Whenever you're in trouble, Jamie Foxx will show up in a sheriff's hat."