Radio Facts: Radio Facts: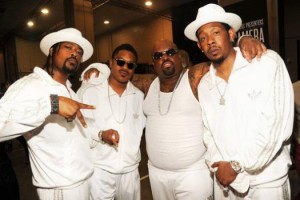 CeeLo Green and Goodie Mob, the legendary Southern rap group made up of CeeLo, Big Gipp, Khujo & T-Mo, reunited to announce the winners of the "Elevate Young Black Voices" online talent contest in Los Angeles on Tuesday night. The contest gave four talented singers the opportunity to win a two-hour private mentoring session, and perform live with the group during the finale concert at Hollywood nightclub, Playhouse, in front of friends, celebrities, and VIP guests. In honor of June's Black Music Month, AT&T* and BlackBerry collaborated to develop the contest that encouraged aspiring solo artists to upload a video of an original song that is inspiring and motivational to the African-American community to www.att.com/voices.
The four rising stars received an exclusive VIP experience from their mentoring session to the performance venue. CeeLo Green and Goodie Mob mentored the winners at a popular Los Angeles studio, The Boom Boom Room, to prepare them for their debut performance as "Elevate Young Black Voices" winners. The four aspiring solo artists are Justice Ami from Palmdale, California; Kno'Bodie, from Inglewood, California; Rahkua, from Jackson, Mississippi; and Eveready, from Kansas City, Missouri.
"Goodie Mob is one of the most eclectic groups in Hip Hop," says Matt Teshera, Sr. Diversity Marketing Manager "" West Region, AT&T. "With their recent reunion, CeeLo Green's nationally recognized experience as a mentor and the innovative personalities of both brands, a collaboration fit perfectly for Black Music Month."
"We're passionate about inspiring and encouraging people to pursue their ambitions, and we're thrilled to see this program come into fruition," says Adrian Faull, Vice-President, Channel Marketing, BlackBerry.
"It's an amazing feeling to help develop an artist, and we had a chance to work with four extremely talented people. I have had the unique opportunity to find and cultivate talent throughout my career, and I am proud that with my Goodie Mob brothers by my side, we are in a position to work with AT&T and BlackBerry to help 'Elevate Young Black Voices' through this contest," said CeeLo Green.
You can view the star four's winning videos at www.att.com/voices.
Goodie Mob's new album "Age Against the Machine" is scheduled for release on August 27 th and will be the group's first album together in 14 years.
*AT&T products and services are provided or offered by subsidiaries and affiliates of AT&T Inc. under the AT&T brand and not by AT&T Inc.