The Hispanic Heritage Foundation (HHF) announced today that 10-Time GRAMMY winner, Rock and Roll Hall of Fame member, and Global Music Icon CARLOS SANTANA will be recognized with the Legend Award and as the subject of a multi-artist tribute performance on the October 8th PBS broadcast of the 34th Annual Hispanic Heritage Awards. "With gratitude, I am deeply honored to be receiving the 2021 Hispanic Heritage Legend Award.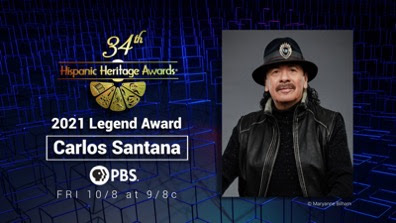 I am grateful to the Latin Community and to everyone who feels oneness with our mission to bring equality, fairness, justice, unity, and harmony We wake up every day to touch people's hearts with our music, spirits, vision, and to make a difference in the world, for the highest good for life, people, and the planet. It is a blessing to be a blessing. We thank the Hispanic Heritage Foundation and PBS for this glorious honor."- Carlos Santana "The Hispanic Heritage Foundation is thrilled to recognize Carlos Santana with the Legend Award," said Jose Antonio Tijerino, President and CEO of HHF.
"As we focus on diversity and inclusion, Carlos has been doing exactly that since he started his remarkable career by blending genres to create an alchemy of sound, spirit and energy since he started including rock, jazz, blues, Latin and African rhythms, among others. His approach to music is a model for how our country and world should unite. We are also excited to have amazing group of artists pay tribute to Carlos through a compelling performance during the Hispanic Heritage Awards on PBS.
We look forward to celebrating Latinx accomplishment, vision, and culture with all of America as we honor Carlos and his remarkable presence." For more than five decades – from Santana's earliest days as a groundbreaking Afro-Latin-blues-rock fusion outfit in San Francisco – Carlos Santana has been the visionary force behind artistry that transcends musical genres and generational, cultural and geographical boundaries.
To date, Santana has won ten Grammy Awards and three Latin Grammys, with a record-tying nine Grammys for a single project for 1999's Supernatural (including Album of the Year and Record of the Year for "Smooth"). He has received the Billboard Century Award (1996), was ushered into the Rock and Roll Hall of Fame (1998), received the Billboard Latin Music Awards' Lifetime Achievement honor (2009), and was the recipient of the Kennedy Center Honors Award (2013).
Among many other distinctions, Carlos Santana has been cited by Rolling Stone as #15 on their list of the "100 Greatest Guitarists of All Time;" and has joined the Rolling Stones as one of only two bands to have an album reach the Top 10 in every decade since the 1960s. In 2018, he released his first MasterClass, and recently celebrated three epic milestones – the 20th anniversary of his groundbreaking album Supernatural, the 50th anniversary of his legendary performance at Woodstock, and the 50th anniversary of his masterpiece Abraxas.
His most recent album, the powerful, energy-infused Africa Speaks (2019), inspired by the sounds and rhythms of Africa, was called his "best record in decades" (NPR) and was ranked among "the fiercest albums in Santana's 50-year career" by The New York Times. Santana will continue his residency at the House of Blues Las Vegas this summer and fall and will release a much-anticipated upcoming full-length album entitled Blessings and Miracles later this year. This year's Awards, modeled after last year's PBS broadcast, will once again feature more intimately filmed performances and Honoree segments captured on location across the United States and Latin America.
Last year's program had the highest ratings and reached more people in the PBS Broadcasts' history with Awardees including Bad Bunny, Selena Gomez, Linda Ronstadt, Jessica Alba, John Lewis, and our Farmworkers, with performances by Sebastian Yatra, Jessie Reyez, Sech, Calma Carmona, Flor de Toloache and a grand finale tribute to Linda Ronstadt anchored by The Mavericks featuring Latina vocalists: Joy Huerta of Jesse and Joy, Lupita Infante, La Marisoul of La Santa Cecilia, Gaby Moreno and Carla Morrison.
The Hispanic Heritage Awards were created by the White House in 1988 to commemorate the establishment of Hispanic Heritage Month in America and is among the highest honors by Latinos for Latinos and supported by 40 national Hispanic-serving institutions. For a video, visit https://www.youtube.com/watch?v=C92ZiK5MxAs.