Members of Black Hollywood Joined the #OccupyCityHall Movement in Support of All Initiatives that aim to Invoke Change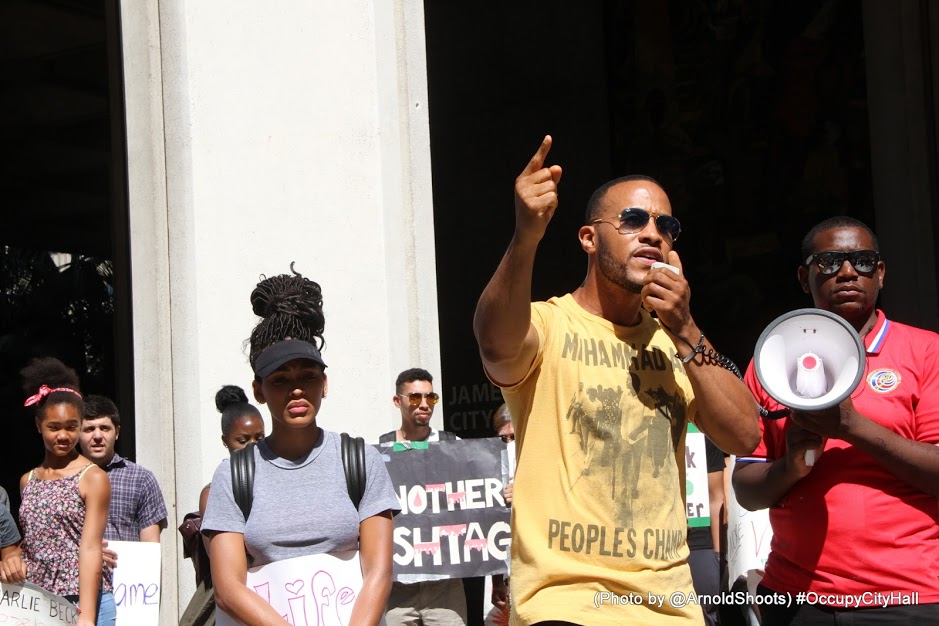 Black Hollywood showed up in numbers this weekend to join in on the #OccupyCityHall movement in an effort to support all initiatives that invoke change. The well-known faces and entertainers came together as one community to utilize their levels of influence and visibility platforms to begin making an impact driving positive messaging for social justice and necessary change.
The ongoing #OccupyCityHall movement was sparked as a result of the Los Angeles Police Commission's decision on Tuesday July 12, that the fatal shooting of Redel Jones last year was justified and "in-policy." Jones, an African-American woman who matched the description of a robbery suspect, was shot in an alleyway in South Los Angeles after police say she moved towards and officer holding a knife.
According to the Associated Press, approximately 100 protesters marched from the meeting at police headquarters to the Los Angeles City Hall on Tuesday, July 12, where they were denied entry by LAPD. The movement is still in effect, with many of the protesters staying overnight outside the building.
Those who were in attendance joining the movement at Los Angeles City Hall yesterday, Sunday, July 17, were Megan Good, DeVon Franklin, Marlon Wayans, Terrence J, Omar Epps, Keisha Epps, Tina Knowles-Lawson, Boris Kodjoe, Nicole Ari Parker, Kimberly Elise, Chris Spencer, Eva Marcille, Dondre Whitfield, Lance Gross, Affion Crockett, Logan Browning, Kendrick Sampson and Datari Turner.
The members of Hollywood brought the overnight protestors food, water and provided words of gratitude, empowerment, encouragement and faith in their actions of banning together in solidarity referencing their celebrity not removing their humanity."My only desire is to do my part and to be used in anyway possible to help bring about change that is not only desperately needed, but literally a life or death matter."– Meagan Good"I participated as a way to be part of producing a peaceful solution to the debilitating violence impacting our country.
The bridge between the community, law enforcement and Hollywood is critical and we just want to help bring awareness to the issues and highlight productive solutions that can bring about the peace we all desperately need right now."–DeVon Franklin (statement to The Hollywood Reporter)
"It is my belief that there is strength in unity and power in numbers. We must heal together, love together, be accountable together and educate/band together in order to eradicate the injustices that plague our community."– Keisha Epps"
We respect and admire those within the law enforcement community who serve with honor and humanity. But time and time again, we've seen the blatant use of excessive force being used against our fellow citizens (some of which have lost their lives) in unwarranted situations. And time and time again, those police officers aren't held accountable for their unjust actions. We can no longer stand idly or become desensitized by the actions of a few which ruin the lives of many."-Omar Epps