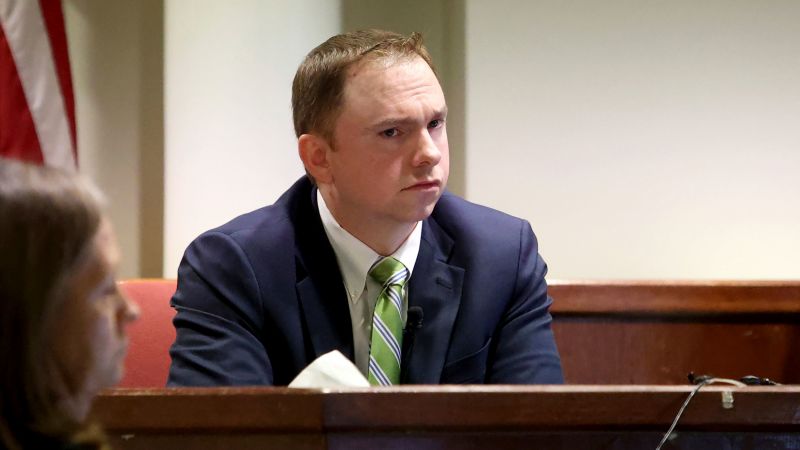 Atatiana Jefferson, 28, was shot and killed in her home in 2019 by a former Forth Worth, Texas, police officer, who was found guilty of manslaughter on Thursday.
If convicted, Dean, who is white, could spend the next two decades behind bars.
According to CNN, He had entered a not-guilty plea to the charge of murder, which entailed a potential sentence of five to 99 years. On Wednesday, the jury was given instructions to also take into account the lesser included offense of manslaughter.
As the verdict was read, Dean, dressed in a gray suit, remained expressionless.
According to CNN affiliate WFAA TV, members of Jefferson's family sat in the courtroom without any reaction as the judge read the verdict. Relatives did not immediately provide a statement.
Dean's lawyers claimed self-defense when they said their client opened fire through a bedroom window, but prosecutors countered that there was no evidence Dean saw a weapon in the Black woman's hand.
Dean's police partner, who responded with him to what they thought was a burglary, and Jefferson's 11-year-old nephew both testified as witnesses to the shooting during the trial. During his testimony, Dean claimed that Jefferson pointed a gun at him and that he fired in self-defense.
A neighbor called a nonemergency police line at 2:25 a.m. on October 12, 2019, to report that Jefferson's doors were open, and Dean and his partner responded to her home. The verdict emerges over three years later.
After hearing closing arguments, the jury was presented with the case on Wednesday afternoon. The state had portrayed Dean as a power-hungry ex-cop whose biases about the area where Jefferson lived influenced his actions the night of the shooting.
The defense argued that Dean's shooting was an unfortunate accident rather than a criminal act because he was acting in self-defense when he felt threatened.
A few days later, Dean resigned and was charged with Jefferson's murder.
"If you can't feel safe in your own home, where can you feel safe?" Tarrant County Prosecutor Ashlea Deener said to the jurors in closing arguments on Wednesday.
"When you think about your house, you think about safety. It's where you go to retreat, to get away from the world," Deener added.
The prosecutor claimed that when Dean wore his uniform, he radiated a "tremendous amount of power."
"When you put on that badge and you put on that uniform you say you're going to serve and protect us all. That means her too," Deener told Jefferson about what he should have followed.
Police said a white police officer shot and killed 28-year-old Atatiana Koquice Jefferson in her home after a neighbor reported the woman's open front door.
A wrongful death suit has been filed by the sister of a Texas woman killed when a police officer opened fire inside her home.