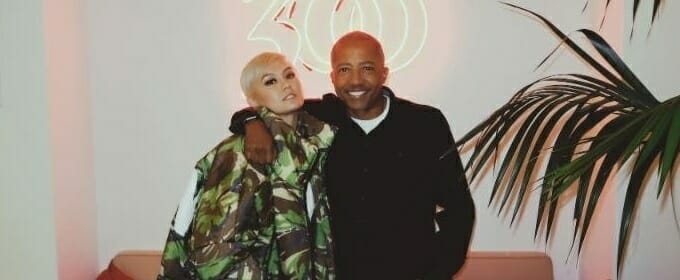 AGNEZ MO SIGNS TO 300 ENTERTAINMENT – Indonesian singer, songwriter and actress, AGNEZ MO, recently signed to 300 Entertainment. With a social following of over 35 million and numerous multi-platinum hits, pop / R&B songstress AGNEZ MO (Ag-nes Mo) is already well on her way to taking the US by storm.
AGNEZ MO recently released her lively new music video, "Damn I Love You," which has earned over 12 million views to date. AGNEZ MO's brand new full-length EP, available to stream HERE, includes hit single "Long As I Get Paid," which has earned a colossal 22 million+ views and praise from the likes of Idolator, Vogue and Hollywood Life.
AGNEZ MO SIGNS TO 300 ENTERTAINMENT"As we continue to build our international footprint, we believe there are superstars all around the world", says Co-Founder and CEO Kevin Liles.
"The internet has brought us closer but we still pride ourselves on the emotional connection our partners have with their fans through their art. AGNEZ embodies the 300 ethos.
Glad to have her and her team as partners"."I've always believed that the magic in art is in the soul: the love and passion. Which is why, it's important for me to have a team that believes in me and my 'art' as much as I do", says AGNEZ MO, "Treat me like their fam, and fight for me like one. A team that thinks and acts outside the box AND who will move the boxes with me.
One who encourages and shoots for the impossible."AGNEZ MO SIGNS TO 300 ENTERTAINMENTAlready a bona fide pop icon in her native Indonesia, AGNEZ MO has spent the entirety of her young life in the spotlight crafting catchy pop songs. Eventually capturing the attention of legendary producer Timbaland and signing with legendary music manager, Johnny Wright, who has guided the careers of the single biggest names in pop music history – including Justin Timberlake, Britney Spears, Janet Jackson, NSYNC and Backstreet Boys.
AGNEZ MO has already made a splash in the international marketplace with her single "Coke Bottle (featuring Timbaland and T.I.)," which amassed 16 million+ views and rave reviews by ThisIsRnB and Complex, even being voted as MTV Iggy's Song of the Summer.AGNEZ MO is the most awarded artist in the history of Southeast Asia with over 170 awards.
An anti-drug ambassador in Asia and the ambassador of MTV EXIT in combating human trafficking. AGNEZ MO has also claimed the title of entrepreneur, showcasing her own fashion line ANYE, APP, Digital Marketplace and partnering with cell phone manufacturer Vivo to create her own limited edition line of devices.Be on the lookout for new music from AGNEZ MO coming very soon.
Since launching in 2012, 300 Entertainment has proudly remained, "An Independent American Record Label. Independently funded, owned, and operated, the company groomed, grew, and galvanized a new generation of superstars across hip-hop, rock, pop, electronic, alternative, and country.
By 2017, its development-focused and digital centric disruption had quietly elevated the brand to the forefront of both music and culture. Among many achievements, roster acts garnered a total of five GRAMMY® Award nominations in a period of three years and 14 RIAA platinum or multi-platinum-certified singles, two platinum albums, and nine gold singles as well as a total of 10 billion cumulative streams.
Digital comprised 95% of 2016 revenue as the label finished the year in the Top 1% of labels in Overall US sales.Over the years, the label built a diverse roster including Bailey Bryan, Cheat Codes, Coheed and Cambria, Conrad Sewell, Dae Dae, Famous Dex, Fetty Wap, Highly Suspect, Hopsin, Maggie Lindemann, Mainsland, Meg Mac, Migos, Tee Grizzley, Young Thug, and more. 300 Entertainment also encompasses various imprints and partnerships such as Young Thug's YSL Records, +1 Records, and the legendary Murder Inc. Records.