Today, 88rising, the pioneering and internationally-renowned music and media company amplifying Asian talent and culture, and Goldenvoice, the Los Angeles-based company behind concert events like Coachella and Stagecoach, are thrilled to announce the 2022 Head In The Clouds Music & Arts Festival lineup. Head In The Clouds will take place on Saturday, August 20 and Sunday, August 21, 2022 at Brookside at the Rose Bowl in Pasadena, CA. Presale begins Thursday, May 26th (purchase passes HERE). Passes will officially go back on-sale Friday, May 27th (purchase passes HERE).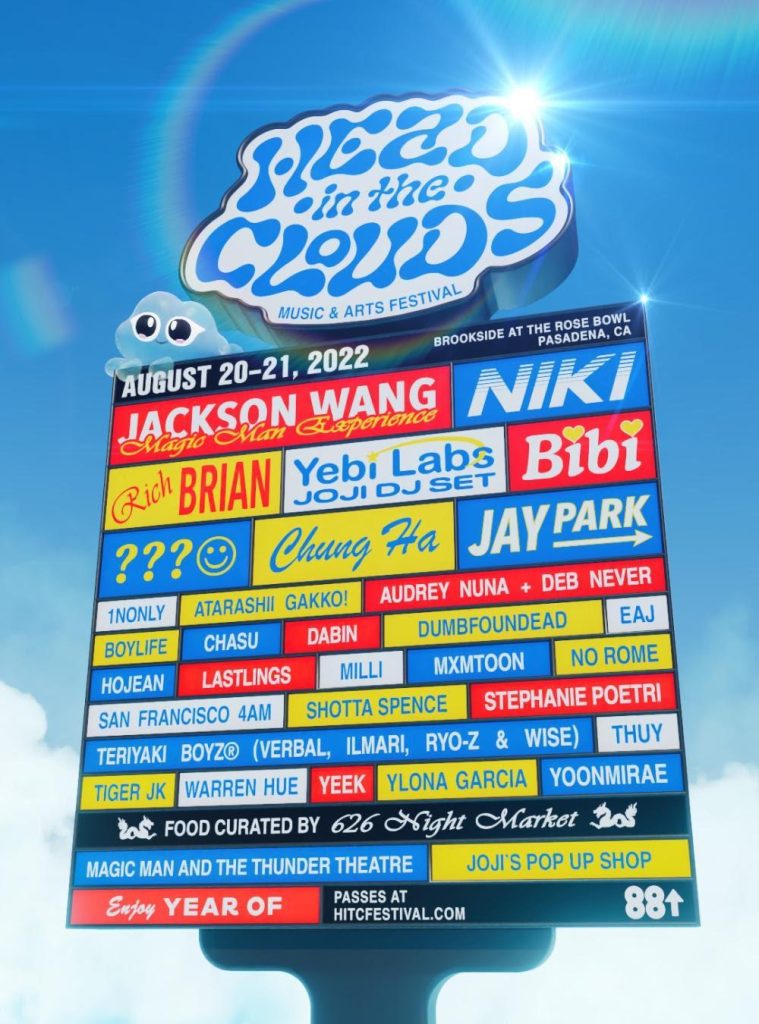 On the heels of a history-making Head In The Clouds Forever performance on Coachella's main stage, 88rising's Head In The Clouds Music & Arts Festival returns with an impressive range of curated talent include headliners Jackson Wang (Magic Man Experience), NIKI, Rich Brian, Yebi Labs (Joji DJ Set), BIBI, Jay Park and CHUNG HA. This year's festival also includes live performances from mxmtoon, the debut of Audrey Nuna + Deb Never's joint project, eaJ, ATARASHII GAKKO!, MILLI, and many more. Last November's festival had record-breaking attendance each day.
New activations this year will include Magic Man and the Thunder Theatre, Joji's Pop Up Shop and Enjoy YEAR OF. In addition, the iconic 626 Night Market has partnered with Head In The Clouds as the festival's official food curator for the 4th year in a row. More details to follow on vendors and food & beverage activations to be announced.
GA passes are $249 excluding taxes and fees, VIP passes are $405 excluding taxes and fees and South Bay Surf Club passes are $750 excluding taxes and fees. Parking passes are also available starting at $50 for both days. Preferred parking is also available for $100 for both days. Payment plans are available for passes. For more information, please visit la.hitcfestival.com.
Full Lineup (Alphabetical):
1nonly
ATARASHII GAKKO!
Audrey Nuna + Deb Never
BIBI
boylife
Chasu
CHUNG HA
Dabin
Dumbfoundead
EAJ
Hojean
Jackson Wang (MAGIC MAN EXPERIENCE)
Jay Park
Lastlings
MILLI
mxmtoon
NIKI
No Rome
Rich Brian

SAN FRANCISCO 4AM
SHOTTA SPENCE
Stephanie Poetri
TERIYAKI BOYZ® (VERBAL, ILMARI, RYO-Z & WISE)
thuy
Tiger JK
Warren Hue
YEBI LABS (Joji DJ Set)
Yeek

Ylona Garcia
Yoonmirae