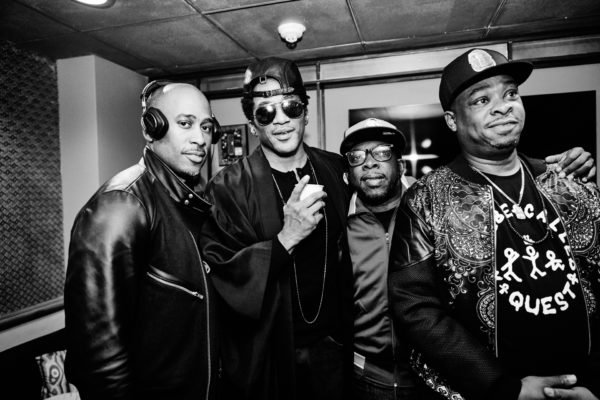 The American Society of Composers, Authors and Publishers (ASCAP) will host its 29th annual Rhythm & Soul Music Awards on Thursday, June 23, 2016 at The Beverly Wilshire Hotel in Los Angeles.
A Tribe Called Quest, one of the most prolific hip-hop bands in the world, will receive the ascap Golden Note Award. The tribute will include posthumous recognition for Malik "Phife Dawg" Taylor, one of the founding members of Grammy-nominated alternative hip-hop group.
The highly exclusive event will also honor the songwriters and publishers of the most performed ascap songs on the 2015 R&B, hip-hop, rap and gospel charts.The ascap Golden Note Award is one of the top acknowledgments that ascap bestows upon songwriters, composers and artists who have achieved extremely high levels of success. Past recipients include: Ms. Lauryn Hill, Pharrell Williams, Dr. Dre, Alicia Keys, Sean "Diddy" Combs, Jeff Lynne, Reba McEntire, LL Cool J, Jermaine Dupri, Jay-Z, Lionel Richie, Stevie Wonder, Kenny Rogers, Quincy Jones, Elton John, Tom Petty and many more.
"A Tribe Called Quest broke musical boundaries no one knew existed and reached a level of success that only very rare talents accomplish," said ascap President Paul Williams. "We are very proud to present this extremely talented and innovative group with the ascap Golden Note Award."Nicole George-Middleton, ascap SVP, Membership said: "A Tribe Called Quest influenced a generation with their fusion of hip-hop, jazz and socially-conscious lyrics. They continue to inspire decades later and are more than deserving of this special honor."
A Tribe Called Quest — the groundbreaking Queens-based hip-hop ensemble comprised of childhood friends Q-Tip, Phife Dawg, Ali Shaheed Muhammad and Jarobi White—released their debut album People's Instinctive Travels and the Paths of Rhythm on Jive/RCA Records on April 10, 1990.
The group took then-fashionable hip-hop clichés, whether Bacardi-and-party or menacing "gansta rap," and chucked them all out the window. ATCQ built their breaks around vintage funk and soul, smooth jazz and '70s rock, their rhymes were conversational and the group's level of social consciousness elevated by keenly turned phrases and a wicked sense-of-humor.
Well-received among the hip-hop underground cognoscenti, People's Instinctive Travels and the Paths of Rhythm offered an avant-garde experimental vibe, literate inside jokes, freewheeling jazz and wry perspectives that stood apart from the hardcore rap and overt topical politics of other contemporary hip-hop records of the era.
The album launched three Top 10 Hot Rap Singles, tracks, with iconic music videos, that would solidify the group's reputation while inspiring and influencing up-and-coming generations of hip-hop artists: "I Left My Wallet In El Segundo," "Bonita Applebum," and "Can I Kick It?" It was certified gold by the riaa on January 17, 1996.The 25th anniversary edition of People's Instinctive Travels and the Paths of Rhythm has been remastered from the original tapes by the group's longtime engineer Bob Power, and includes exclusive new remixes of key album tracks.
An undisputed foundation of contemporary hip-hop, People's Instinctive Travels and the Paths of Rhythm is one of the most consequential and enduring albums in the history of the genre. While the group would go on to create other hip-hop masterpieces (including three riaa platinum releases: 1991's The Low End Theory, 1993's Midnight Marauders and 1996's #1 Billboard 200 and R&B chart-topping Beats, Rhymes and Life), it was their groundbreaking debut that established A Tribe Called Quest as a force to be reckoned with in the worlds of hip-hop and popular music.
Acknowledged by many of the biggest artists in hip-hop –among them Kanye West, Pharrell Williams, The Roots, will.i.am and others — A Tribe Called Quest is widely considered a pioneering force and lasting influence on countless other artists, rappers and producers.During the ascap ceremony, awards will also be given for the Publisher of the Year, Top R&B/Hip-Hop Song, Top Rap Song and Top Gospel Song.
The evening will feature performances by several award-winning songwriters/performers, and will be attended by some of the top names in the music and entertainment industry.The 2016 ascap Rhythm & Soul Music Awards are presented by REVOLT and sponsored by Seagram's Gin.