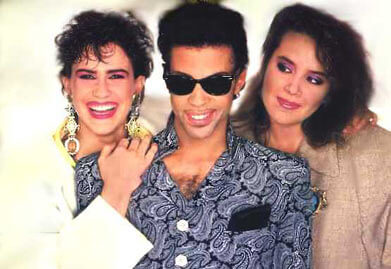 Los Angeles, CA, June 26, 2014: The American Society of Composers, Authors and Publishers (ASCAP) hosted its 29th annual Film Television Music Awards yesterday at the Beverly Hilton Hotel in Los Angeles, CA.
The invitation-only dinner and awards ceremony paid special tribute to Wendy Melvoin and Lisa Coleman, and honored composers of the top box office film music, the most performed television music and the top video game music of 2013.
KCRW host and music supervisor Liza Richardson presented the inaugural ASCAP Shirley Walker Award to Emmy Award-winning composing duo Wendy Melvoin and Lisa Coleman (a.k.a. Wendy Lisa). The Shirley Walker Award honors those whose achievements have contributed to the diversity of film and television music. Walker, an ASCAP member, was one of the first prominent female composers working in film and television.
She is remembered as a pioneer for women in the film industry. ASCAP also bestowed its inaugural Composers' Choice Awards at the ceremony. For the first time in ASCAP awards show history, the performing rights organization opened up the voting process to all ASCAP writer members.
During the voting process, participating ASCAP writers selected a favorite ASCAP film score and TV composer of 2013 from the nominees in two categories. Emmy-winning, Oscar-nominated composer John Debney presented the Composers' Choice Award for Best ASCAP Film Score of 2013 to Steven Price, for his score from Gravity.
Price, who was unable to attend the event, accepted his award via pre-taped video. 19-time Emmy-nominated composer Mark Snow presented the Composers' Choice Award for Best ASCAP TV Composer of 2013 to Bear McCreary and Dave Porter, who tied for the honor.
Performances of the evening included Ed Robertson of the Barenaked Ladies, who performed his winning theme from The Big Bang Theory; a string quartet playing music from Garry Schyman's Top Video Game Score-winning music to BioShock Infinite; and a house band led by Kevin Teasley and featuring vocalist Crystal Starr, who performed a selection of Oscar-winning ASCAP songs from across film music history – including a rendition of "Moon River," performed with flutist Sara Andon.
The evening also featured a video retrospective of ASCAP film composers and their iconic scores from across ASCAP's first century as the world's leading performing rights organization.
Those honored in the Top Box Office Films category included Craig Armstrong, Romy Madley Croft, Lana Del Rey, Kamaal Fareed, Fergie, Goonrock, Jay Z, Andrea Martin, Maureen "MoZella" McDonald, Rick Nowels, Jordan Orvosh, SBTRKT, Sia, Oliver Sim, Andre Smith, Jamie Smith Florence Welch (The Great Gatsby); Marco Beltrami (A Good Day to Die Hard, Warm Bodies, The Wolverine, World War Z);
Joseph Bishara (The Conjuring, Insidious: Chapter 2); Michael Giacchino (Star Trek Into Darkness); Anthony Gonzalez Joseph Trapanese (Oblivion); Rupert Gregson-Williams (Grown Ups 2);
Henry Jackman (Captain Phillips, G.I. Joe: Retaliation, This Is the End, Turbo); Jóhann Jóhannsson (Prisoners);
Rodrigo Leão (Lee Daniels' The Butler);
Deborah Lurie (Safe Haven);
Randy Newman (Monsters University);
Heitor Pereira (The Smurfs 2);
Heitor Pereira Pharrell Williams (Despicable Me 2);
Steven Price (Gravity);
Howard Shore (The Hobbit: The Desolation of Smaug);
Fernando Velázquez (Mama); Lucas Vidal (Fast Furious 6);
Nathan Whitehead (The Purge) and Hans Zimmer (The Lone Ranger, Man of Steel).
ASCAP composers whose combined works earned the highest number of performance credits on network, local and cable television in the category of themes and dramatic underscore for the 2013 survey year were Joel Beckerman, Sean Callery, John Debney, Robert Duncan, James Levine, Jeff Lippencott, Walter Murphy, Didier Lean Rachou, David Vanacore and Mark T. Williams.
The composers who wrote the themes and underscore for the highest rated television series in 2013 were:
J.J. Abrams (Person of Interest);
J.J. Abrams, Tobias Enhus Kenneth Jordan (Almost Human);
John Adair, Toby Gad Lindy Robbins (Jessie); Anthony Ammar, Adam Gock, Jeff Lippencott, Mitch Stewart, Dinesh Wicks Mark T. Williams (MasterChef); Lee Arohnson Grant Geissman (Two and a Half Men); Lorne Balfe Hans Zimmer (The Bible); Steven Belfer, Nicolas Carr, Derek Drymon, Mark Harrison, Stephen Hillenburg, Pat Irwin, Stephen Marston, Blaise Smith, Barry Trop Ron Wasserman (SpongeBob SquarePants); Matt Bowen Brad Segal (The Bachelor, The Bachelorette); Brad Breeck (Gravity Falls); MC Burton, Shane Drasin, Chanell Jones, William "Zaire Koalo" Simmons, D'anna Stewart, Trevion "Tempo" Stokes Riley Urick (Real Husbands of Hollywood);
Sean Callery (Homeland);
Sean Callery Mark Snow (Elementary);
David Carbonara (Vegas); Matt Chambless, David Paul Dorn, Jared Gutstadt, William Markt, William McIntyre, Steven Page, Jeffrey Peters, Schimmer Music Productions, Jordan Sears Evan Marshall Wise (The Voice); Juliana Cole Jeffrey Smith (Malibu Country); John Debney (Bonnie Clyde); Scott Doherty Brandon Jay (Orange Is the New Black);
Robert Duncan (Castle, Last Resort); Alexis Roman Estiz Alberto Slezynger (Marido en Alquiler);
Marc Fantini, Scott Gordon Steffan Fantini (Army Wives, Criminal Minds);
Jay Ferguson (NCIS: Los Angeles);
Grant Geissman Josh Kelley (Mike Molly);
Wilson Golden, Jamie Jackson, Albert Sgro Craig Wazbinski (Cougar Town); Rupert Gregson-Williams Christopher Willis (Veep);
Ettore Grenci Mónica Vélez (Por Ella Soy Eva);
Jacob Groth (Unforgettable); Jay Gruska (Supernatural);
Matthew Hawkins, Maurice "m.O" Jackson Neil Martin (NCIS);
Ron Jones, Seth MacFarlane Walter Murphy (Family Guy);
John Kavanaugh (Sofia the First);
John Keane (CSI);
Dave Kushner, Curtis Stigers, Kurt Sutter Bob Thiele (Sons of Anarchy);
Russ Landau David Vanacore (Survivor: Blood Vs. Water, Survivor: Caramoan);
James Levine (American Horror Story, Glee, Major Crimes, Rizzoli Isles, Royal Pains);
Jeff Lippencott Mark T. Williams (Biggest Loser 14, Biggest Loser 15, Shark Tank); Joseph LoDuca (Spartacus: War of the Damned);
John Lunn (Downton Abbey);
Gabriel Mann (Modern Family, Twisted);
Brian Mazzaferri (The Goldbergs)
Bear McCreary (Marvel's Agents of S.H.I.E.L.D., The Walking Dead);
Daniel McGrath Josh Phillips (Dancing With the Stars);
Joey Newman (The Middle);
Shawn Patterson (Robot Chicken);
Liz Phair (Super Fun Night);
Tom Polce Derek Schanche (Rules of Engagement);
Dave Porter (The Blacklist, Breaking Bad);
Jacob Rebhun Erica Weis (The Crazy Ones);
Ed Robertson (The Big Bang Theory);
Jeff Russo (Hostages);
Alejandro Sanz (Amores Verdaderos);
Pieter Schlosser (The Lying Game);
Mark Snow (Blue Bloods);
Scott Starrett (Drop Dead Diva);
Barry Stone, Catherine Dennis Julian Gingell (American Idol);
Ron Sures (Rookie Blue);
Emerson Swinford Ron Wasserman (Hot in Cleveland);

The Top Video Game Score award went to Garry Schyman, who composed the music to BioShock Infinite, one of the most honored video game scores of 2013.
View Full Coverage
About ASCAP
The American Society of Composers, Authors and Publishers (ASCAP) is a professional membership organization of songwriters, composers and music publishers of every kind of music.
ASCAP's mission is to license and promote the music of its members and foreign affiliates, obtain fair compensation for the public performance of their works and to distribute the royalties that it collects based upon those performances.
ASCAP members write the world's best-loved music and ASCAP has pioneered the efficient licensing of that music to hundreds of thousands of enterprises who use it to add value to their business – from bars, restaurants and retail, to radio, TV and cable, to Internet, mobile services and more.
The ASCAP license offers an efficient solution for businesses to legally perform ASCAP music while respecting the right of songwriters and composers to be paid fairly.
With more than 500,000 members representing more than 9 million copyrighted works, ASCAP is the worldwide leader in performance royalties, service and advocacy for songwriters and composers, and the only American performing rights organization (PRO) owned and governed by its writer and publisher members. www.ascap.com