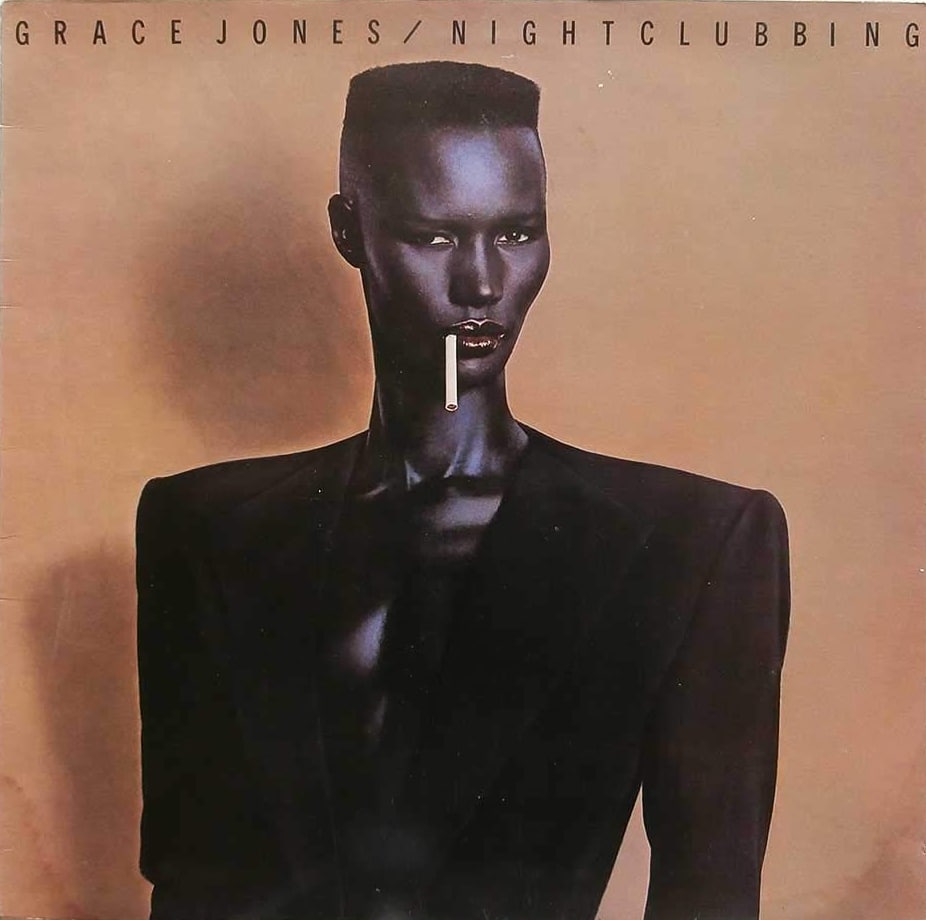 Grace Jones – Nightclubbing (Island Records – 1981)
"Disco was squeezing me into a room that was looking tackier and tackier" Grace Jones
When Jamaican Funky Reggae drummer Sly Dunbar dropped the beat on Grace Jones' "Pull Up to The Bumper," the effect on dancefloors around the world was tantamount to doin' The Bump all the way down to the ground then grindin' back up again…in 360 degree thrusting rotations. The sex of it was infectious, feverish and freeing.
No one had heard anything like its tantric yin/yang mix of fat organic bottom and electronic riddim, bells and whistles. "Bumper" rang the alarm for a whole new hybrid of aural seduction and lifted Ms. Grace Jones from fashion-plated music underground to a force with which one lusted to be reckoned.
It marked the sweet, sweat-soaked success of a woman primed and ready to pimp trends and Funk-Pop Art on their safety clip-pierced ear, and her own turf.
BUY GRACE JONES MUSIC ON AMAZON
Grace Jones: Breaking Free from Disco's Chains – Embracing Edginess, Earthiness, and Artistic Autonomy
The `70s were turning into the `80s, Disco was free falling out of favor, and – model, performance artist, presence – was sick of being the Cover Girl puppet of club music maven Tom Moulton – L'image baiting buyers to vinyl fetish. Grace had released three albums with Moulton fairly exclusively heard only in gay clubs and the most cosmopolitan of discotheques: Portfolio (1977), Fame (1978) and Muse (1979).
While Moulton was indisputably the most influential producer/remixer in the wild, wild east coast nights of dance music, he was getting far more credit for Grace's projects than an independent woman of vision (and the visions of her broad swath of equally art-minded crew) could tolerate.
He had helmed a couple of classic recordings for her – the finest rendering of "La Vie En Rose" for the ages. It was now time for something edgier, earthier and auto-erotic.
Grace's Musical Journey: Chris Blackwell, Compass Point All-Stars, and the Jamaican Technological Edge
Grace recorded for Chris Blackwell's mighty independent imprint that was in the midst of blowing minds worldwide as the home of Bob Marley & The Wailers and several other non-mainstream artists deserving of a hip home to craft their wares.
It was Blackwell who personally took the reins of Grace's chariot to higher ground in search of something very Jamaican and technologically cutting edge by handpicking a disparate group of musicians that would become known as the Compass Point All-Stars: so-named after his recording studio in Nassau, Bahamas where meetings of their minds, hearts, bodies and souls would melt into chocolatey goodness no one could resist.
At the all-important low end of this equation rocked drummer Sly Dunbar and bassist Robbie Shakespeare, an inseparable duo that also played as sidemen on sessions [including Bob Dylan's best sounding album ever, Infidels (Columbia – 1983)], plus wrote and produced forward-thinking jams for the revolutionary intersexual and politically charged Reggae band, Black Uhuru. Robbie's rolling electric bass bottom matched to Dunbar's blending of Simmons electronic drums and the acoustic kit would anchor Grace's feet in Kingston soil speckled in stardust.
An Unforgettable Collaboration: Wally Badarou, Barry Reynolds, and the Dynamic Team Behind Grace's Warm Leatherette
Equally as important was Wally Badarou, a Parisian-African multi-instrumentalist and classically trained pianist/synthesist experimentalist equally adept in French waltzes, Caribbean folk and American Funk. He would go on to be a lynchpin in the studio for Funk-Rock Fusioneers Level 42 as well as record instrumental masterpieces as a composer in his own right on the now-classic albums Echoes (Island – 1984) and Words of a Mountain (Island – 1989).
Lending a delicious rock-edge would be guitarist Barry Reynolds (fresh from Marianne Faithful's ground-breaking Broken English LP) rounded out by second guitarist Michael "Mao" Chung, rhythm guitarist Monte Brown, percussionists Uzziah "Sticky" Thompson and Mel Speller – all exquisitely chiseled and spaced into the sound mix by engineer Alex Sadkin.
Grace's first release with her new team was Warm Leatherette (Island – 1980) which found her giving you shoulders and shadows with a punkish attitude in the Black & White photograph on the cover.
Grace Jones: From Warm Leatherette to Nightclubbing – A Transformative Journey of Sound and Style
It's highlighted by the beats-upside-your-head / "sex as car crash" title track (the spoken word piece on which Grace first nailed her arresting vocal sound), a singular reading of Pretenders lead singer Chrissy Hynde's "Private Life," a marvelous version of the Marvelettes' Motown classic "The Hunter Gets Captured By The Game," the Country Ska attitude jam "Bullshit," and throbby reggae takes on Tom Petty, Roxy Music and Deniece Williams songs. Warm Leatherette succeeds in its mission of separating Grace from her glittered "too long at the fair" past. On the next one, her transformation from an oddity into an icon was dramatically sealed…starting with the album cover.
Provocatively titled Nightclubbing (named after a song penned by David Bowie and Iggy Pop for the latter's 1977 LP, The Idiot), Grace's fifth album came with a hard-fought-for painted photograph of Grace titled 'Blue-Black in Black on Brown' by her then-Frenchman boyfriend Jean-Paul Goude, an artist who was already in the process of making his woman a visually striking anomaly elsewhere in the art world. He also did her hair and make-up.
Where Warm Leatherette's b&w photograph was stark, this multi-media work of art was a shrewd gender-bending head-snapper with Grace's flat bared chest, close faded haircut, men's suit jacket, an unlit cigarette dangling downward from her red-painted lips in the middle of a blue-black face with angles so sharp you cut coke on them. This was a landmark photograph of female-to-male androgyny (later usurped by Annie Lennox of Eurythmics) that demanded attention and commentary. The work of art would be later held on display at the Padiglione d'Arte Contemporanea in Milan, Italy, in the 2016 So Far So Goude exhibition.
BUY GRACE JONES MUSIC ON AMAZON
Grace Jones: Nightclubbing – A Daring Sonic Voyage into New Frontiers of Club Music
Intimately acquainted with her Compass Point All-Stars at this juncture, Grace recorded all of the new material live in the studio with them, marinating in their elastic grooves in real time…in for-real ways.
The overture on Nightclubbing is "Walking in the Rain," an evocative spoken word piece that plants the listener inside her head (including the musing "Feeling like a woman / Looking like a man" penned by men Harry Vanda and George Young) set to a score of tinkling synth and percussion, jazzy guitar chords and a solo by Badarou on which he caressed an impossibly warm voice from the synth that near-defied its origin, hinting at his aforementioned solo works to come.
This dropped down into "Pull Up to The Bumper," arguably the last great Disco-tinged song, closing the book on that era while blasting open another sweat-soaked portal into a new frontier of club music. The sexy, bassy groove and its Disco hi-hat breakdown were lifted from Sly & Robbie's original demo for a song called "(Spread Yourself Over Me Like) Peanut Butter" that became a club dub smash for Gwen Guthrie (she of later "Ain't Nothing Going On But The Rent" fame).
The duo is credited as co-writers with the nom de riddim "Koo Koo Baya." Grace cheekily deflects rumours that the party-starting hook, chant and verses that she and friend Dana Mano whipped up were intended as a double entendre for doggy-style (straight) or backdoor (anal and/or gay) sex. She relished people deciphering and interpreting them in any way their minds fancied.
Grace Jones: Nightclubbing – A Daring Musical Transformation and Intimate Artistic Revelations
Her Reggae flip of Bill Withers' 1972 hit "Use Me" is also sexually suggestive with ass-slapping accents on the '3' beat with Grace reconfiguring the flow of the verses to her own taste, complete with a chorus that is more rock-oriented and choral bg vox. Similarly, Side 1 comes to a close with the Reggae-fication of Iggy's "Nightclubbing" that is the complete antithesis of two white guys cruising through a club like ghosts. Grace transfuses the song with hot blood and jerked soul.
Side 2 of Nightclubbing begins the cooldown with "Art Groupie," a musical self-portrait reflecting on the many artist boyfriends she'd had which she co-composed with guitarist Barry Reynolds. It is also the source of what became the title of her autobiography: "I'll Never Write My Memoirs."
Fittingly, it's followed by "I've Seen That Face Before (Libertango)," Parisian portraiture to the soundtrack of a melody lifted from renowned Tango composer Astor Piazzola – music 'found' by boyfriend Jean-Paul, his one musical contribution to the album to go along with his stunning cover visual (the only art of the package including the inner sleeve which was pitch black).
Next is Grace's self-penned sing-song flirtation "Feel Up." Guitarist Reynolds also contributed the languid album closer "I've Done It Again," a sundown-showcase for the synthesizer of Badarou.
That leaves the album's real wild card, "Demolition Man," penned by Sting, bassist/frontman of Regatta de Blanc trio The Police. Over a down-n-dirty near industrial new wave dub track with the odd Rolling Stones-esque rhythm guitar riff, Grace gamely sings:
I'm a walking nightmare, an arsenal of doomI kill conversation as I walk into the roomI'm a three-line whip, I'm the sort of thing they banI'm a walking disaster, I'm a demolition man
Grace Jones: Nightclubbing – A Defining Moment of Artistic Ownership and Controversial Impact
Leave it to Sting in this troubled period in the Police's history to find a way to bring more attention to himself by having Grace record His composition on Her album with That album cover! He gave her several months' head start in the market with it before The Police released their faster, more cacophonous, sheets of sound version on its second to last album, Ghost in the Machine (A&M – 1981).
With the release of Nightclubbing, Grace Jones was no longer a detached alien figure pondering a strange new world. Now she was the Queen of her universe – hell, wherever she walked – fully owning herself and the moment. She dispensed with standard singing, reveling in the unique power of her own voice – be it in tart spoken word, otherworldly warbling or a vicious bark.
Bonus, Grace finally landed on Black folks' radars thanks to "Pull Up to The Bumper" which she followed up on her third album of the Compass Point Trinity, Living My Life (Island – 1983), with "Nipple to the Bottle": a song with an (arguably) more explicit title but tamer thematic lyrical content that was, nevertheless, initially banned on most black radio stations in America as was Marvin Gaye's "Sexual Healing." Marvin was eventually reinstated. "Nipple" was not. Meanwhile, a photo of Grace with nipple fully exposed became the cover of Playboy Italy in 1981.
SEE MORE OF A. SCOTT GALLOWAY'S REVIEWS HERE
Considered a bold pioneering classic, Nightclubbing was lavished with a deluxe double-CD reissue in 2014, complete with 13 bonus tracks/remixes. It's influence and that of Grace overall can be found in varying ways from Jody Watley's 1987 single "Still a Thrill" to the postures, imagings and attitudes of Janelle Monae, Rihanna and Lady Gaga.