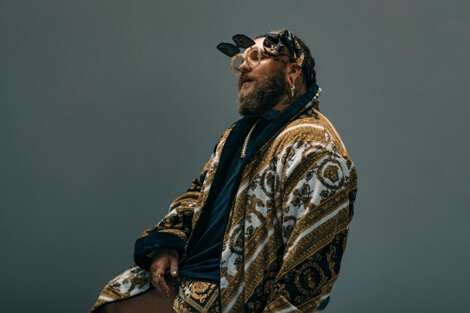 TEDDY SWIMS RELEASES NEW ANTHEM "BROKE" TODAY

After racking up over 160 million views, drawing acclaim from Rolling Stone and Idolator, and even earning the endorsement of Shania Twain, rising and red hot Atlanta powerhouse Teddy Swims releases a new original song and music video entitled "Broke" today via Warner Records.
 On the track produced by Julian Bunetta [Maroon 5, One Direction, Thomas Rhett], a boisterous beat echoes beneath Teddy's bold baritone as he announces, "I'm so used to being broke, but not no more." In the music video, he makes it rain cash and candy on a spending spree with his best buddies. 
About "Broke," he said, "The song, as carefree as it may sound, comes from an honest place. I was so used to being broke my whole life that it is hard to believe I'm not hurting for money anymore. My brother and best friends now have full time salaries through the TeddySwims [project]. I was able to buy my dad a new truck. Earlier this year, when the whole team drove across the country to Los Angeles, we weren't staying in motels and on couches anymore— we had an Airbnb in the Hollywood Hills. It is because of the friends and family who've supported my vision that this is happening. This song, which was written right before the pandemic hit, captures the journey that I've gone through over the last year."
Earlier this summer, he shared stunning cover of the Shania Twain classic "You're Still The One" produced by GRAMMY® Award winner Dave Cobb [Chris Stapleton, Brandi Carlile, John Prine].  Rolling Stone named it among "RS Country Music Picks: Week of July 24," and Idolator described it as "surprisingly lovely."  In June, Teddy released a cover of Marvin Gaye's "What's Going On" and donated the royalties of the song to the NAACP Legal Defense and Education Fund. In May, he released an intimate cover of The Weeknd's #1 global smash "Blinding Lights."  It's been just over a year since Teddy posted his first YouTube cover, Michael Jackson's "Rock With You," and has been building a devoted fanbase since. He now has 1.3 million subscribers on his YouTube channel and his videos covering artists such as Lewis Capaldi, Justin Bieber, Billie Eilish and Khalid (to name a few) have racked up an astonishing 160 million views!  In January, Teddy signed to Warner Records, released his first original song "Picky" and embarked on his first nation-wide, sold-out headline tour.
Jaten Dimsdale, known by his moniker, Teddy Swims, is an American singer and songwriter from Atlanta, GA. Swims stands for: Someone Who Isn't Me Sometimes, a reference to Teddy's struggle to integrate the different parts of himself. Teddy's goal through music is to break barriers and bring people together.