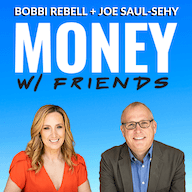 CUMULUS MEDIA's Westwood One today announces the Fall 2020 thought leaders for the podcast Money with Friends, now in its fifth season. Hosts Joe Saul-Sehy and Bobbi Rebell are joined each weekday by a different thought leader who will help make the day's financial headlines more approachable. The partnerships bring fresh perspectives and unique insights to the personal finance news and issues discussed on the podcast. The new season launches on September 28.
Money with Friends is available at Apple Podcasts, Spotify, Stitcher, TuneIn, Pocket Casts, and Google Podcasts among other platforms.
The Fall 2020 thought leaders include:
DAVID BACH is one of America's most trusted financial experts and bestselling financial authors of our time. He has written 12 national bestselling books, including The Automatic Millionaire, and ten consecutive New York Times bestsellers. Bach has more than seven million books in print, translated into more than 19 languages.
WHEN: September 29 and 30; October 27 and 28; November 24 and 25; December 22 and 23
FARNOOSH TORABI is host of the So Money podcast and one of America's leading personal finance authorities — hooked on helping you live your richest, happiest life. As Contributing Editor to Oprah Magazine and NextAdvisor, host of a primetime series for CNBC and creator of the Webby-nominated podcast So Money, Farnoosh is a favorite go-to money expert and financial friend. The New York Times calls her advice, "perfectly practical."
WHEN: October 15 and 16: November 12 and 13; December 10 and 11; January 14 and 15
GRANT SABATIER is the Creator of Millennial Money, author of Financial Freedom (Penguin Random House), the international bestseller translated into eight languages, and founder of the Financial Freedom Summit. Dubbed the "Millennial Millionaire" by CNBC, Grant went from $2.26 to a millionaire in 5 years, reaching financial independence at the age of 30. Grant has been featured in The New York Times, Wall Street Journal, Washington Post, and Money Magazine, and on BBC, NPR, CNBC, and many others.
WHEN: October 6 and 7; November 3 and 4; December 1 and 2; January 5 and 6
BOLA SOKUNBI operates the wildly successful Clever Girl Finance brand. With over 315k followers on Instagram and many more on Twitter, Facebook, and other channels, Clever Girl Finance is one of the fastest growing communities online for women. Bola is a Certified Financial Education Instructor (CFEI), finance expert, best-selling author, speaker, writer, podcaster, and social media influencer. She's been featured by Time.com, Money Magazine, Fortune, Good Morning America, CNBC, ABC News, Cheddar TV, NYC's PIX11 News, The Chicago Tribune, as well as on several other media outlets.
WHEN: October 1, 2, 29, and 30; November 26 and 27; December 24 and 25
JASON HARRIS is the co-founder and CEO of the award-winning creative agency Mekanism and co-founder of the Creative Alliance. Under his leadership, Mekanism has been named the #6 Most Effective Independent Advertising Agency in the US by the Effie 2020 Index. Mekanism has also been named to Ad Age's Agency A-list and twice to their Best Places to Work. Harris has been named in the Top 10 Most Influential Social Impact Leaders, as well as the 4A's list of "100 People Who Make Advertising Great." His methods are studied in cases at Harvard Business School.
WHEN: October 8 and 9; November 5 and 6: December 3 and 4; January 7 and 8
ADAM CARROLL is an internationally recognized financial literacy expert, author of three Amazon best-sellers, a two-time TED talk speaker with nearly 4 million views on YouTube, and is the creator of the Broke, Busted & Disgusted documentary which aired on CNBC and is shown in hundreds of high schools and colleges across the country. Adam is the founder of the Build A Bigger Life Retreat, loves connecting EPIC people and spends his days helping others realize they are the architects of their own lives.
WHEN: October 22 and 23; November 19 and 20; December 17 and 18; January 21 and 22
AMY E. GOODMAN is one of America's top lifestyle experts whose savvy picks, practical tips, and fun-loving personality reach millions of people. She deftly covers any assignment from interviewing celebs, to cleaning out closets and crafting home décor for national outlets like the Today show, Live with Kelly & Ryan, The Rachael Ray Show, Good Morning America, The Wendy Williams Show, The View, The Talk, and Access. She segued her everyday passion for uncovering the latest finds that make sense in our modern, crazed lives, into her first book Wear This, Toss That! a practical style guide for real women.
WHEN: October 20 and 21; November 17 and 18; December 15 and 16; January 19 and 20
ELIZABETH SEGRAN is one of the top journalists in the country, whose work has appeared in a range of publications including Fast Company, The Atlantic, Foreign Policy, Foreign Affairs, The Nation, The New Republic, The Chronicle of Higher Education and Salon. Her book, The Rocket Years, was published in 2020 by Harper Books.
WHEN: October 13 and 14; November 10 and 11; December 8 and 9; January 12 and 13