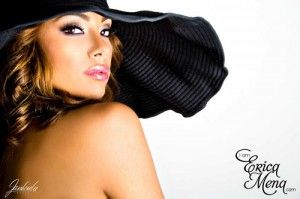 Young Industry Veteran Adds Spice and Flare to Top-Rated VH1 show; Scheduled to Air Tonight – December 26
New York, NY
 "" December 26, 2011 "" Erica Mena (
https://www.IAmEricaMena.com
), a popular Bronx-native model and actress, is set to appear on the second season of VH1's "Love & Hip-Hop." Along with being an addition to the cast of strong women of color, Erica does not only bring gorgeous looks to the group, but an incredible
work ethic
, a drive for progression, and a demand for respect in this industry.
Ever since booking her first gig as a Sears catalog model at the tender age of 14, Erica has continuously built a resume of stellar career highlights, which includes landing spreads for fashion campaigns for Roc-A-Wear and Tommy Hilfiger, modeling in various high-end designers' shows during Fashion Week, and being a spokesperson for a wide array of brands/products including Azzure and Luster's Hair.
As a next step in her already-thriving career, the single mother joined the cast in an effort to focus on her newly found independence and to jumpstart her music career "" a strong passion of hers since childhood.
This same
passion
was present in a "Love & Hip-Hop 2" preview trailer leaked by VH1 in October (
https://tinyurl.com/3pdxouw
), which in turn set the Internet ablaze for the season's November 14 premiere.
Even though the clip drove viewership to the show (over two-and-a-half million people tuned in to the premiere), Erica was not pleased with the feeling of being pressured to defend her resume and work ethic among naysayers. Instead, she chooses to focus on women empowerment, positive energy, philanthropy and uplifting those around her.
Mena is no stranger to the reality television realm, as she has appeared on the number one rated E! show, "Kourtney and Khloe Take Miami," which visually documented her assisting with the launch of the Kardashians' popular clothing boutique  Dash. Aside from reality TV, Erica has graced the pages of various publications including  XXL,  Hype Hair,  and  King  with beautifully executed spreads.
A simple pin-up spread in  Smooth  magazine featuring Erica was both the motivation and inspiration for editor Sean Cummings to start  Show  Magazine, which in turn featured Erica on their first cover and still uses that same signature "pin-up style" as the magazine's core foundation.
"I've done modeling, videos, and campaigns, but I'm ready to unleash my natural raw talent to the world," says Mena. "I'm unique, one of a kind, fearless, and driven. With these attributes, I bring more to the table than just a pretty face."
Erica also works as a VJ for the Spanish-channel  Mun2. In this role, Mena recaps the show,  RPM Miami, which is a long-running and very popular Spanish soap opera.
While using influences like Cindy Crawford and Rita Moreno for inspiration, Erica continues to travel the world and embrace culture, as she rides on a constant path to greatness.
Tonight, the world will get an even-closer glimpse of Erica Mena and her journey to become an international brand and household name by embarking on career milestones in modeling, television, film, fashion, and music.