iHeartMedia New York's Q104.3 is celebrating 25 years as New York's Classic Rock Station. The station started the celebration this morning with
original morning team Donna Donna and Steve Morrison, former Program Director and morning man Bob Buchmann and original DJ and long-time metal guru Eddie Trunk joining the show along with well wishes from celebrities including Gilbert Gottfried, The Doobie Brothers' Tom Johnston, Jill Hennessy, Black Crowes' Rich Robinson, Steve Schirripa and Billy Joel!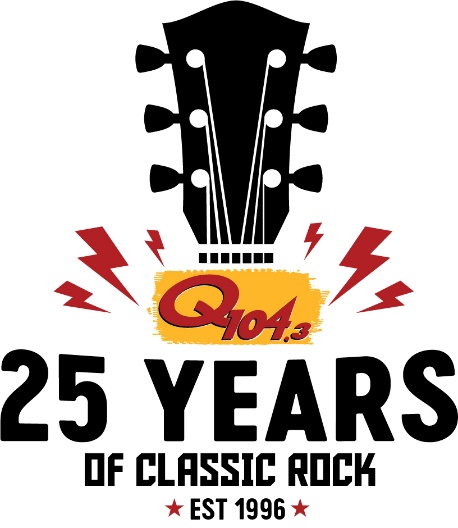 Q104.3 is the #1 Classic Rock Station in America, with nearly two million weekly listeners. In celebration of 25 years rocking New York, Q104.3 will be giving away $25,000 to one lucky listener. To win the contest participants must listen weekdays, starting around 9 a.m. during Q104.3's Free Music Mornings. When listeners hear the 25th song in the commercial-free set, they must then visit www.q1043.com and share the
song's title, and artist played and will automatically qualify to win $25,000.
Radio Hall of Fame member Jim Kerr leads the station's on-air staff partnering with Shelli Sonstein in the morning, followed by DJs Maria Milito, Ken Dashow, Carol Miller, Marc Coppola, Gerry Martire, Doc Reno, Jonathan Clarke, Ian O'Malley and Ralph Tortora. Q104.3 has been a staple in the New York community with the biggest rock stars gracing the stations airwaves from Jimmy Page to Paul McCartney, Bono to Mick Jagger and Keith Richards and many more. The on-air staff have also hosted live broadcasts and reported on some of the most iconic entertainment moments, including the Led Zeppelin reunion at the O2 Arena in London, the Live 8 benefit concert and Billy Joel's The Last Play at Shea.
In addition, the team at Q104.3 has also helped New York get through its darkest moments from 9/11 to Hurricane Sandy to the current pandemic, serving as a trusted information source as well as comfort through music.
"I've been here for 21 of the 25 years that we've been bringing classic rock to the tri-state area," said Eric Wellman, Program Director for Q104.3. "Not a day goes by where I don't walk out of Penn Station, see the Empire State Building, and think how lucky I am to run a station that gets to broadcast the best music on earth from the top of that iconic building. I can't believe it's been 25 years already; it feels like yesterday. Here's to 25 more!"
"When Q104.3 signed on in July of 1996, I knew I wanted to be a part of it," said Jim Kerr, host of the 'Jim Kerr Rock and Roll Morning Show' on Q104.3. "It took me seven years, but I was finally able to join this incredible on-air staff with the most talented and experienced people in the business. What a great team, and I am so proud to be a part of it!"
iHeartMedia is the leading media outlet in the New York market with multiple platforms, including its broadcast stations; live events; data; and its digital businesses and platforms, including mobile, social and its own iHeartRadio, iHeartMedia's free all-in-one digital music, podcasting and live streaming radio service – with more than 3 billion app downloads and more than 150 million registered users.