This year, to honor the legacy of beloved filmmaker Lynn Shelton, Northwest Film Forum and Duplass Brothers Productions launched the Lynn Shelton "Of a Certain Age" Grant.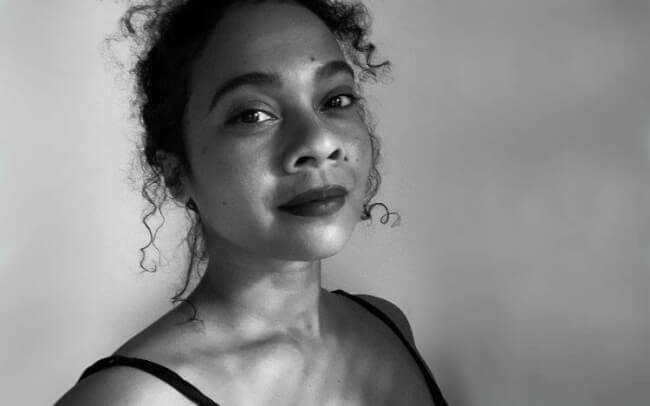 This $25,000 unrestricted cash grant is modeled after Shelton's own history in the film industry, supporting a woman or non-binary US-based filmmaker, age 39 or older, who has yet to direct a narrative feature.
The Award Selection Committee was comprised of Justin Chang (film critic, Los Angeles Times and NPR's Fresh Air), Nia DaCosta (director, Captain Marvel II, Candyman), Mel Eslyn (President, Duplass Brothers Productions), Aurora Guerrero (director, Mosquita y Mari), and Nahnatchka Khan (director, Always Be My Maybe, executive producer, Fresh Off the Boat).
Guerrero said of the experience, "It was an honor to be among such an esteemed group. There was this underlying thoughtfulness and commitment to the process that really made me appreciate being in conversation with everyone on the committee." Adds DaCosta, who Shelton mentored at the Sundance Labs, "It's helped to soothe the ache, doing this small thing, of the terrible loss of such an immense, giving, magnificent woman."
The recipient of the 2020 Lynn Shelton "Of A Certain Age" grant is Keisha Rae Witherspoon, a Caribbean-American filmmaker based in Miami. "From a truly stellar group of nominees I'm so excited for our winner, Keisha Rae Witherspoon," DaCosta said.
"Her point of view, visual acuity and humane sensitivity make her work electrifying. She creates in the exciting mode of our late Lynn Shelton. I feel there is a kinship in the process between them—an unbreakable and clear thread between their distinctive works."
"Keisha Rae Witherspoon is one of those filmmakers that make you excited about what's possible. The way she conveys characters that are at once both completely unique yet also familiar—like people who you actually know but no one you've ever met.
To me, I see a direct connection to the work of Lynn Shelton there," says Khan, who collaborated with Shelton on Fresh Off the Boat. "The way Lynn was able to drop you into the lives of people who felt real and true and then take you on a journey to show you how everyone is totally unique.
Keisha continues in that tradition by also blurring the lines between reality and fiction and playing with tone in a way that makes you feel rooted in something and also slightly off-balance at the same time. I imagine Lynn would be delighted to discover the work of this talented new storyteller."
Witherspoon's work is driven by interests in science, speculative fiction, and fantasy, as well as documenting the unseen and unheralded nuances of diasporic peoples. Her short film T world-premiered at BlackStar Film Festival 2019 where it won audience award for best short film. It went on to screen at Sundance and win the Golden Bear for best short film at Berlinale.
In her letter to the Award Selection Committee, Keisha said, "I think of artistry as shamanism, a transformative process that, when done right, opens and bends the mind to wild new possibilities.
After nearly two decades of self-discovery, coursing, most often as a voyeur, through exclusive and often intimidating creative communities, and finally piecing together my career and creative identity from limited optics and examples, I've arrived at this new existence as a '40-year-old emerging filmmaker.'
I've often been my own source of strength to push through these spaces, because I had to—because my unheard voice was my community's, and it deserves more."
The grant fund was spearheaded by Duplass Brothers Productions, which includes Mark Duplass, Jay Duplass and Mel Eslyn, and was bolstered by many others, including Washington-based production company COLOR, Tracy Rector, Eliza Flug, Marc Maron, Joshua Leonard & Alison Pill, Michaela Watkins & Fred Kramer, CB Shamah, Chris & Philip Wohlstetter, and Jennessa & Robert West.
It is being stewarded by Northwest Film Forum, a community film center that supported Shelton in her early years and throughout her career.
In this inaugural year, the nominations were sought from a diverse Advisory Committee with expertise on the current filmmaking landscape and knowledge of emerging filmmakers from around the country, including Beth Barrett (Seattle International Film Festival), Emily Best (Seed & Spark), Virginia Bogert (WIF/Seattle), Linda Bove (actor), Effie Brown (Gamechanger Films), Kat Candler (filmmaker), Amy Dotson (Northwest Film Center), Claudette Godfrey (SXSW), Miranda July (filmmaker), Mynette Louie (The Population), Leah Meyerhoff (Film Fatales), Lucy Mukerjee (Tribeca Film Festival), Janet Pierson (SXSW Film Festival), Mike Plante (Sundance Film Festival), Rishi Rajani (Hillman Grad), Tracy Rector (filmmaker/activist), and Ligiah Villalobos (writer/producer).
"The resulting nominees were representative of the multiplicity of identities, lived experiences, and talent of eligible filmmakers around the country, including the underrepresented voices of BIPOC filmmakers, LGBTQ+ filmmakers, filmmakers with disabilities, and those at the intersection of these groups," said NWFF board member Megan Griffiths, a filmmaker and close collaborator of Shelton's who helped oversee the granting process in 2020.
Vivian Hua, Northwest Film Forum's Executive Director, says, "The enormous talent which came our way during this process proves that making a feature film is not a benchmark for talent. Keisha absolutely is and will be one to watch, and we are elated to play a small role in her sure-to-be transformative future."
Eslyn adds, "Keisha's work knocked me off my feet. Her voice is so distinctly unique, her textures rich, and her humanity is visible. It's everything we need in the world and in art."