RadioFacts: Legendary Philadelphia International Records co-founders and R&B pioneers Kenneth Gamble and Leon Huff released the following statements, individually, today to formally congratulate producer/arranger/songwriter Thom Bell, their "Mighty Three" co-creator in the Sound of Philadelphia, on being named to receive the Recording Academy® 2017 Trustees Award: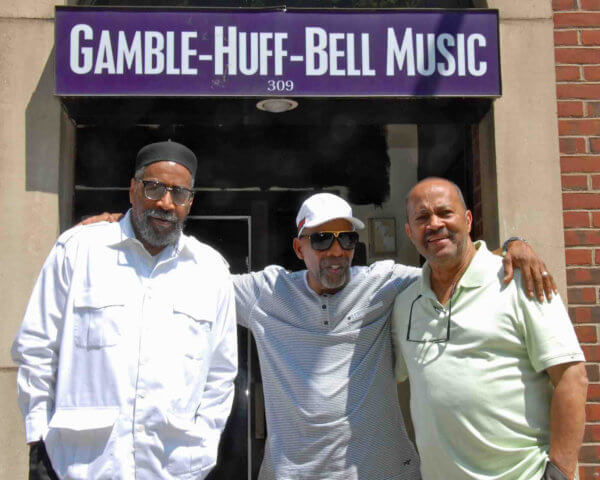 Said Huff: " I am extremely happy for our longtime friend and writing partner Tommy Bell for receiving this award. I personally consider him to be one of the greatest writers, arrangers and producers of all time."
Added Gamble: "I too am so excited for and congratulate my longtime friend Tommy for this great honor. We have been friends and writers together for over 55 years — even as recording artists and co-band members prior to the creation of Philadelphia International Records. We were further honored to have him be a part of our Mighty Three Music family, creating and producing American Pop and R&B Music standards of our time. And now things have come full circle with all three of us having received a GRAMMY Trustee Award".
The Trustees Award is a Special Merit Award presented by vote of The Recording Academy's National Trustees to individuals who, during their careers in music, have made significant contributions, other than performance, to the field of recording. Gamble & Huff also received The Trustees Award, in 1999. By contrast, Special Merit Award performers are honored with the Lifetime Achievement Award.
Also honored with the Trustees Award were record executives Mo Ostin and Ralph S. Peer. Special Merit Awards for performers receiving Lifetime Achievement honors were Shirley Caesar, Ahmad Jamal, Charley Pride, Jimmie Rodgers, Nina Simone, Sly Stone, and the Velvet Underground.
Much of Soul music history over the last half century has revolved around great producer/artist combinations, and none was more pleasing than the work of "Mighty Three" partners Gamble, Huff and Bell. Together, they created the Sound of Philadelphia, the most important and dominant sound of the '70s, and the heir to the Motown sound of the '60s. As songwriters, musicians, producers and arrangers, Gamble, Huff and Bell established themselves among the most important R&B/Soul music figures of all time. Their Mighty Three Music catalog and publishing company, currently owned by Warner/Chappell Music, is one of the deepest and most enduring catalogs in the history of popular music.
Bell teamed with the Philadelphia-born songwriter Linda Creed to become one of the era's dominant soul songwriting teams, penning hits together such as "Stop, Look, Listen (To Your Heart)", "You Are Everything", "Betcha by Golly, Wow", "Break Up to Make Up", "You Make Me Feel Brand New," and "I'm Stone in Love with You" (the latter with Anthony Bell) ─ all for the Stylistics ─ as well as the 1976 blockbuster "The Rubberband Man" for the Spinners.
Bell's work with the Stylistics, the Spinners (also "I'll Be Around," "Could It Be I'm Falling in Love," "One of a Kind [Love Affair]," "Mighty Love," "Then Came You," "They Just Can't Stop It the [Games People Play]"), and the Delfonics ("La-La Means I Love You," "Didn't I Blow Your Mind") became immediately recognizable for its shimmering beauty and exquisite sweetness.
When he initially united with the visionary production team Gamble & Huff at their newly formed Philadelphia International Records, the classic Philly Soul sound quickly began to take shape. Over the course of seminal releases like Jerry Butler's 1969 smash "Only the Strong Survive," Billy Paul's 1972 smash "Me and Mrs. Jones," and the Harold Melvin & the Blue Notes classic "If You Don't Know Me by Now," the Gamble & Huff production aesthetic — an intoxicating combination of sweeping strings, smoky horns, and insistent rhythms — emerged as the definitive soul sound of the early '70s, its success due in large part to Bell's impeccable arrangements. Bell also contributed a pair of No. 1 Elton John hits to the Philly Sound – "Philadelphia Freedom" and "Mama Can't Buy You Love," and arranged the Teddy Pendergrass hit, "Close the Door." The "Mighty Three" team reached its pinnacle with the O'Jays, scoring a series of classic hits like "Back Stabbers," "Love Train," and "For the Love of Money" while drafting the blueprint for the rise of disco during the latter half of the decade.
Bell won the GRAMMY award in 1975 in the category of "Best Producer of the Year." In 2006, he was and was inducted into the Songwriters Hall of Fame and honored along with Berry Gordy, Jr. by the R&B Pioneer Foundation.Bell has also been twice honored by Billboard with their Number One Producer award.