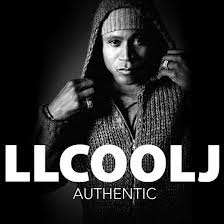 GRAMMY AWARD-WINNER STEPS BACK UP TO THE MIC WITH HIS 14th STUDIO ALBUM NOW AVAILABLE FOR PRE-ORDER ON AMAZON AND iTUNES AUTHENTIC FEATURES SPECIAL GUESTS INCLUDING BRAD PAISLEY, BOOTSY COLLINS, CHUCK D, CHARLIE WILSON, EDDIE VAN HALEN, EARTH, WIND & FIRE, MONICA, SNOOP DOGG, SEAL, TRAVIS BARKER AND MORELL TO TOUR THIS SUMMER IN SUPPORT OF AUTHENTIC KICKING OFF MAY 23

Two-time Grammy ®-winning recording artist, LL COOL J, will release his 14th studio Album, AUTHENTIC, on April 30, 2013 on 429 Records/The Savoy Label Group. The multi-platinum artist returned to the studio and kicked the volume up to create a powerful new album that came from his true passion for music and would speak to his fans.
AUTHENTIC is currently available for pre-order at Amazon.com and iTunes. AUTHENTIC features a diverse and wide array of legendary and new artists that underscores the Album##Q##s roots of being born out of the true love for music, including Brad Paisley, Bootsy Collins, Chuck D, Charlie Wilson, Eddie Van Halen, Earth, Wind & Fire, Monica, Snoop Dogg, Seal, Travis Barker and many more.
Collectively these artists have achieved tremendous success in music, including many Grammy ® Awards, multi-platinum albums, American Music Awards, MTV Video Music Awards, Billboard Awards, Rock and Roll Hall of Fame inductions and nominations, NAACP Awards, and Country Music Awards, among many other accolades.
"With AUTHENTIC, I wanted to work on a project that showed my genuine love for all music," LL says. "Collaborating with these myriad of artists was an amazing experience and this album got me back to my roots and is for the fans across all generations who love real music too."
Celebrating his 30th year in music, AUTHENTIC features the iconic rapper in his element. The album is anchored by LL's expressive attitude where his sensitive side is as present as his slicing lyrical switchblades. AUTHENTIC comes to life with rock-hip-hop anthems, crazy club jams, tender tracks, personal tributes, and hard-hitting commentary addressing the current hip-hop climate.
Fans have gotten an early taste of the musically diverse and genre defying AUTHENTIC with the release of the Album tracks "We Came To Party" featuring Snoop Dogg & Fatman Scoop and "We're The Greatest" featuring Eddie Van Halen and Travis Barker, a thunderous rock/rap anthem which includes symbolic lyrics, frenetic, over the top guitar licks played with reckless abandon and solid drum beats.
On the heels of the release of LL's new album, LL will tour this summer all across the country in support of AUTHENTIC. As a part of performing this summer, LL featuring DJ Z-Trip will headline "The Kings Of The Mic" Tour, joined by legendary Hip-Hop artists Ice Cube, Public Enemy and De La Soul. LL will kick-off touring May 23, 2003 in Tucson, AZ and wrap-up in Los Angeles, CA on July 7, 2013.
For a full list of LL's dates and cities, and to purchase tickets, visit here. First introduced to the world in 1984 as a Def Jam Records flagship artist, LL is the first rap artist to amass ten consecutive platinum-plus selling albums. The multi-platinum artist and two-time Rock and Roll Hall of Fame nominee is currently tied for third place for the most Billboard chart debuts by a rapper.
For three decades, LL has continued to influence hip-hop with rap ballads that captivate generations of audiences. Since then, the veteran rapper has evolved his scope of work across entertainment appearing in numerous television and film roles, among many other projects.
AUTHENTIC was recorded in Los Angeles and is Executive Produced by LL COOL J and will be released as a joint venture by LL COOL J, Inc. and 429 Records. For more information, details and updates, visit www.LLCOOLJ.com, Facebook.com/LLCOOLJ, Twitter.com/LLCOOLJ and Twitter.com/TeamLLGoat.
AUTHENTIC TRACKLIST
:"Bath Salt" "Not Leaving You Tonight" Feat. Fitz & The Tantrums with Eddie Van Halen "New Love" Feat. Charlie Wilson "We Came To Party" Feat. Snoop Dogg & Fatman Scoop "Give Me Love" Feat. Seal "Something About You" Feat. Charlie Wilson, Earth Wind & Fire and Melody Thornton "Bartender Please" Feat. Snoop Dogg, Bootsy Collins & Travis Barker "Whaddup" Feat. Chuck D, Travis Barker, Tom Morello and Z-Trip "Between The Sheetz" Feat. Mickey Shiloh
"Closer" Feat. Monica "Live For You" Feat. Brad Paisley "We##Q##re The Greatest" Feat. Eddie Van Halen & Travis BarkerLL COOL J TOUR DATES5/23Tucson, AZAva Amphitheater5/24Las Vegas, NVHard Rock Hotel & Casino – The Joint5/25San Francisco, CAShoreline Amphitheatre5/26Santa Barbara, CASanta Barbara Bowl5/30Minneapolis,
MNTarget Center5/31Council Bluffs, IAHarrah's Hotel & Casino – Stir Cove6/1Saint Louis, MOScottrade Center6/4Atlanta, GAFox Theatre6/6St Petersburg, FLMahaffey Theater6/7St Augustine, FLSt. Augustine Amphitheatre6/8Orlando, FL94.5 Block party6/12Baltimore, MDLyric Opera House6/14Simpsonville, SCCharter Amphitheater at Heritage Park6/15Portsmouth,
VAnTELOS Wireless Pavilion6/16Durham, NCDurham Performing Arts Center6/18Newark, NJNew Jersey Performing Arts Center6/19Boston, MABank of America Pavilion6/20New York, NYRoseland Ballroom6/22Canandaigua, NYConstellation Brands Marvin Sands Performing Arts Center6/23Mount Pleasant,
MISoaring Eagle Casino & Resort – Outdoor6/25Cleveland, OHJacobs Pavilion at Nautica6/26Clarkston, MIDTE Energy Music Theatre6/27Cincinnati, OHRiverbend Music Center6/28Milwaukee, WISummerfest7/1Grand Prairie, TXVerizon Theatre at Grand Prairie7/2Austin, TXStubb##Q##s Waller Creek Outdoor Amphitheater7/3Houston, TXBayou Music Center7/5New Orleans, LAEssence Festival7/7Los Angeles, CAThe Greek TheatreABOUT LL COOL J