Digital and Radio Facts: Radio Facts: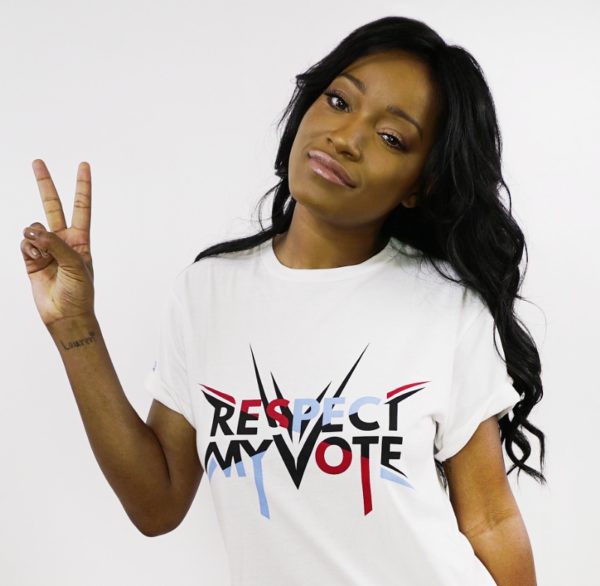 The Respect My Vote! campaign announced multifaceted entertainer Keke Palmer as the latest celebrity spokesperson. An accomplished actress, singer, and television host, Keke started her film career at the age of 11 in the critically acclaimed 'Akeelah & the Bee'. She has since led a groundbreaking career with starring roles in 'True Jackson VP', 'A Trip to Bountiful', 'Joyful Noise', 'Brotherly Love' and other major film and television roles. Currently, she is a star on 'Scream Queens', as well as a cast member of the Fox presentation 'Grease Live' that recently garnered 10 Emmy nominations. In addition, Palmer has broken boundaries and records by being the youngest person to ever have their own national talk show, being the first African-American Cinderella on Broadway, and the youngest person ever to receive a Screen Actors Guild nomination in a lead actress category. Keke Palmer has a strong voice that speaks to millennials. As a spokesperson, Palmer will utilize her influence to drive the message of creating change in the community through the power of the vote in both national and local elections.
"I am excited to be working with Respect My Vote! It honestly gives me the opportunity to not only become more aware myself about the upcoming election, but it also allows me to encourage my peers to understand the importance of it," stated Palmer. "I have realized that I can either take responsibility for what is going on in the world around me or I do not have the right to complain when things go wrong."
Respect My Vote! is a national non-partisan Hip Hop culture-based campaign that reaches young voters and communities of color throughout the U.S. The campaign aims to educate the disenfranchised on the importance of voter participation from the local and national levels through celebrity spokespeople, social media influencers, and community leaders. The Respect My Vote! campaign is currently participating in all U.S. stops on The High Road Tour to register voters through pop-up registration stations.
"It's very encouraging when celebrities of a high caliber such as Keke Palmer join the Respect My Vote! team to encourage the disenfranchised to utilize their voting power," stated Hip Hop Caucus President and CEO, Rev. Lennox Yearwood, Jr. "We continue to partner with people who are motivated to help others realize that their future is not already written and that if they get out and vote, they can shape policy instead of having policy shape us."
The Respect My Vote! campaign has mobilized hundreds of thousands of voters since its inception 2008 with the help of celebrity spokespeople such as T.I., 2 Chainz, Charlamagne Tha God, Vic Mensa and Sway Calloway amongst many others. People can register to vote, get informed on ex-offenders laws from state to state, join the campaign by pledging to vote, sign up to volunteer in their communities, and spread the word through their social networks online at www.respectmyvote.com