Digital and Radio Facts: Radio Facts: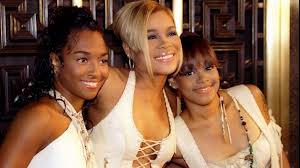 VH1 has cast the iconic roles of superstars Rozonda "Chilli" Thomas, Lisa "Left Eye" Lopes, and Tionne "T-Boz" Watkins, for a full-length TV movie based on the life and career of R&B/hip-hop/pop group TLC.
In the film, titled "Crazy, Sexy, Cool: The TLC Story," KeKe Palmer ("Akeela & The Bee," "True Jackson VP," "Joyful Noise") will portray Rozonda "Chilli" Thomas, Lil Mama ("America's Best Dance Crew") will take on the role of Lisa "Left Eye" Lopes, and Drew Sidora ("Step Up," "Wild Hogs," "The Game") has been cast as Tionne "T-Boz" Watkins.
Charles Stone III ("Drumline," "Paid in Full," "Mr. 3000") is set to direct the biopic, which is penned by screenwriter Kate Lanier ("What's Love Got To Do With It," "Set it Off," "Beauty Shop"). The film is slated to begin shooting next month in Atlanta.
VH1's TLC project is part of the network's successful push into scripted programming which will include the premiere of new scripted series "Bounce" (working title) later this year.
"With this cast, we are thrilled with the talent assembled both in front of and behind the cameras," stated Jeff Olde, Executive Vice President, Original Programming and Production, VH1. "TLC are truly music pioneers and this movie is a fantastic way to expand our scripted push by combining our audience's passion for music with their love of story. We know our viewers will be eager to go beyond the headlines and into the surprisingly personal, never before told stories of these groundbreaking women."
TLC's humble beginnings in Atlanta quickly led to an unprecedented rise to fame in the 1990's as one of the world's most talented, celebrated and highest-selling female groups of all time. Through very public and high profile success, turmoil and tragedy, TLC left an indelible stamp of female empowerment that changed the face of the music industry forever.
The two surviving members of the group, Chilli and T-Boz, have signed on as consultants and executive producers for the movie. Executive producing the TLC biopic are Bill Diggins and Maggie Malina. Jeff Olde and Jill Holmes serve as executive producers for VH1. Alexander A. Motlagh also serves as executive producer for Pop Films.