Radio Facts: Radio Facts: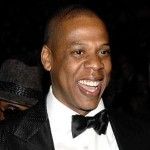 Historians have revealed rapper's daughter Blue Ivy is distant cousin of Kate and Wills' first-born
– Initial run of tickets for the 'Magna Carta…Holy Grail' tour sold out within seconds of going on sale last Friday (19 th July)
– StubHub has availability for all dates of the newly-extended October UK and Ireland tour
Jay Z's busiest week of ticket sales in years has coincided with revelations about his family's amazing links to the British Royal Family, as the ripples of Royal Baby fever reach even the hip-hop world.
The undisputed king of rap, famed for albums such as Watch the Throne and his marriage to 'Queen B' Beyonce, is purportedly related to the Duke and Duchess of Cambridge's new-born son through his daughter Blue Ivy. The one-year-old was revealed as the 23rd cousin twice-removed to the regal tot by an online genealogy website earlier this month.
Within days of the revelation, thousands of tickets for Jay Z's October UK and Ireland tour were snapped up by fans mere minutes after going on general sale. Such was demand that extra dates have now been added to the tour, which kicks off in Manchester on 3rd October before moving on to Birmingham, Dublin and London.
Jay Z's legions of fans are already buying and selling tickets for the tour on leading online ticket marketplace StubHub UK, which has listings and availability for each of the iconic artist's 'Magna Carta…Holy Grail' concerts.
Commenting, Fiona Chow, Head of European Communications at StubHub said: "Music fans have long considered Jay Z the king of hip-hop, but reports of his links to the Royal Family appear to have sent his popularity soaring to another level in the UK. Given their well-documented love of pop music, we wouldn't be surprised if the Duke and Duchess are already sorting out a babysitter so they too can attend one of these huge concerts themselves in October."