The Country Radio Broadcasters, Inc. held the 2021 Country Radio Hall of Fame dinner and awards ceremony last night, October 13, 2021, at The Westin in Nashville, Tennessee. The evening was filled with honoree presentations, acceptance speeches, video segments, and an exceptional performance by Garth Brooks, Keith Urban, and Trisha Yearwood.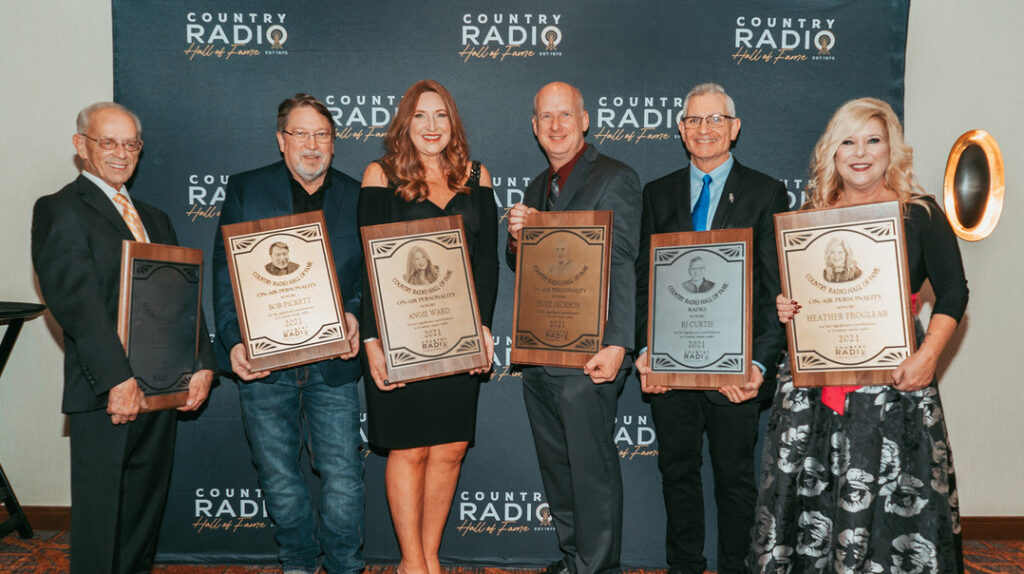 Many of the honorees praised their mentors and reflected on their journeys by sharing some of their most cherished moments throughout their career.Four off-air radio broadcasters and four on-air radio personalities were recognized for making a significant impact on the radio industry over the course of a 20-year period, with 15 of those years being contributed to country-specific radio.
The 2021 Country Radio Hall of Fame Class of inductees recognized were off-air honorees Bob Call, RJ Curtis, Bill Hagy, and Norm Schrutt. On-air honorees were Heather Froglear, Buzz Jackson, Bob Pickett, and Angie Ward. Due to last-minute unforeseen circumstances, Bob Call was unable to attend and appear at this year's event; therefore, to fully honor him, his induction will be held at the 2022 Hall of Fame event.
CRB/CRS Board President, Kurt Johnson, presented long-time music industry veteran and member of the Country Radio Broadcasters' board and executive committee, Beverlee Brannigan, with the 2021 CRBPresident's Award.
Country music superstar Garth Brooks presented Keith Urban with the 2021 CRB Artist Career Achievement Award. Brooks capped off the award presentation with a special performance of Urban's 2004-hit song, "You'll Think of Me." Brooks was later joined by Urban and Trisha Yearwood for a special performance of "Fishin' in The Dark.
"Among the sold-out audience were past inductees, including Beverlee Brannigan, Bill Cody, Bob Cole, Charlie Cook, Karen Dalessandro, Mike Hammond, Lon Helton, Mike O'Malley, Joel Raab, Tim Roberts, Ed Salamon, and Tim Wilson.
Nominations for the 2022 Country Radio Hall of Fame are being accepted through October 29 (here). The Class of 2022 will be revealed at CRS 2022, to be held February 23-25, 2022.Founded in 1974, The Country Radio Hall of Fame is dedicated to the recognition of those individuals who have made significant contributions to the radio industry over a 20-year period, 15 of which must be in the Country format.