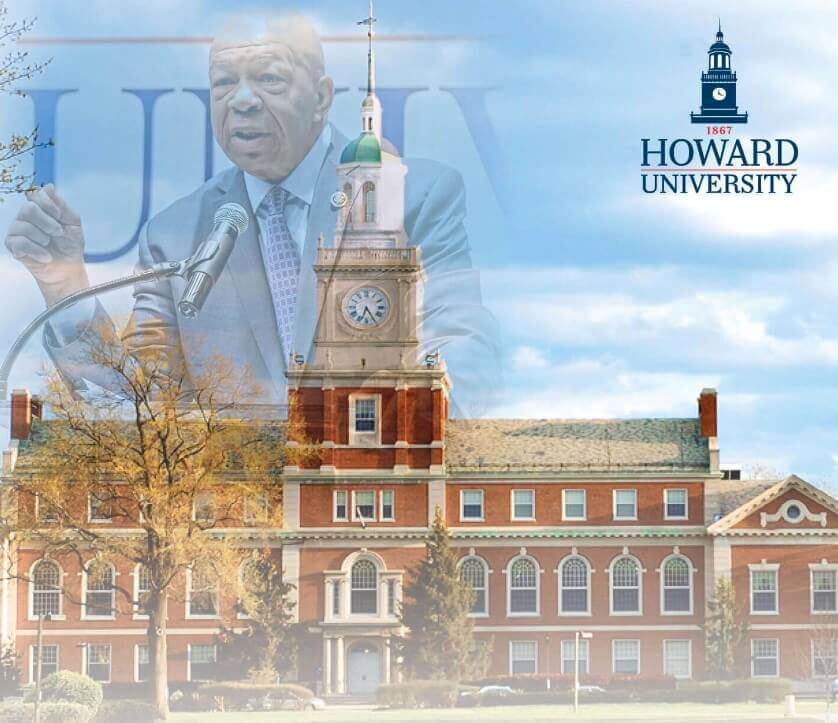 WASHINGTON – On Nov. 25, Howard University paid tribute the life and legacy of the Honorable Congressman Elijah E. Cummings, a distinguished leader in the U.S. House of Representatives and a beloved and influential alumnus.
In remarks, Howard University President Wayne A. I. Frederick, Howard deans and professors praised Cummings for his selfless and unparalleled contributions to the University, other HBCUs, and to the wider nation throughout his service in politics. Congressman Cummings passed away last month, after proudly serving Maryland's 7th congressional district in the U.S. House of Representatives for more than 20 years.
Dr. Frederick fondly recalled how Cummings offered himself as a confidante as well as the occasions where he would actually run into the congressman in the administration building lobby as Cummings sought to pay his daughter's tuition bill. Several members of the Cummings family attended the event.
"His care and concern for his family and for what he saw as his responsibility around that activity was absolutely heartwarming," Frederick said. "That greatness that he exemplified did not occur by chance. It occurred because he had an unending, unconditional love for his family that then permeated out to the rest of us."
Dr. Frederick said Cummings had probably spoke at more individual school and colleges commencements than any single other individual. Each each year, at a pre-commencement dinner, the graduation day speaker was always seated at the table where Cummings sat.
"It was one of my rules," Dr. Frederick said, knowing that Cummings would help the speaker fully appreciate the institution's importance. "I have heard few people express what Howard University is in the manner that he did."
Cummings arrived at Howard University in 1969 and held a campus position every single year that he was here. The positions he held covered a wide variety interests, including judiciary boards of dormitory halls, sophomore class president, Howard University Student Association treasurer, and Howard University Student Association president. Cummings graduated Phi Beta Kappa with a degree in political science in 1973.
At the tribute, former chair of Howard University Department of Political Science Clarence Lusane, Ph.D., spoke about the political context that shaped Cummings public outlook. At the time of Cummings student years at Howard, the political science department was being remade in the aftermath of political uprisings in both Baltimore and Washington, D.C. The political science department, under the direction of Ronald Walters, shifted from a historical focus on traditional political science to one that was willing to inject the politics of race and struggle.
"The Cummings class found that they were in a department that would rocket to the forefront of an emerging, decidedly pro-Black, pan-African, diasporic paradigm in the field of political science," Lusane said. "This was the environment Mr. Cummings was seeped in during his undergraduate years. His leadership was quick to assert itself. He formed a bond with Dr. Walters that would be lifelong."
After graduating from Howard, earning a law degree from University of Maryland School of Law and practicing law for 19 years, Congressman Cummings blazed his own trails by beginning his career of public service in the Maryland House of Delegates, where he served for more than a decade. In his most recent role, Congressman Cummings served as the chairman of the Committee on Oversight and Reform. As the committee's Chairman, Congressman Cummings fought to hold the presidential administration to a high standard of excellence and to ensure efficiency and effectiveness in the actions of the government of the United States.
The Howard University tribute was presided by longtime friend to Congressman Cummings and fellow political pioneer, Donna Brazile. Brazile currently serves as chair of the Gwendolyn S. and Colbert I. King Endowed Public Policy Lecture Series at Howard University, a position Congressman Cummings previously held from 2015-2017. Brazile said it was important to keep the Congressman's dedication to uplifting and empowering alive among Howard University students who share aspirations of becoming public servants.
View a recording of the event from WHUT.org by clicking here
About Howard University
Founded in 1867, Howard University is a private, research university that is comprised of 13 schools and colleges. Students pursue studies in more than 120 areas leading to undergraduate, graduate and professional degrees. The University operates with a commitment to Excellence in Truth and Service and has produced four Rhodes Scholars, 11 Truman Scholars, two Marshall Scholars, one Schwarzman Scholar, over 70 Fulbright Scholars and 22 Pickering Fellows. Howard also produces more on-campus African-American Ph.D. recipients than any other university in the United States. For more information on Howard University, visit www.howard.edu.
# # #
Media Contact: Sholnn Freeman, [email protected]