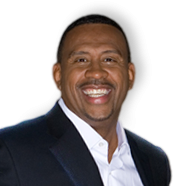 Michael Baisden appears to be very determined to get a slot on the only urban station in the Number One market WBLS/New York. WBLS is now a bonafide powerhouse in the industry unmatched in the top radio market. From this point, an internship at the station will be considered a stellar position.
Yesterday the talk show host boasted to his fans, "Buffoonery Over Activism: Do we really prefer music and jokes over content?" Ouch, this approach may not be one of Baisden's finer moments when it comes to protocol on a slot request for a high profile historic station but industry insiders question if Baisden's appeal and interesting tactics will win WBLS over, according to a very good Radio Facts source close to WBLS, the station is not impressed with being called "Buffoons" nor the barrage of phone calls from Baisden's fans interrupting the station's daily operations and effort to adapt to the recent changes. Baisden gave out the station phone number on his campaign site to have his fans "respectfully call" to ask that his show be added.
He has reached his original goal of 12,000 signatures and now he is asking for 18,000. At last count, he was up to 16,000 or more on his petition site. Baisden has an event in NY that was planned before WRKS changed formats so he was obviously not aware the change was coming. While the fans may be none the wiser, the New York radio story for WBLS is now front page news for the leading industry trade site, Radio Facts . Those of us in the industry understand how massively important it is to have NY on the roster for a syndicated show.
Even if WBLS did decide to bring Baisden in they would have to eliminate a newly announced position for a veteran announcer in the market. Keith Sweat got the boot and ironically is the one syndicated show I have heard the least about over the last couple of years. The industry was SHOCKED that he even got a slot on WBLS when he premiered and everyone complained about how awful the show was. I have to admit, I've never heard the show. Tom Joyner was also given the boot from WRKS and sources state his company Reach Media was red hot because they allegedly paid a very handsome sum to be on the air at WRKS and desperately needed the market. Others felt the TJMS show was not sophisticated enough to captivate the NY audience from gate. At this point media mogul Steve Harvey has the coveted honor of being the only full time syndicated show on WBLS (to my knowledge) and no one can argue with Harvey's mass appeal. The only question I have is why hasn't Baisden written any more books? I'm surprised one of HIS books is not a movie by now. He had a head start on Harvey, what happened?