Radio Facts: Radio Facts: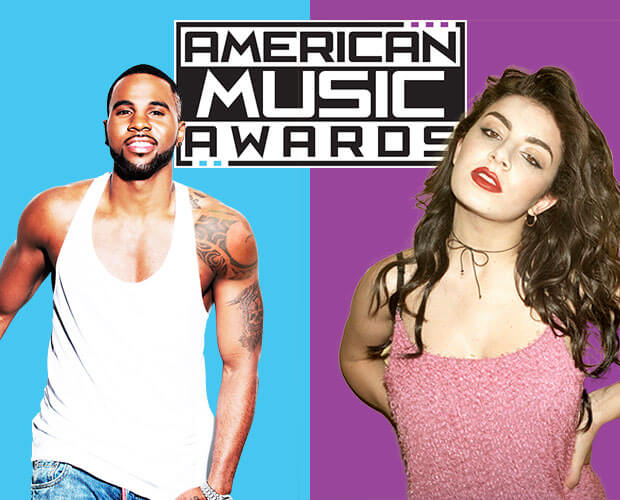 Ok Ok Ok, so we fooled you just a bit. The nominees for the American Music Awards will be announced very soon.  Music superstars Jason Derulo and Charli XCX will appear live on ABC's "Good Morning America" on Monday, October 13 to announce nominees for five categories for the 2014 American Music Awards. The full list of nominees will be made available at TheAMAs.com at 9:00 am ET following their appearance on GMA. The 2014 American Music Awards will broadcast live from the NOKIA Theatre L.A. LIVE on SUNDAY, NOVEMBER 23rd (8:00-11:00 pm ET/PT) on ABC. Artists will be honored in the genres of Pop/Rock, Country, Rap/Hip-Hop, Soul/R&B, Alternative Rock, Adult Contemporary, Latin, Contemporary Inspirational, and Electronic Dance Music, as well as categories for Top Soundtrack, New Artist of the Year Presented by Kohl's, Artist of the Year, and "Single of the Year."
Five years since making his debut in pop music, Jason Derulo has sold more than 45 million records worldwide and amassed more than 1.3 billion views on his YouTube channel. His last song, "Wiggle" featuring Snoop Dogg is his eighth song to reach the Top 10 on the Top 40 format and his ninth platinum-selling single. The video for the track has amassed over 300 million views. Derulo's ubiquitous hit "Talk Dirty" featuring 2 Chainz is his most successful track to date, having sold more than six million copies worldwide. The Miami-native's career started when he was 16 years old and began writing songs for artists including Lil Wayne, Pitbull, Diddy, Sean Kingston, Cassie and Danity Kane. Derulo's current hit "Trumpets" will be the fifth single from his most recent album, Talk Dirty, to go platinum- an accomplishment reached by only eight other artists since 2007 including Taylor Swift, Beyoncé and Bruno Mars.
London-based singer and songwriter Charli XCX is quickly proving an unqualified phenomenon with her edgy, yet addictive approach. Since her first critically-acclaimed track, "Nuclear Seasons" in 2011, the 22 year-old, Charlotte Aitchison, co-wrote the #1 smash single, "Fancy" with Iggy Azalea, and penned last year's double platinum summer it-song, "I Love It" recorded by Icona Pop, which she is featured on. Most recently, Charli XCX released the platinum selling "Boom Clap" single from the 'The Fault in Our Stars: Music From the Motion Picture' soundtrack, landing the #1 spot on Top 40 radio along, with a brand new song, "Break The Rules" from her forthcoming sophomore studio album, "Sucker" arriving December 16th via Neon Gold/Atlantic Records.
The "2014 American Music Awards" is produced by dick clark productions. Allen Shapiro and Mike Mahan are Executive Producers. Larry Klein, Barry Adelman and Mark Bracco are Producers.
Last year, ABC's broadcast of the "2013 American Music Awards" made it the dominant No. 1 non-sports net from 8:00-11:00 p.m. in Total Viewers and Adults 18-49.
• Surging by over 30% year to year in Total Viewers (+36%) and Adults 18-49 (+32%), the "American Music Awards" earned 4-year highs in viewers and young adults (since 2009), representing the show's 2nd-biggest audience in 11 years (since 2002). Hosted by Pitbull, the "AMAs" spiked 86% year to year in Teens 12-17 to deliver a 9-year high – since 2004.
• Despite the substantial competition, the "2013 American Music Awards" scored ABC's highest entertainment numbers in the 3-hour time period in 9 months with viewers and young adults – since the "Academy Awards" on 2/24/13.
• ABC's "American Music Awards" stood as the No. 1 most social program on television Sunday (including all sports and all cable across the entire day) with 7.6 million tweets and 5.1 tweets per unique user.