Radio Facts: WU-TANG CLAN'S RZA AND INTERPOL'S PAUL BANKS TEAM UP FOR COLLABORATION AS BANKS & STEELZ DEBUT SONG "LOVE AND WAR" OUT MAY 20 VIA WARNER BROS. RECORDS
BANKS & STEELZ TO PERFORM AT FYF, ACL, AND LIFE IS BEAUTIFUL FESTIVALS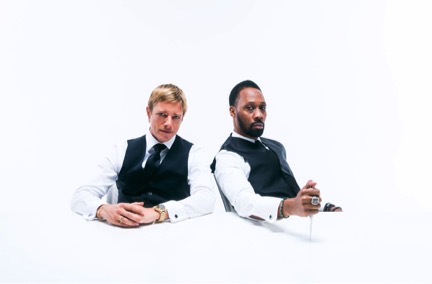 May 19th, 2016 – (Burbank, CA) – Wu Tang Clan's RZA and Interpol's Paul Banks have teamed up for a musical collaboration under the name Banks & Steelz. This morning, their debut song
"Love and War" premiered on Zane Lowe's show on Apple Music. It will be available from warner bros. Records for purchase via all digital retailers tomorrow. In addition, a video for "Love and War" directed by Arms Race will premiere tomorrow online at PITCHFORK. Fans in Los Angeles and New York can be the first to see the "Love and War" video at pop-up storefront installations at 410 N. Fairfax Los Angeles, CA 90036 and 154 Orchard St, NY, NY 10002.
"For love sometimes we find ourselves at war and the combatants may do anything to win," RZA says of the song. "For me love is worth fighting for, as long as love is not lost."
The Wu Producer/MC and Interpol frontman first began working on music together in 2013. RZA told Rolling Stone at the time that the idea to collaborate with Banks sparked after RZA's manager asked him who he wanted to do an album with. "When I met Paul, I recognized the New York energy he has as a music artist. We got to know each other playing chess and vibing out in the studio. Our talents connected in a unique way and we started writing songs. The outcome was something distinctively different from my previous work, yet with another layer of cool."
"Love and War" is the first song to be released from Banks & Steelz's upcoming album, which warner bros. Records will release later this year. They are confirmed to perform at FYF Fest 2016 in Los Angeles at the end of August and at the Life is Beautiful in Las Vegas and the Austin City Limits Music Festival in Austin in the fall.
8/27-8/28 FYF FESTIVAL – Los Angeles, CA
9/23-9/25 LIFE IS BEAUTIFUL MUSIC & ARTS FESTIVAL – Las Vegas, NV
9/30-10/2 + 10/7-10/9 – AUSTIN CITY LIMITS MUSIC FESTIVAL – Austin, TX
For more info, visit: www.banksandsteelz.com
Contact:
warner bros. Records Publicity:
Phylicia Fant / [email protected]