During the Drink Champs' Interview Kanye States Kris Jenner 66 had Sex with Drake 33
Kanye stated George Floyd's call for "Momma" was to his girlfriend, not his mother
Kanye stated Derek Chavin's knee was not really on Floyd's neck
REVOLT pulled the interview offline, Cease and Desist sent
It's no secret that Kanye West struggles with mental challenges yet he is still consistently invited to be interviewed and to make appearances on many shows and platforms where his comments and accusations are becoming more and more bizarre and hazardous.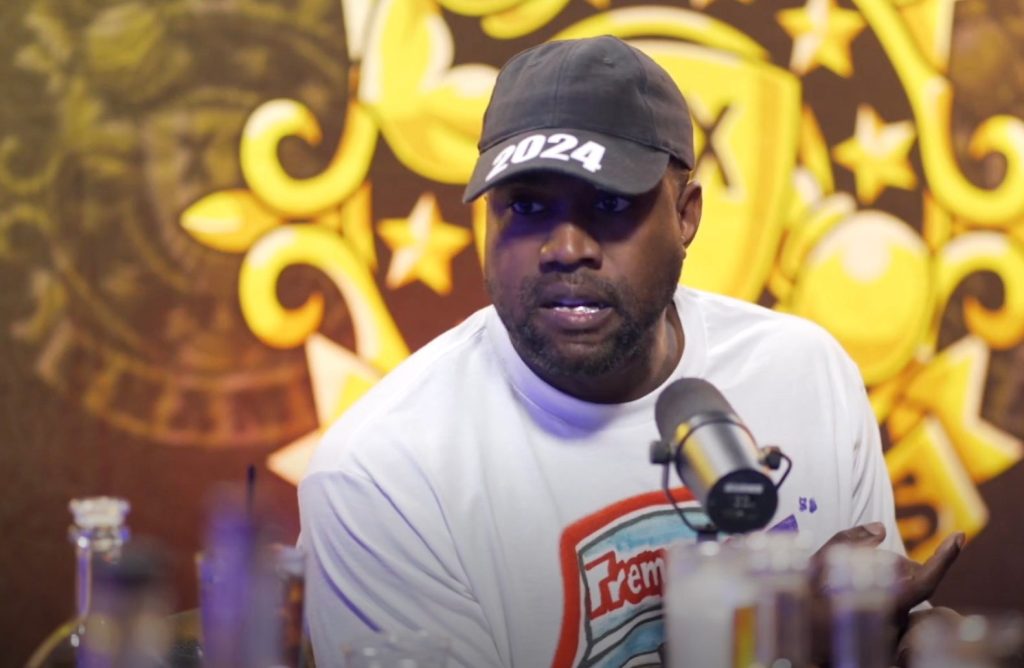 This time things went too far starting with this White Lives Matter shirt at a fashion show and now anti-semitic remarks and him saying George Floyd was killed by Fentanyl and not the obvious homicide that took place to the horror of millions of views when convicted former police officer Derek Chauvin planted the entire weight of his body via his knee on George Floyd's neck. This after being told he could not breathe.
West's comments have infuriated and are viewed as insensitive to Floyd's family who have just filed a $250 million lawsuit against the troubled music icon.
He made the disparaging remarks on 'Drink Champs' a podcast hosted by N.O.R.E. and housed under the REVOLT TV umbrella which is owned by Sean "Diddy" Combs.
The show involves alcohol which Kanye could claim exacerbated his already fragile mental condition and he may attempt to use it as an excuse for making the comments if he tries to avoid the lawsuit. Being "under the influence," suffering from mental illness AND if he is on medication could all spell disaster. It would appear his attorneys may use this as a defense in response to the lawsuit. Time will tell.
While one cannot defame the dead, the family of #GeorgeFloyd is considering suit for Kanye's false statements about the manner of his death.

Claiming Floyd died from fentanyl not the brutality established criminally and civilly undermines & diminishes the Floyd family's fight.

— Lee Merritt (@MerrittForTexas) October 16, 2022
The lawsuit does name Kanye West his "business partners" and "associates." Does that mean REVOLT and/or Drink Champs? They are not specifically mentioned in the lawsuit and they did comply with a cease and desist by taking the video of the show offline.
N.O.R.E, who is the host of the show, went on several platforms to apologize for the part that he played in the interview and his inability to steer the narrative of it away from the viral controversy that has taken place.
N.O.R.E admitted that he too had been drinking that morning and he was acting as a journalist by allowing his guest to speak and not censoring him. He admitted had he not been drinking, he would have stepped in to correct Kanye. He also stated Kanye threatened to leave the interview if the cameras stopped rolling at any time upon his arrival.
Roxie Washington, acting on behalf of the late George Floyd's minor child (who is the sole beneficiary of Floyd's estate) had retained the Witherspoon Law Group and Dixon & Dixon Attorneys at Law to file the suit against Kanye. The suit sees Floyd's daughter, represented jointly by the two firms, seeking $250 million in damages for the statements.
"Kanye's comments are a repugnant attempt to discount George Floyd's life and to profit from his inhumane death," attorney Pat D. Dixon III said, adding that the goal here is to "hold Mr. West accountable" for his "flagrant remarks" against Floyd.
Kanye made several other shocking statements during the interview that were inflammatory against the Jewish community as well as Kris Jenner who he stated has been having sex with rapper Drake who is half her age.