May 26, 2022 marked the completion of the three-week Maymester Music Accelerator Program at TSU.  This program ended with guest lecturers, super producer Dallas Austin and recording artist Sir The Baptist, they both received honorary doctorates in music from TSU on May 6.
The last class was held at the National Museum of African American Music and to their surprise, each student received a gold plaque from the RIAA. The Music Accelerator Program at Tennessee State University is a program in partnership with Black Music Action Coalition (BMAC), Nashville Music Equality, Recording Industry Association of America (RIAA), Wasserman Music, and YouTube Music.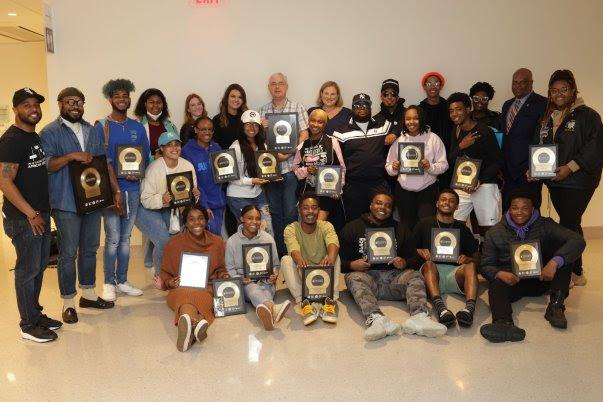 Over the course of the 3-week program, guest lectures from influential music executives, along with internship placements for students looking to start their career paths across multiple music industry companies, including Wasserman Music, Warner Music Nashville and LVRN.
Speakers who participated included Post Malone manager Dre London, Artistry Group founder/CEO Max Gousse, Tuma Basa (Youtube Music), Andrew Lieber (MAC Agency), Roddy Ricch manager Shawn Holiday, recording artists BRELAND, Blanco Brown and Joy Oladokun, Mary J Blige's manager Ashaunna Ayars, Marcus Johnson (Goldenvoice/AEG), Brandon McEachern and Marcus Allen (Broccoli City) EMPIRE product manager Russell Barrett, RIAA's Jackie Jones, Tina Davis (Vp of EMPIRE), BMG's Tim Reid and Jon Loba,  and Wasserman Music agents Lee Anderson, Lenore Kinder, Callender, Chappel McCollister and Mallory Smith and many more.
"The Music Business Accelerator course was a one-of-a-kind learning experience that exposed students to successful music professionals. Whether having guests in the classroom, or visiting a music related company, the course provided real-time and real-live information that have enabled the students to see their future careers as a tangible goal and not an ambiguous dream. This course provided inspiration, calculation, and anticipation of things to come!" – Dr. Mark Crawford, Professor of Music and Coordinator of Commercial Music, TSU
"The level of passion and focus I saw at the accelerator program gave me so much hope and excitement for the future of the music industry. I was so impressed with these students, and I'm honored that I was given the opportunity to share wisdom that they'll carry throughout their journey." – Tina Davis, EMPIRE
"I am truly honored to come speak with a live audience of music lovers at Tennessee State University. The Music Accelerator Program is an incredible resource for aspiring young creatives, a program I would have loved to be a part of when I was starting out on my music journey, so I am grateful for the opportunity to be able to share what I've learned and to help in any way that I can." – Dre London
"The Tennessee State students were incredible. I could tell the future of the music business was in the room by how intently they listened to each of us. This program is special!" – Tuma Basa, Dir. Of Black Music & Culture, Youtube Music
"Black Music Action Coalition wants to be intentional about addressing the erasure of Black artists, executives, and the creative community on Music Row by creating a real pipeline to opportunities and resources to level the playing field in Nashville.
I was able to watch the students in this music accelerator program show up at 8:15 in the morning on a daily basis, ready to learn and were completely engaged for over 3 hours, as some of the most successful and influential leaders in the entertainment industry poured into them.
The students were able to learn about publishing, management & branding, distribution, marketing, tour routing & talent buying and even participate in a focus group for an upcoming release from an artist signed to a major label. Three weeks of nonstop action. I met some incredible artists, rappers, singer/songwriters, managers, and
producers who will definitely make their mark in this industry. Not only through the paid internships that follow this program, but we will continue to work directly with all of these students to ensure they are equipped with all they need to succeed.  This was an incredible first step, of which many BMAC will take with those in Nashville dedicated to racial, social and economic justice. We are grateful for the partnership with Dr. Crawford, Wasserman Music, RIAA, Youtube Music and Nashville Music Equality and Tennessee State University." – Willie "Prophet" Stiggers, co-founder/co-chair of BMAC
"It was truly an honor and privilege to have the opportunity to share my story, knowledge, and experiences in the music business with the amazing students and future music executives at the Music Accelerator Program at Tennessee State University. My personal goal was to show young black aspiring creatives that a career in music business is attainable at the highest levels. The students were smart, engaged, and fun! Thank you to everyone involved"! – Marcus Johnson, Goldenvoice/ AEG
"TSU has always had talented and hard-working students, and they deserve the same access to opportunities in the music industry as their contemporaries at local PWIs. I loved being able to share my experience and story with them, and I have faith that these students will go on to do great things in this industry. I'm grateful to RIAA and BMAC for the chance to connect with the class and give back to the next generation of leaders." – BRELAND
"LVRN supports BMAC and Wasserman Music Accelerator Program at Tennessee State University. We all started very young in this business and are forever grateful to those that invested time into developing us as executives. We believe we have a responsibility to pay it forward and invest in the next generation of young leaders and this program is the perfect opportunity." – Amber Grimes, EVP and GM of LVRN
"Being a part of this program has been an amazing experience and an important first step to bringing more voices to the table. These students are incredibly talented and I believe they are the future of the music industry. We have all learned a lot from the speakers and each other and I look forward to partnering on more intentional efforts to bring opportunities like this to more students." – Jackie Jones, Artist and Industry Relations, RIAA
"The magnitude of this program is so important for our TSU students who have been historically shut out of access and opportunities within our music landscape here in Nashville, TN. On behalf of Nashville Music Equality and the Nashville Promise Zone, I couldn't be more proud and inspired to see the number of Black Music Executives this program will produce. And to have this happen at Tennessee State University is absolutely amazing!" – Brian Sexton, Nashville Music Equality Community Chair/Nashville Promise Zone Manager