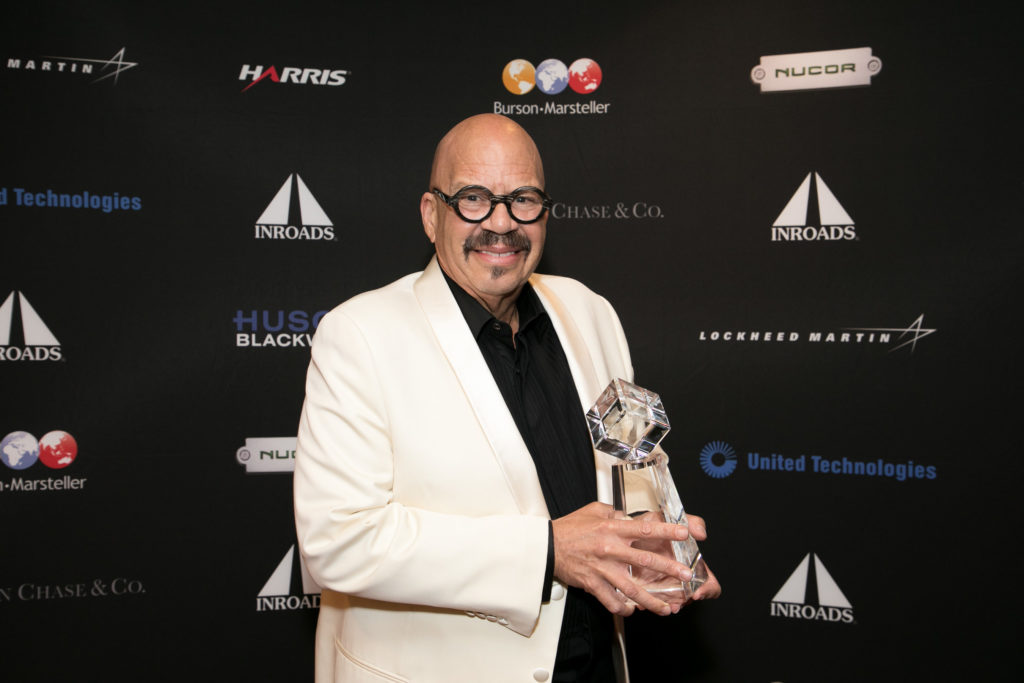 Tom Joyner , nationally syndicated radio host and philanthropist, recently received the INROADS Lifetime Achievement Award. The award honors leaders whose lives have been dedicated to advancing diversity.
More than 200 corporate and community leaders attended the INROADS, Inc. inaugural fundraising and awards celebration — Celebrating Excellence in Leadership — held recently at the Hyatt Regency Washington. Emceed by NBC Washington reporter, Meagan Fitzgerald, the black-tie gala, reception and dinner recognized corporations and individuals that honor, support and advance INROADS' mission through exemplary leadership, advocacy, innovation and partnership.
"It was an amazing inaugural event and a magical evening," said Forest Harper, President and CEO of INROADS, Inc. "We are deeply grateful to our sponsors and everyone who made donations; your support helps ensure that INROADS will continue transforming lives. I look forward to making this gala an annual event."
Other award recipients and honorees included:
The Frank C. Carr Award for corporate partners who have exhibited a commitment to the diversity talent pipeline and supported the INROADS mission: Kaiser Permanente
The INROADS Excellence in Leadership Award for significant contributions in building leaders for the 21st Century: General Colin L. Powell, USA (Ret.) and Mrs. Alma Powell, founding chair and chair, respectively, America's Promise Alliance
The INROADS Alumni of the Year Awards for INROADS Alumni whose professional success both exemplifies and honors the INROADS legacy: Andrew Au, Founder, Intercept Group; the Honorable Shera Grant, 10th Judicial Circuit Jefferson County, Ala.; and The Honorable Shanta Owens, 10th Judicial Circuit Jefferson County, Ala.
Event sponsors included Lockheed Martin, United Technologies Corporation, JPMorgan, Volkswagen, PwC, Harris Corp., Husch Blackwell, Nucor, Burson-Marstellar and Xerox.
All proceeds raised at the event will benefit INROADS' leadership and career development programs, including:
INROADS College Links, educational instruction, coaching, work skills and college planning workshops for high school students and their parents.
INROADS CORE College Program, known as the Leadership Development Academy, which includes a paid internship and year-round development program; and access to INROADS national conference called Leadership Development Institute (LDI).
INROADS' Alumni Services, providing professional counsel, support, and access to job boards and networking events to graduates of the CORE College Program.