Old School Kings of R&B, The Isley Brothers – Go For Your Guns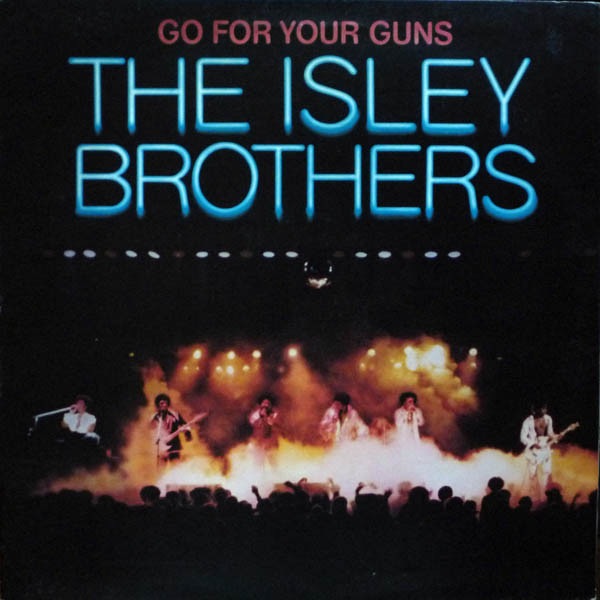 (T-Neck /CBS – 1977)
When The Isley Brothers began working on the 5th album of their 3+3 incarnation, they knew they had to come with something next level.
This album would be given the growling, stance-taking title Go For Your Guns – an epic set of Isley Brothers music (plus one "slight return," as their kindred soul brother Jimi Hendrix would have dubbed the title track) conceived in a boiling cauldron of creativity – molten lava bass and keys under midnight sky crying guitars meeting haunting, elliptical lyrics and the ever-yearning ache of Ronald Isley's soul-searing voice.
Ronald had been the focus of The Isley Brothers since the group first started as a trio with his older brothers O'Kelly and Rudolph.
From Gospel in church and Doo Wop on Cincinnati street corners, the brothers' destiny for Rhythm & Blues domination was cast when – after a move to New Jersey and chitlin circuit training that led them to the Apollo in Harlem – the threesome set souls on fire in`59 with an unbridled cry called "Shout!"
Through the `60s, they sang string-laden ballads, fiery Soul, Rock `N Roll, raw Funk, straight-up Blues and even spent a few years at Motown where they leapt over many homegrown Detroit acts to score a hit in their first month there via the Holland-Dozier-Holland-penned "This Old Heart of Mine (Is Weak for You)" in 1966.
Taking all they learned and funneling it into their own T-Neck Records label, they left almighty Motown and scored a #1-charting Grammy-winning smash with the sexy stomp-down "It's Your Thing."
As the `60s turned into the `70s, the older brothers ushered younger siblings Ernie (guitar) and Marvin (bass) as well as brother-in-law Chris Jasper (keyboards) into the group – first as instrumentalists then songwriters.
Their contributions became so identifiable with the Isley's sound that they were brought in as full-fledged members before they'd even graduated from Long Island University.
This shifted the dynamic from a singing group into a band prepared to throw down with that decade's mighty warriors, which included the Commodores, Average White Band, Earth Wind & Fire, Ohio Players, Rufus, and Parliament-Funkadelic.
This incarnation of The Isley Brothers was affectionately referred to as 3+3, the title of the first album to depict the full sextet on its cover.
That 1973 LP (featuring the electrifying "That Lady" and a cover of Seals & Crofts' "Summer Breeze") followed by Live It Up in 1974 (highlighted by a cover of Todd Rundgren's "Hello It's Me") re-introduced the music world to a group that would uncannily continue to reinvent itself into the second decade of the next millennium! Their first hallmark album of the `70s, however, arrived in `75: The Heat Is On.
The Heat Is On is an exquisitely balanced Soul album, Side 1 comprised of three funk-rock message missives of life and love (set off by the anthem "Fight the Power") while Side 2 swirls in a slipstream of sensuous romance for a mellower ménage a trois (illuminated by the Quiet Storm classic "For the Love of You").
It was the first album for which all material was composed solely by the group and the first album on which they were completely self-contained thanks to Ernie doubling on guitars and drums, and Chris playing all keyboards and synthesizers.
The Heat Is On became The Isley Brothers' first double-platinum seller (over two million copies), peaking at #1 R&B / #6 Pop.The Isleys followed The Heat Is One with the largely acoustic Harvest For The World, introspective musings in the year of America's Bicentennial featuring ballads and acoustic guitars.
The album still became the Isley's third #1 R&B charter but was a slower seller that only attained platinum status. Feeling the strain, primary writers Ernie Isley and Chris Jasper set about to create a more visceral follow-up. "After The Heat Is On, I could feel we were looked upon as different," Ernie reflected in 2016.
"We had become an entity with something to say. On Harvest, we found something fresh with acoustic guitars. But with Guns – on virtually every song – there is something to be said about…The Bottom."
Detailing another creative shift, Chris added, "The previous four albums were all recorded in California.
I read an article about Bearsville Studio here in New York that had just about all the great equipment that the studios in L.A. had.
I already had 'The Pride' and 'Tell Me When You Need It Again,' and Ernie had the basic idea for 'Footsteps.' I said, 'Why don't we try these tunes here?' So we did."
The opening song of Go For Your Guns is "The Pride," a powerful statement that – much like the Yin/Yang symbol Chris drew into his gatefold signature – testifies to the virtues and the stumbling blocks of this fascinating subject.
Despite the weight of the lyrical contemplations, it was the groove and the hook "When you finally break it on down it's the pride" that were listeners' triumphant takeaways.
"The Pride" strutted all the way to #1 on Billboard's R&B chart (#63 Pop)."Footsteps in the Dark" is the first of two of this album's deeply cerebral, imagination-sending ballads, both from the pen of lyrical mystic Ernie Isley.
This one brilliantly registers a vibration of foreboding in a drifting relationship. Musically, "Footsteps in the Dark" was built from the drums up: bass, electric piano, a couple of guitars, clavinet and Arp synthesizer – with distinct washes of chords.
Never released as a single (though it was later the b-side of "Groove With You"), the hypnotic ballad was one of the reasons folks were running to record stores upon the album's release.
It became one of the Isley's most covered songs, the first that same year by Players Association (featuring Michael Brecker on lyricon and tenor sax – the group had previously covered "For the Love of You"), Evelyn "Champagne" King in `89 (produced by Leon Sylvers III), twice more in 1990 by the sister trio Body (produced by `Angela Winbush) and Kipper Jones, Toni Redd in 2004, even a jazz version by guitarist Eric Essix.
That Time Al Jarreau Took Europe By Storm
"Footsteps" was also sampled by Redman, Raheem DeVaughan, J. Dilla and, as recently as 2015, Thundercat, but most famously by rapper Ice Cube for his uncharacteristically wistful "It Was a Good Day" in 1992.Side 1 of Guns closed with "Tell Me When You Need It Again" on which Chris got to play with a brand new toy – a Mutee keyboard that gave the song an aquatic double wah bass sound.
The sexy groove, fortified by the Isleys' road drummer Everett Collins sitting in on congas, was a simpatico soundtrack for Ronald's hot and heavy vocal delivery about how a woman might think she wants to leave him…`til she recalls how good his good thing was!
Executives at RSO Records (The Robert Stigwood Organization whose golden gooses were the Bee Gees) expressed interested in "Tell Me If You Need It Again" for a movie about Disco night life they'd fast-tracked entitled "Saturday Night Fever."
Eldest brother Kelly, who fielded much of the business for the Isleys, turned them down, having no way of knowing then how pivotal that summer blockbuster and multi-platinum soundtrack would become. The Isleys were not alone in that mistake. Boz Scaggs turned them down for "Lowdown," too.
Side 2 of Go For Your Guns kicked off with a blast of 'fortitude focus' called "Climbin' Up The Ladder," this album's showcase for the hard rock side of Ernie's guitar playing.
CBS Records (the corporation behind T-Neck) got rare Rock (i.e. "white") radio airplay for this in a few markets by hand-delivering plain "white label" singles with just the song title typed on it but no artist name.
Beyond category gloriously describes "Voyage to Atlantis," the album's third single and Ernie's second love song masterpiece of the LP. .
"When I wrote that one," Ernie reflects, "I didn't know whether 'Atlantis' was a place, a woman – or both.
The music was that far out there. It's the essence of emotional or spiritual love that two people share on an intimate, highly exclusive level.
Regardless of the distance between you or whatever happens in life, this is the person you will always come back to…and both of you know it. When we recorded 'Atlantis,' we travelled to uncharted musical waters."
Nicki Richards, a singer/songwriter born in Honolulu, Hawaii to a singer mother and a naval officer father, was so touched by the aural and lyrical elements of the Isleys' "Atlantis" that she recorded a richly inspired version – from a woman's point of view – on her very first album, Naked to the World (Atlantic – 1991).
As the album's grand slam finale, "Livin' in the Life" returned Go For Your Guns to the land of bottom's up funk – the raucous and rowdy second single soaring to #4 R&B and #40 Pop.
The track proved so infectious that the group did a fake out ending, started it right back up again and rode off into the sunset with a 2-minute instrumental reprise.
That 2-minute warning became the title track "Go For Your Guns," a statement Chris felt summed up the LP's aggressive/innovative elements.
The gatefold album cover and inner sleeve photographs were shot during a concert at the then-new McNichols Sports Arena in Denver, Colorado.
The inside photos were taken at CBS Studios in New York while the band was miming to playbacks.Go For Your Guns – released in April 1977, peaking #1 R&B and #6 Pop – can be seen as the delayed sequel to
The Heat Is On…a high watermark LP for fans and a gauntlet dropped to all gun-slinging challengers.
Diehard fans of Go For Your Guns and/or The Isley Brothers can get an even more in-depth look and listen to this classic via an amazing CD reissue – with three bonus tracks!
Click the link below to where you can order this unique LIMITED-EDITION CD that goes miles beyond the budget basic disc – prepared for releases by Iconoclassic Records with far more detailed insights into the lyrics and the recording sessions by primary composers Ernie Isley and Chis Jasper, plus a confessional from Nicki Richards explaining her unique feminine take on "Footsteps in the Dark" – all via a painstaking liner note essay by yours truly.
So, Go For Your Guns…and prepare to be blown away.
Music Journalist A. Scott Galloway is a longtime Isley Brothers enthusiast who has interviewed the band several times since the `90s and composed in-depth liner note essays for four of their projects: the 23-disc Complete RCA Victor & T-Neck Album Masters box for Sony, and the Iconoclassic CD reissues of It's Our Thing, Go For Your Guns and Isley Jasper Isley's Broadway's Closer To Sunset Blvd.