Home
Tags
Top Dawg Entertainment
Tag: Top Dawg Entertainment
Remember that time when Kendrick Lamar refused an award from GQ?
Radiofacts: GQ Magazine recently featured rapper Kendrick Lamar on the cover obviously aware of his quantum leap in celebrity because of his recent verse on "Control." The magazine dressed Lamar up and put him on the cover then insulted him as well as all of hip hop music culture with a reporter for the magazine saying he was surprised at how "disciplined" Lamar and his team are as if Lamar needed a leash while being photographed. He made an even greater insult by saying... "Kendrick doesn't smoke weed or drink booze. In the time I spent with him, I never witnessed anyone roll even the thinnest spider leg of a jay (joint), nor did I see Kendrick so much as glance at the many, many girls around him."  The reporter was trying to sound like he had his ear to the street instead of his foot in his mouth.
Lamar and executives at his label, Top Dawg Entertainment, did not take the observation as a "compliment." Indeed, it was an insult with racial overtones. Had they had any black writers in the editorial department for this feature, they would have been warned to cut that part out of the story. As a result, Lamar refused to attend the GQ Men of the Year party and pick up his top rapper honor last week. Other sources covering the mishap state GQ is miffed by Lamar's response as if to say 'what's the problem?' KUDOS to Kendrick and his team for taking a stand.  Unfortunately, we are not confident many other rappers would have done the same thing as Lamar.
GQ's Editor Jim Nelson Responded:
"Kendrick Lamar is one of the most talented new musicians to arrive on the scene in years. That's the reason we chose to celebrate him, wrote an incredibly positive article declaring him the next King of Rap, and gave him our highest honor: putting him on the cover of our Men of the Year issue. I'm not sure how you can spin that into a bad thing, and I encourage anyone interested to read the story and see for themselves. We were mystified and sorely disappointed by Top Dawg's decision to pull him at the last minute from the performance he had promised to give. The real shame is that people were deprived of the joy of seeing Kendrick perform live. I'm still a huge fan."
Radio Facts: CHASING SUMMER ALBUM OUT AUGUST 30 VIA TDE/RCA When you hear SiR sing, it's impossible not to feel it. The Inglewood native first...

Top Dawg Entertainment And RCA Records Join Forces To Release SiR's New Album "Chasing Summer"
FIRST SINGLE AND VIDEO "HAIR DOWN" FEATURING
KENDRICK LAMAR AVAILABLE EVERYWHERE ON AUGUST 8TH
After the amazing success of SZA's multi-platinum album
Ctrl
, 
Top Dawg Entertainment
 (TDE) partners with 
RCA Records
 once again for the release of R&B sensation 
SiR
's new album 
Chasing Summer
.   The first single, 
"Hair Down"
 featuring TDE labelmate 
Kendrick Lamar
, will be available at all digital music providers on 
August 8th
.  The release date and more information about 
Chasing Summer
 will be announced soon. "I'm thankful for the opportunity my hard work has provided me," states SiR. "I'm more than ready to share what my team and I have been working on, and we're more than excited to see what the future holds."
Chasing Summer
 is the follow-up release to SiR's critically acclaimed album 
November,
 which featured guest appearances by TDE labelmate ScHoolboy Q and Etta Bond.  Released January 2018, 
Pitchfork
 described 
November
 as "a neo-soul-tinged space odyssey about love" and claimed, "maybe the trip represents SiR's potential as his career starts to take off. Whatever the case, 
November
 makes it easy to lose yourself in the ride." The upcoming release of SiR's 
Chasing Summer
 marks the second partnership between TDE and RCA.   In 2017, the two powerhouses released SZA's major label debut album 
Ctrl
, which spawned several #1 hits resulting in multiple RIAA platinum certifications and awards. "It feels good to see great things happening for SiR. He's an example of what happens when you combine talent with hard work and patience," said TDE's CEO Anthony "Top Dawg" Tiffith. "After the success we had working with RCA on SZA's 
Ctrl
, I felt it was only right to partner up with them again for SiR's new album 
Chasing Summer
." Peter Edge, RCA's Chairman and CEO adds, "Top Dawg and his entire TDE team are an incredible creative force. We love collaborating with them and plan on making this kind of success an ongoing journey."
About SiR:
When you hear SiR sing, it's impossible not to feel it. The Inglewood native first made a name for himself under the radar by writing for Kendrick Lamar, Isaiah Rashad, Jay Rock and more.  Stepping in front of the mic and into the spotlight, the release of the 
HER
 EP series—
HER
 and 
HER TOO – 
garnered widespread praise and he quickly became one to watch. In 2018, SiR released his acclaimed full-length debut album, 
November, 
featuring production from top talent such as DJ Khalil, Harmony Samuels and more.  As showcased throughout the 11-track opus, SiR's powerhouse voice and songwriting skills continues to revamp R&B music like never before.
Executive And Entrepreneur Amber Grimes Named To Newly-Created Post As Senior Vice President Of Global Creative For Capitol Music Group
WILL BE INTEGRALLY INVOLVED IN THE COMPANY'S GLOBAL STREAMING STRATEGY AND LEAD THE COMPANY'S INNOVATION TEAM AND TEN3 CONTENT DEPARTMENT
Amber Grimes
 has been named to the newly-created position of 
Senior Vice President of Global Creative for Capitol Music Group (CMG)
, it was announced today by 
Chairman & CEO Steve Barnett, 
to whom Grimes will report.   In her new position, Grimes will be integrally involved in formulating and executing the company's global streaming strategy.  She will also draw upon her diverse experiences to lead the company's 
Innovation Team and Ten3 content creation department
, and will play an important role in building and expanding CMG's industry-leading roles in these areas.  Grimes will be based in Hollywood, California in the company's iconic Capitol Records Tower.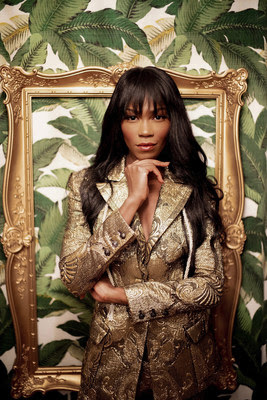 According to Barnett, "Many of us at CMG have had the pleasure to work closely with Amber in her role at Spotify, and her incredible well of innovative ideas and brilliant execution made a great impression on us and convinced me that we needed her to join the CMG team.  Her skills as an executive and an entrepreneur will be of great benefit to our artists as she leads our Innovation and content creation teams to new levels of excellence and plays a key role in our global streaming strategy.  Amber is a great addition to the CMG family, and everyone here joins me in welcoming her to the Tower." Grimes said, "Capitol is at the forefront of developing truly exciting new talent, and they do so by supporting their artists' vision and never being afraid to push boundaries.  I'm honored to be expanding my relationship to work more directly with this incredible roster of artists, as well as CMG's incredible labels and teams, and I thank Steve Barnett and Lucian Grainge for creating this unique and forward-thinking role for me.  I'm thrilled to be bringing my streaming experience, passion for artists and disruptive mindset into the Tower." Amber Grimes comes to CMG from Spotify, having arrived there in 2017 as the first creative hire in Atlanta and being named to the newly-created position of Senior Manager of Urban Independent.  In that post, Grimes was charged with bridging the gap between Spotify and the independent hip-hop community.  Grimes went on to even deeper involvement with the Universal Music Group labels when she transitioned to Spotify's Artist & Label Marketing team.  In this role, she worked in tandem with major and independent labels on a number of innovative and highly successful campaigns, including those for Paul McCartney, Quality Control, Rae Sremmurd, TDE, LVRN, Trippie Redd, Logic and Christine & The Queens.
SZA, Kacey Musgraves & Hayley Kiyoko To Be Honored At Billboard's 13th Annual Women In Music Event
Previously Announced Honorees Include Ariana Grande, Janelle Monáe & Cyndi Lauper
Billboard, the leading destination for charts, news, trends and innovations in music, announced today that it will honor SZA, 
Kacey Musgraves
 and 
Hayley Kiyoko
at its 13
th
 annual Women in Music event, held in conjunction with the release of the Women in Music issue, on 
December 6
 in 
New York City
. Soulful and candid singer-songwriter SZA will accept the Rule Breaker award, genre-bender 
Kacey Musgraves
 will collect the Innovator award, and pop singer-songwriter 
Hayley Kiyoko
 will receive the Rising Star award. 
Ariana Grande
 (Woman of the Year), Janelle Monáe (Trailblazer Award) and 
Cyndi Lauper
 (Icon Award) have already been announced as honorees at the star-studded event, which also honors the most powerful female executives in the industry. "In their respective genres, SZA, 
Kacey Musgraves
 and 
Hayley Kiyoko
 are creating necessary space for more personal, authentic expression," says 
Ross Scarano
, Billboard's vp content. "It makes for provocative, perspective-shifting work that is challenging traditional notions of songwriting in R&B, country, and pop music. We're lucky to have three iconoclasts in one room together." SZA will accept the Rule Breaker award, which recognizes a female artist who uses her music and platform to defy traditional industry expectations and advance a powerful message for young people today. As a dynamic new voice with an uncompromising songwriting vision exemplified on her TDE/RCA platinum debut album 
Ctrl 
(#3 debut on the Billboard 200), SZA has consistently upended the expectations of a modern R&B star while scoring Grammy nominations, multi-platinum hits like "Love Galore," "The Weekend," and "All The Stars" with 
Kendrick Lamar
, plus a prime slot on Top Dawg Entertainment's best-selling Championship Tour.
Kacey Musgraves
 is the recipient of the Innovator award, which recognizes a female artist who challenges musical convention, creates positive change and contributes new ideas both within and outside of her creative work. With her Top Country Albums-topping third album, Golden Hour, 
Kacey Musgraves
 has evolved her traditional country sound with daring vision, while continuing to serve as an advocate for inclusion and tolerance as an in-demand live act. The Rising Star award will be presented to 
Hayley Kiyoko
 as recognition of an up-and-coming artist whose cultural impact and exceptional talent have demonstrated a clear path to success
. 
By serving as a progressive pop symbol and a spokesperson of the LGBTQ community, 
Hayley Kiyoko
 has used her bold debut album, Expectations (No. 12 peak on the Billboard 200 chart), self-directed music videos and live shows as platforms of empowerment, ensuring a bright artistic future ahead. The 13th annual Women in Music event is produced by Don Mischer Productions. The red-carpet pre-show will be broadcast live on Twitter, 
7pm-10pm EST
 on 
December 6
. The 2018 event is sponsored by American Airlines, American Express, Fiji Water, Honda Stage and 
Nielsen Music
.
ABOUT AMERICAN EXPRESS:

GRAMMY® & PULITZER PRIZE WINNER KENDRICK LAMAR TO APPEAR ON THE HIT STARZ ORIGINAL SERIES "POWER" SUNDAY, JULY 29TH AT 8PM ET/PT
Said executive producer 
Mark Canton
, "Kendrick is a once in a generation talent and Courtney, 50 and I felt it would be exciting to create a role for him in 'Power.' Everyone involved is thrilled to have him join the family." Platinum-selling, Grammy
®
-award and Pulitzer Prize winner 
Kendrick Lamar
 is one of the rare artists who has achieved critical and commercial success while earning the respect and support of those who inspired him. A native of 
Compton, Calif.
, Lamar released his debut album, "good kid, m.A.A.d city" in 
October 2012
 which debuted at number two on the Billboard 200 and earned him seven Grammy Award nominations. His second album, "To Pimp a Butterfly," released in 
March 2015
 immediately earned rave reviews and topped the Billboard 200, garnering Lamar five Grammy
®
 nominations with a win for Best Rap Album. On 
April 14
 2017, Lamar released his fourth studio album, "DAMN." which sold 603,300 copies in its first week and remained number one on the Billboard 200 for four consecutive weeks. 
Complex Magazine
 claimed it is his "most ambitious album to date" and 
Rolling Stone
 named him "the most gifted rapper of a generation." Lamar made history earlier this year winning a Pulitzer Prize for music. "Power" returned for its highly-anticipated fifth season on 
Sunday, July 1
 more than doubling the record-breaking acquisition and viewership performance on the STARZ App over Season 4, and growing 40% in VOD viewing and 9% in total average audience season over season. The hugely successful 
New York
-based crime drama from executive producer Curtis "
50 Cent
" Jackson and show creator 
Courtney Kemp
 continues to raise the stakes and in the upcoming episode 505 "Happy Birthday," The St. Patricks celebrate Tariq's birthday... the first time without Raina and Tasha finds a shoulder to cry on in 
Terry Silver
. Ghost is on the outs with Tate and the Queens Child Project and discovers Dre is ready to replace him in the legitimate world, driving him toward reckless behavior.