Red Bull Radio
announces a new weekly celebration of Detroit's diverse local music scene, starting October 1. Throughout the last decade, Red Bull has held a presence in The Motor City by recording in-studio from Detroit, celebrating the city's iconic electronic music festival, Movement, and broadcasting live from a custom-built downtown studio two years ago. Now,
Red Bull Radio
is further investing in the city's
music scene
by bringing the best of The Motor City to listeners around the globe, with programming that features the brightest up-and-coming local artists alongside hometown heroes who helped shape the sounds of Detroit. As the birthplace of Motown, soul and techno, Detroit has produced legends such as Stevie Wonder, Aretha Franklin, Juan Atkins, Alice Cooper, Madonna, and Eminem; needless to say, the sounds of Detroit have influenced music on a global scale. Inspired by the city's captivating and deep music history,
Red Bull Radio
is committed to shining a light on Detroit's raw, authentic talent and unique sound with the world every week. "Known for its infamous sounds of Motown, jazz, gospel and techno, Detroit's atmosphere is so ripe with ingenuity that one can almost feel the creativity in the air," said John 'Jammin' Collins, world-renowned DJ and superlative record producer of Detroit. He continued, "The Motor City has produced some of the world's most brilliant singers, musicians, producers and DJs, all of whom have brought international acclaim, awareness and respect to a city that has struggled, maintains and continues to prosper.
Red Bull Radio
is committed to continuing this tradition of exposing more of Detroit's creative community by introducing new and fresh shows with a diverse lineup of DJs/producers as hosts." Red Bull Radio's dedicated Detroit programming includes: DJ Holographic presents Stardust 1st Sunday of each month from 12:00
PM
– 2:00
PM
EST DJ Holographic is a tireless champion of Detroit's underground community and its musical past, present and future, while cultivating a devoted fanbase with her distinctive voice and single-minded dedication to the craft. On her monthly show, DJ Holographic ties tracks together in ways you'd never expect. Andrés presents New For U 1st Sunday of each month from 2:00
PM
– 4:00
PM
EST Andrés is one of the most versatile dance music figures in Detroit, counting credentials with Theo Parrish, Moodymann, J Dilla and more – along with his own exceptional releases. Every month, Andrés spins a mesmerizing all-vinyl selection. You might know the record, but you've never heard it like this before. House of Minx w/ DJ Minx 2nd Sunday of each month from 12:00
PM
– 2:00
PM
EST The "First Lady of Wax" founded the all-female DJ collective Women On Wax in 1996, extending the name to her own label in 2001, creating an outlet for her own productions and those by unsung local talent. For her monthly show, the house music veteran heats up the airwaves with her lush grooves and positive vibes. John "Jammin'" Collins presents the Soul of Detroit 2nd Sunday of each month from 2:00
PM
– 4:00
PM
EST John "Jammin'" Collins has anchored Detroit's electronic
music scene
for three decades. A locally and world-renowned DJ and superlative record producer, Collins conducts tours of Exhibit 3000, the only techno museum in the country. Each month John Collins takes listeners on a journey from house and techno to R&B and disco, spinning vinyl from his collection during the first hour and getting into a heated mix for the second. Shigeto & Charles Trees present Portage Garage Sundays 3rd Sunday of each month from 12:00
PM
– 2:00
PM
EST Shigeto's sound folds in hip-hop, IDM, and elegant techno. He recently launched Detroit-based label and studio,
Portage Garage Sounds
. Charles Trees' sound includes hip-hop production, far-out jazz, and techno. For the first hour of their monthly show, old friends Shigeto and Trees trace the lineage from old to new Michigan artists, and in the second, they anchor a back-to-back DJ set with members of the PGS family. Generations with Stacey "Hotwaxx" Hale 3rd Sunday of each month from 2:00
PM
– 4:00
PM
EST Godmother of House Music and Detroit's first female DJ of the genre, Stacey "Hotwaxx" Hale is the assistant musical director of Black Women Rock, teaches after-school programs at
Girls Rock Detroit
and performs with the band Nyumba Muziki. On her monthly radio show, she presents up-and-coming and established Detroit musicians, artists, and influencers in conversation. The K-HAND Music Show w/ Kelli Hand 4th Sunday of each month from 12:00
PM
– 2:00
PM
EST Expertly versed in both Detroit techno and New York and Chicago house music, K-HAND has been unleashing dancefloor weapons for nearly three decades. On her monthly show, K-HAND presents music from a well- known place to an unknown destination, from techno to deep house to experimental. DM Nation with Black Noi$e and SKYWLKR 4th Sunday of each month from 2:00
PM
– 4:00
PM
EST Michigan production cohorts Black Noi$e and SKYWLKR are behind some of your favorite trippy Midwest rap beats for Danny Brown, Zelooperz, Cashout Ant, Lucki, and more. For their monthly two-hour
Red Bull Radio
show, they keep it simple: rap bangers only, of the gritty underground and forgotten classic variety.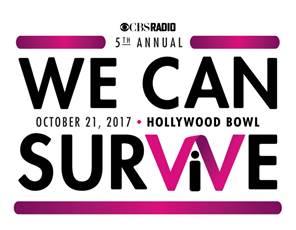 Biggest Line-Up Yet for Annual Show Features Performances by ALESSIA CARA, HARRY STYLES, KESHA, KHALID, LORDE, MACKLEMORE, P!NK, SAM HUNT, and SAM SMITH
 Show Hosted in Honor of National Breast Cancer Awareness Month
LOS ANGELES, CA, and NEW YORK, NY, September 8, 2017
 – 
CBS RADIO
 will present its fifth annual 
WE CAN SURVIVE
 show at the historic 
Hollywood Bowl
 on 
Saturday, October 21.
 This year, the show features its biggest line-up yet with performances by 
ALESSIA CARA, HARRY STYLES, KESHA, KHALID, LORDE, MACKLEMORE, P!NK, SAM HUNT, 
and
 SAM SMITH.
 The announcement was made this evening on 97.1 AMP Radio in Los Angeles. Doors open at 4:00 PM; show begins at 5:30
PM
. "To celebrate the show's fifth anniversary we've assembled our biggest ever line-up at the legendary Hollywood Bowl," said 
Chris Oliviero
, Executive Vice President of Programming, CBS RADIO. "We Can Survive is an especially unique show which brings together today's most
popular
artists and their fans to raise awareness for a worthy cause and celebrate survivors." American Express® Card Members can purchase tickets before the general public beginning Tuesday, September 12 at 10:00 AM, PT, through Thursday, September 14 at 10:00 PM, PT. Regular tickets will be available for purchase beginning Friday, September 15 at 10:00 AM, PT, via 
Ticketmaster.com
. In honor of National Breast Cancer Awareness Month, for every ticket sold, $2 will benefit 
Young Survival Coalition
, the premier organization dedicated to the critical issues unique to young women who are diagnosed with breast cancer. YSC offers resources, connections, and outreach so women feel supported, empowered and hopeful. Once tickets are sold out, audiences will still have an opportunity to score seats through two contests. A national 
Radio.com
 contest will award one lucky listener with a grand prize trip, including roundtrip airfare for the winner and one guest to LA, hotel accommodations, and two tickets to WE CAN SURVIVE. Entries will be accepted at 
Radio.com
 and 
WeCanSurvive.com
 from September 18 to September 29, 2017. One winner will be chosen randomly. The contest is sponsored by Westinghouse. Then, from October 2-6, 2017, 25 CBS RADIO stations across the U.S. will host a local text-to-win contest. Three times per weekday, each station will offer a special entry code on-air that
listeners
can text to be entered for a chance to win roundtrip airfare for each winner and one guest to LA, hotel accommodations, and two tickets to the show.  There will be 15 lucky winners in this contest. WE CAN SURVIVE is among several high-profile events CBS RADIO produces, including STARS AND STRINGS, THE NIGHT BEFORE and SPF, featuring exciting performances by the most well-known and up-and-coming artists. Previous performers at WE CAN SURVIVE include Alicia Keys, Gwen Stefani, Katy Perry, Pharrell Williams, Taylor Swift, Bruno Mars, Ariana Grande and others. WE CAN SURVIVE has also become well-known for surprise artist appearances, including Backstreet Boys in 2016, Rihanna in 2015 and Jennifer Lopez in 2014. Follow CBS RADIO on Twitter 
@CBSRadio
 and 
Facebook
. Visit 
WeCanSurvive.com
 for show updates and exclusive show-related content. Tweet using the hashtag #WeCanSurvive.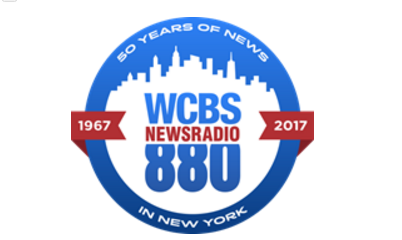 A station renowned for its storytelling, WCBS Newsradio 880AM will present "Celebrating 50 Years of News: A Night of New York Stories" on Tuesday, August 8 at the PlayStation Theater in NYC's Times Square. Hosted by 880AM's Wayne Cabot and Alex Silverman, the event will celebrate the station's 50th anniversary by bringing together some of NYC's most notable names in news, politics, sports and entertainment. The evening will close with a special interview and song performance by the legendary Tony Bennett.

"Newsradio 880 is a trusted New York City news outlet with a rich history and legacy of delivering up-to-the-minute news," said Marc Rayfield, Senior Vice President/Market Manager CBS RADIO New York. "We are proud to be a part of the fabric of New York and will continue to tell the stories of the people, places and happenings from all around this great city. This special night is a chance to gather with listeners, station personalities and prominent figures to celebrate what the station has meant for the past 50 years and will continue to mean well into the future."

Throughout the evening, WCBS 880AM will welcome a range of memorable personalities who will share stories that have shaped New York City over the last 50 years. Station personalities including Craig Allen, Joe Connolly, Pat Farnack, Brad Heller, Tom Kaminski, Paul Murnane, Steve Scott and Michael Wallace will take part in the program. Among the special guests sharing their New York stories on stage will be Jeff Fager and Lesley Stahl (60 Minutes), former New York Giants Co-Captain George Martin, Late Show with David Letterman bandleader Paul Shaffer, and former New York Mets Manager Bobby Valentine.

Doors open at 6:30 PM; the program begins at 8:00 PM. Tickets go on sale tomorrow, Friday, June 23 at 10:00 AM, ET, via www.axs.com. Ticket prices range from $55 to $150. A portion of the proceeds will be donated to Exploring the Arts Foundation, Tony Bennett's charity organization dedicated to transforming the lives of young people through arts education.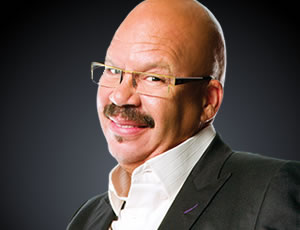 Chicago's 106.3 FM Goes Local announcing the debut of "Mix Mornings with Mike Love"
[caption id="attachment_30825" align="alignleft" width="127"]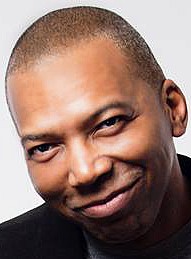 Mike Love[/caption]
Chicago-
Crawford Broadcasting's Urban Adult Contemporary WSRB 106.3 FM is making moves towards all local programming by ending its eight-year run lead by Black radio pioneer Tom Joyner and his nationally syndicated morning show and focusing more of its attention on Chicago.  
In a push for local radio, the station is moving Chicago radio veteran and current PM drive host Mike Love to morning drive as the lead behind its new
"Mix Mornings"
.  The new local morning show is set to begin on Monday, June 5 airing from 6am-9am and will feature rush hour mini mixes by some of Chicago's most popular DJ's delivering the hottest R&B hits and throwback hip-hop from the 80s, 90s, and today.  
Known as one of the original "Bad Boys" of Chicago radio Mike Love will deliver a local voice and sounding board to happenings in local news and entertainment daily.  
With the change, listeners will simply get
"More Music and More Chicago"
from the station in the city that they call home.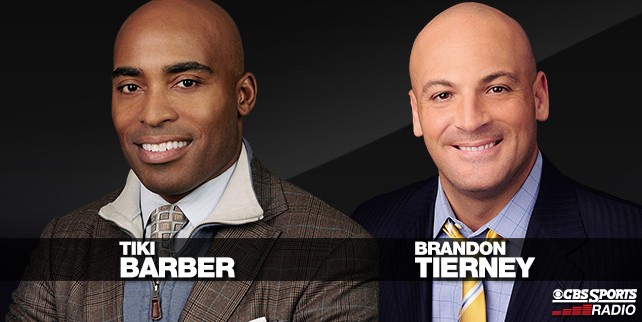 CBS Sports Radio's popular shows, "Tiki and Tierney" and "The DA Show," will move to new weekday timeslots, effective Monday, April 17, as part of new multi-year agreements with their respective hosts, Tiki Barber and Brandon Tierney and Damon Amendolara. Additionally, "Tiki and Tierney" will be simulcast live on CBS Sports Network, a first for the program. The addition of "Tiki and Tierney" on CBS Sports Network adds to the network's robust lineup of programming which also includes the simulcast of "Boomer & Carton" every weekday morning.

"Tiki and Tierney" will move from weekday mornings, 9:00 AM – 12:00 PM, to afternoon drive, 3:00 – 6:00 PM, replacing "The Doug Gottlieb Show" which will have its final broadcast on Friday, April 14. "The DA Show" will move from its current timeslot of weekday evenings, 6:00 – 10:00 PM, to mornings, 9:00 AM – 12:00 PM. A new evening show and host will be named soon.

"We're thrilled that our listeners will be able to enjoy Tiki, Brandon and DA for years to come," said Eric Spitz, Director, Programming, CBS Sports Radio. "Airing in new dayparts, these already popular shows will be introduced to scores of new listeners while undoubtedly continuing to serve their current audiences. The addition of a live simulcast of 'Tiki and Tierney' solidifies their popularity and relevance in today's competitive sports arena.

"Doug Gottlieb has been a trusted and sought-after voice on CBS Sports Radio since our 2013 launch and we wish him nothing but the very best in all his future pursuits."

Beginning Monday, April 17, the new CBS Sports Radio weekday line-up* will be as follows:
Show Time
"Gio and Jones" with Gregg Giannotti and Brian Jones 6:00 – 9:00 AM
"The DA Show" 9:00 AM – 12:00 PM
"The Jim Rome Show" 12:00 – 3:00 PM
"Tiki and Tierney" 3:00 – 6:00 PM
TO BE ANNOUNCED 6:00 – 10:00 PM
"Ferrall on the Bench" with Scott Ferrall 10:00 PM – 2:00 AM
"After Hours with Amy Lawrence" 2:00 – 6:00 AM

*All times are Eastern. Schedule is subject to change.