GRAMMY® NOMINEES LUIS FONSI & DADDY YANKEE, KESHA, BRUNO MARS WITH CARDI B, AND SZA SET TO PERFORM ON THE 60TH ANNUAL GRAMMY AWARDS®
FIRST-TIME GRAMMY NOMINEES ALESSIA CARA, KHALID, AND LOGIC TO COME TOGETHER FOR A POWERFUL PERFORMANCE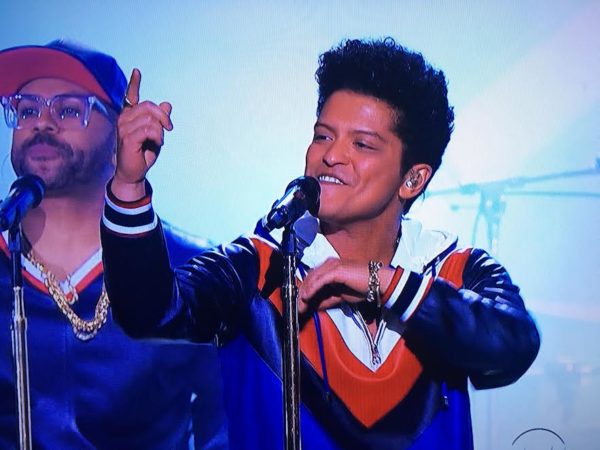 Music's Biggest Night® just got bigger as the Recording Academy™ announces additional acts to perform on this year's 60th Annual GRAMMY Awards®. Just added to the lineup are current GRAMMY® nominees Luis Fonsi & Daddy Yankee; current GRAMMY nominee Kesha; GRAMMY winner and current nominee Bruno Mars with current nominee Cardi B; current nominee SZA; and first-time GRAMMY nominees Alessia Cara, Khalid, and Logic, who will take the stage with a group of suicide attempt and loss survivors selected by the National Suicide Prevention Lifeline in a special performance delivering an important message.Previously announced performers include Childish Gambino, Lady Gaga, Little Big Town, Patti LuPone, P!nk, and Ben Platt. Live from Madison Square Garden in New York City, and hosted by award-winning television personality and performer James Corden, the 60th Annual GRAMMY Awards will be broadcast live in HDTV and 5.1 surround sound on the CBS Television Network, Sunday, Jan. 28, 2018, at 7:30 p.m. ET/4:30 p.m. PT.
First-time nominee Alessia Cara has four nominations this year: Best New Artist, Song Of The Year and Best Music Video ("1-800-273-8255"); and Best Pop Duo/Group Performance ("Stay" with Zedd).
Making her GRAMMY debut, Cardi B currently has two nominations: Best Rap Performance and Best Rap Song ("Bodak Yellow").
Current three-time GRAMMY nominees Luis Fonsi & Daddy Yankee are up for Record Of The Year, Song Of The Year, and Best Pop Duo/Group Performance ("Despacito" featuring Justin Bieber).
Performing on the GRAMMY stage for the first time, Kesha earned two nominations this year: Best Pop Solo Performance ("Praying") and Best Pop Vocal Album (Rainbow).
Five-time nominee Khalid is up for Best New Artist, Song Of The Year, and Best Music Video ("1-800-273-8255"); Best R&B Song ("Location"); and Best Urban Contemporary Album (American Teen).
First-time nominee Logic has two nominations: Song Of The Year and Best Music Video ("1-800-273-8255").
Five-time GRAMMY winner Bruno Mars is up for Album Of The Year and Best R&B Album (24K Magic); Record Of The Year ("24K Magic"); and Song Of The Year, Best R&B Performance, and Best R&B Song ("That's What I Like").
Also taking the stage for the first time, SZA has five nominations this year: Best New Artist, Best R&B Performance ("The Weekend"), Best R&B Song ("Supermodel"), Best Urban Contemporary Album (Ctrl), and Best Rap/Sung Performance ("Love Galore").
The 60th Annual GRAMMY Awards are produced by AEG Ehrlich Ventures for the Recording Academy. Ken Ehrlich is executive producer, Louis J. Horvitz is director, Ben Winston is a producer, Chantel Sausedo is the Talent Producer, and David Wild and Ehrlich are the writers.
ROY AYERS UBIQUITY THROWS OUT A LIFELINEAGAIN JAZZ-FUNK CLASSIC TO BE REISSUED ON VINYL ON AUGUST 18 IN HONOR OF ALBUM'S 40TH ANNIVERSARY
 Lifeline, Roy Ayers Ubiquity's inimitable, influential 1977 fusion of jazz, pop, funk, and disco, will be reissued on vinyl on August 18 via Polydor/UMe in honor of the album's 40thanniversary. The LP, pressed on standard weight black vinyl, is available for pre-order now: https://UMe.lnk.to/Lifeline40
Originally released on Polydor, Lifeline was among the most popular of the prolific vibraphonist-keyboardist-composer-vocalist Ayers' 20 albums for the label; the record is best known for containing one of the jazz-funk pioneer's most popular tracks and biggest singles, "Running Away,"which peaked at No. 19 on the R&B chart and became a massive club hit with its irresistible disco-funk groove. Other compelling tracks on the set include the compulsively rhythmic "Cincinnati Growl," the euphoric, horn-laded "Sanctified Feeling," the lush ballad "Gotta Find a Lover," and the jubilant acid jazz closer "Together."
The LP found the well-travelled performer forging deeper into contemporary soul terrain; heavily influenced by the work of Marvin Gaye, he was abetted vocally by such gifted collaborators as label mate Edwin Birdsong (who co-produced the collection with Ayers and bassist William Allen) and Grammy-winning jazz singer Dee Dee Bridgewater. 
After establishing himself as a full-time bandleader in 1971, Ayers fabricated upbeat dance grooves and silky balladry that became beloved by crate-digging DJs and had a pronounced impact on hip-hop and rap. As he noted accurately in a 2004 interview with Wax Poetics magazine, "Well, I have more sampled hits than anybody. I might not have more samples than James Brown, but I've had more sampled hits. Oh man, and there's a few I don't know about."
The languid groove of Ayers' 1976 track "Everybody Loves the Sunshine" has been sampled more than 100 times, by such R&B and rap heavies as Mary J. Blige, N.W.A., Dr. Dre, 2Pac, Mos Def, and Ice Cube."Running Away" propelled A Tribe Called Quest's 1989 opus "Description of a Fool." Kendrick Lamar has name checked Ayers among his favorites. The vibist has collaborated in the studio with many rap notables, lending his distinctive talents to such albums as Guru's Jazzmatazz Vol. 1 and Tyler, the Creator's Cherry Bomb. Pharrell Williams cites Ayers as one of his musical heroes.
Ayers already had a decade of jazz experience behind him by the time he ascended to stardom in his own right. After debuting on record with hard bop tenor saxophonist Curtis Amy's group in 1962, he settled in for a five-year run with jazz flutist Herbie Mann's soulful band of the late '60s; he moved on to work with David "Fathead" Newman, the tenor mainstay of Ray Charles' great '60s orchestra. His own work made him a ubiquitous presence in black music.
At the age of 76, Ayers remains a vital force in music and continues to tour widely; this past weekend he performed at Summerstage in New York's Central Park alongside Fela Kuti's son, Seun Kuti, and Egypt 80 as part of a tribute to Fela, one of his many collaborators. Ayers is now headed to Europe where he will bring his universal music to France, Croatia, U.K, Norway and Finland. A coveted act for festivals, he will perform at the Joy Of Jazz Festival in Johannesburg, South Africa in September. In June, he appeared alongside such acts as Tom Petty, the Shins, Alabama Shakes, Charles Bradley, and William Bell at the eclectic Arroyo Seco Festival in Los Angeles.
LIFELINE TRACKLISTING
Side 1
1. This Side Of Sunshine
2. Running Away
3. Gotta Find A Lover
4. I Still Love You
5. Lifeline
Side 2
1. Cincinnati Growl
2. Fruit
3. Sanctified Feeling
4. Stranded In The Jungle
5. Together
Rapper Kid Cudi recently checked himself into rehab. He states he has suffered from depression and suicidal urges for quite some time and he has not been at peace with himself. Repetedly apologizing to fans, as if he owes them an apology for his depression, Cudi, whose real name is Scott Mescudi, stated on his Facebook page "I'm not at peace, I haven't been since you've known me. If I didn't come here, I would've done something to myself. I simply am a damaged human swimming in a pool of emotions every day of my life. There's a ragin' violent storm inside of my heart at all times."
It is greatly unfortunate that we consistently try to measure up to other's standards of who we should be when those same people have their own demons and despair. We must understand a life spent trying to please others is a wasted life. We wish Cudi the best. If anyone in our readership is also thinking about suicide call the National Suicide Prevention Lifeline: 1-(800)-273-8255