It was truly an honor to attend the 11th annual AAFCA Awards (African American Film Critics Association) this week at the Taglyan Complex in Hollywood, CA ...
... especially since witnessing the co-founder Gil Robertson starting the organization from scratch several years ago and seeing how much it has grown to become a well-respected and much-needed organization in the film industry which proudly supports diversity in entertainment.
Luminaries like Jamie Foxx, Sterling K. Brown, Clarence Avant, Jon Platt, Lena Waithe and many others were in attendance. Enjoy the pics.
That Time When Alexander O'Neal Came Down the Chimney with a BUMP and…
My Gift To You – Alexander O'Neal (Tabu – 1988)
by A. Scott Galloway (Special to Radio Facts )

In 1988 when Alexander O'Neal's Christmas album
My Gift To You
arrived floating in Kahlua-spiked cocoa and caramel drizzled marshmallows, `twas a heartfelt surprise that soul fans deeply appreciated - the right album at the right time.  There hadn't been much fresh baked holiday music for soul fans in the `80s.  Folks had become cozily accustomed to their Charles Brown, James Brown, Motown, Ramsey, Mahalia, Eartha, B.B. King, Albert King and Whispers chestnuts.  Sure was nice to have somethin' pipin' hot and buttery to bump as they trimmed their trees, sent ovens into overdrive, shopped `round town…and thanked The Lord.
My Gift To You
was a godsend, covering everything Christmas Believers could ask for: first and foremost, Jesus Christ, followed by year-end family reunions, the egg nog of human kindness, candlelit cuddlin', funky good times, "and Ol' Saint Nickolas, too."  Musically, not only were there four familiar staples but five stellar new songs – FIVE - signed, sealed, delivered from Flyte Tyme Productions - the spankin' new Minneapolis-based Winter Wonderland Workshop of Messieurs James "Jimmy Jam" Harris III and Terry Lewis, among the most respected and versatile songwriting and production duos in all the Soul-Pop land.  They insured that The Funk was seriously slammin' and that The Tidings of Great Joy contained a wintery surround sound vibration that bundled you up in a toasty blanket of love.
My Gift To You
was offered up to thankful fans after Alex's sophomore album,
Hearsay
, had been out for a year and sold millions.  In a mellow mood, Alex went into Minneapolis' MPR Studio with engineer Steve Hodge to record a faithful rendition of jazz man Mel Torme's classic
"The Christmas Song (Chestnuts Roasting On An Open Fire)"
with his own special brand of hauntingly echoed background ad libs.  It turned out so well that Alex pitched Tabu Records Founder and President Mr. Clarence Avant on the idea of custom-crafting an entire Christmas album.  Avant was skeptical but warmed at the thought that the world could surely use a fresh new holiday album from a soulful point of view. Hodge produced two more Christmas classic remakes on Alex:
"This Christmas"
(from the pens of the late, masterful Donny Hathaway and a woman he met only because she came to clean the drapes in his office one day, Ms. Nadine McKinnor) and a brassy, swing out arrangement of
"Winter Wonderland"
worthy of Sammy Davis Jr. (or Tom Jones) – bringin' the Cool to the Yule with the snappy refrain, "you got me walkin'" and full orchestra arranged and conducted by Lee Blaske. Jam & Lewis supervised Denzil Foster & Thomas McElroy (creators of En Vogue) producing a funky flip on
"The Little Drummer Boy."
  Foster & McElroy returned on Alex's
All True Man
to produce the standout "Midnight Run." Then Jam & Lewis came down the chimney with two "coolly" coordinated bounds (likely choreographed by "Jerome") and a bushel of timeless aural booty. "
My Gift to You
is a concept album," Alex has explained, "with messages for those that wish to hear them.  So many people get caught up in all the receiving and giving until they forget what Christmas is really all about – the birth of Christ.  There are a lot of happy people at Christmas but also a lot of sad ones.  We hoped this album would bring a little light to everybody's lives." The title track,
"My Gift To You,"
is at classic status now – a beautiful, loving sentiment that a whole generation has grown up singing among family and friends.  It deserves to be every bit as ubiquitous as Vince Guaraldi & The Peanuts Gang's "Christmas Time is Here." Jam & Lewis' explosive take on
"Sleigh Ride"
can fill a dance floor any time of the year.  "That was more of a groove thing," Alex told this writer in an interview for Urban Network magazine in the year of
My Gift To You
's release.  "I could change a couple of words and use that on my next album!"
"Our First Christmas"
bottled up the intoxicating brew of budding love like a well-aged decanter of Holland-imported Vandermint via the precious way Alex's vocal leads melted into Lisa Keith's luscious backgrounds…like a milk chocolate and macadamia nut rush.  "Lisa made one-of-a-kind contributions to many of my songs," Alex shares.  "She's a great singer whose expertise is enhancing the albums of others.  The way she manages that so musically is magical…"
"Remember Why (It's Christmas)"
is the profound "reason for the season" message of the album and gets a majestically layered vocal arrangement of Alex over Lisa over Minneapolis' sprawling Sounds of Blackness choir.  This song also holds the distinction of being the favorite of Alex's wife, Cynthia.  "It allows me to go to a place inside of myself and think about just how beautiful life is…and why we're here: to be good to one another, help and encourage each other to be all we want to be," she shares.  Listen to how angelically Lisa Keith's vocal pierces your heart and conscience in the album-closing
"Remember Why…(Reprise)."
Alex adds, "If you really wanna know the kind of man I ASPIRE to be, listen at
'Thank You For A Good Year.'
  When I sang that one, Terry told me, 'You can come up for air if you want to!'  I just got anointed. 
This whole album is anointed!
  When God puts his hand on something, it's impossible to stop it." A. Scott Galloway December 15, 2017 (The writer wishes all a Very Merry Christmas and a Happier, Soul-Empowered New Year.)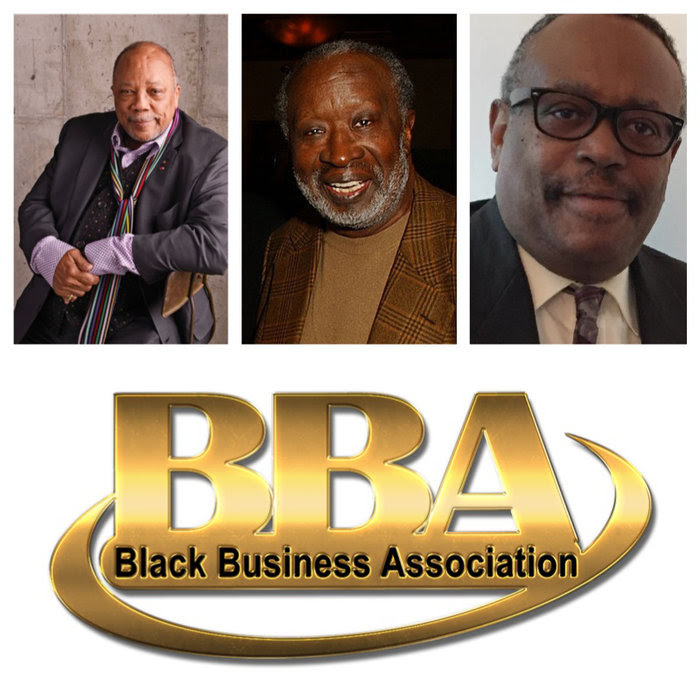 The Black Business Association (BBA), the oldest ethnic business organization in the State of California, will commemorate Black Music Month by recognizing two nationally-renowned African American entertainment icons: music executive and film producer Clarence Avant, and radio pioneer Lee Bailey. The BBA's Awards Dinner will take place at the Millennium Biltmore Hotel in downtown Los Angeles on June 20, 2017. Themed "The Business Behind the Music;" Ms. Ethiopia Habtemariam, President, Motown Records & SVP Urban Music-UMPG, Inc., serves as the Awards Dinner Chairperson, and the illustrious Mr. Quincy Jones serving as Honorary Awards Dinner Chairman, for his close and longtime friend, Clarence.

"Clarence Avant and Lee Bailey are two highly influential executives in the music and entertainment industries," said BBA President and CEO Earl "Skip" Cooper II. "They each are single-handedly responsible for opening doors and making the way for today's black music genres. It is the BBA's honor to acknowledge and highlight their contributions to disseminating African American culture around the world."

Clarence Avant is known as the "Godfather of Black Music" for his deal-making acumen and business savvy. In addition to managing artists like Blues legend Little Willie John, jazz producer Creed Taylor and composer Lalo Schifrin, he launched two record companies, Sussex and Tabu, which cultivated the careers of Bill Withers, Dennis Coffey, and the S.O.S. Band. As a businessman, Avant worked with Al Bell to finalize a deal to sell Stax Records to Gulf & Western Industries for $4.3 million, a record-setting amount in the late 1960s.

Over the span of six decades, Avant has diligently and steadily built a storied career, including promoting Michael Jackson's first solo tour and serving as chairman of Motown Records. Along the way, he has mentored such music producers as Jimmy Jam & Terry Lewis, and LaFace Records' L.A. Reid and Kenneth "Babyface" Edmonds. Avant has been honored with numerous awards including a star on the Hollywood Walk of Fame in 2016.

Legendary broadcaster Lee Bailey launched Bailey Broadcasting Services out of his garage in 1979. This was the humble beginning of the iconic on-air magazine, RadioScope, which lasted for two decades. The show was a forerunner in syndicated urban radio programming, setting the stage for an entire genre of syndicated radio programming. An early adopter of technology, Bailey launched Electronic Urban Report, EURweb.com, in 1996. Since its inception, EURweb has become one of the premier urban entertainment and headline news sites on the web, with more than two million unique visitors per week.

During the course of his career, Bailey has interviewed music industry superstars ranging from Michael Jackson to Chaka Khan to Don Cornelius. Billboard magazine honored him as the "Best Syndicated Urban Radio Program" and he received the "Men of Courage" award from The Carnation Company.

On several occasions since 1980, the BBA has paid tribute to music industry legends. Among the past honorees are Berry Gordy Jr., Smokey Robinson, Jheryl Busby and Janet Jackson to name a few.

For more information on BBA's Salute to Black Music Awards Dinner in recognition of Black Music Month, visit www.BBALA.org