Rhondo "Scutchie" Robinson, was the son of industry pioneer and entrepreneur Sylvia Robinson.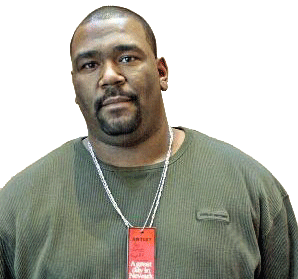 Originally posted Feb 27, 2014 – Rhondo died Tuesday morning at Englewood Hospital and Medical Center. He was 43. Rhondo avoided a prison sentence last year for tax evasion on royalties from recordings by the Sugar Hill Gang who he and his brothers were in a constant battle with over the rights to the name and credit to the original group members.
A film "I Want My Name Back" (may still be showing on Netflix) described how The Sugar Hill Gang felt they had been ripped off by the entire Robinson family after Sylvia allegedly put her own name along with relatives on songs by The Sugar Hill Gang, including her son's names, (who were toddlers at the time) entitling them to lifelong royalties for songs they did not write according to members of the Sugar Hill Gang.
The cause of death was multiple organ dysfunction syndrome, according to family spokesman Greg Walker and thus far the family has not announced any funeral arrangements. As vice president of Sugar Hill Music, Rhondo handled the royalties and music publishing side for the label. Mr. Robinson also ran his own publishing company entitled Rich Kid Music. "It's just shocking to the family. … We're devastated," his brother said.
Sylvia Robinson, the founder of Sugar Hill Records had a stellar career and she was a brilliant industry entrepreneur. She had smash hit records each breaking new ground for black singers in 3 straight arenas.
"Love is Strange" was released in 1957 and was a smash pop hit, "Pillow Talk" was one of the biggest smash records in the early 70s on Robinson's own independent label and in the late 70s she released the first hip-hop music record to the mainstream with The Sugar Hill Gang's worldwide smash Rapper's Delight, which ripped the bass line from Chic's Good Times, While the bass line sounded exactly like Chic's version, Robinson swore studio musicians recorded their own version on Rapper's Delight.
That single followed with many others on Robinson's independent Sugar Hill Records brand. She passed in 2011 at the age of 75