Originally posted on 2013-12-24 01:03:16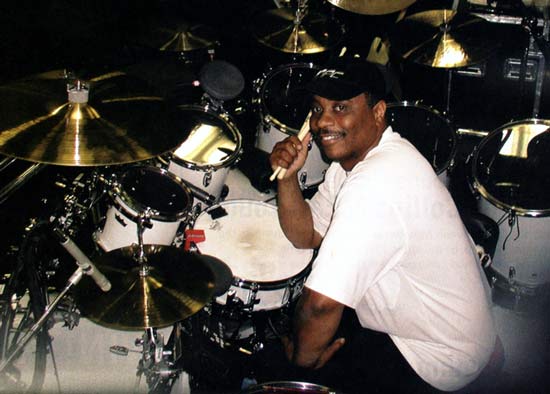 Radio Facts is sad to report that legendary industry drummer
RICKY
LAWSON, who suffered an aneurysm last week, was taken off life support by his family today. Lawson started playing drums at the age of 16. He would borrow his Uncle's drum set, and would carry it to his house all the way across town via the Detroit Buses that ran in the town. In high school Lawson played in his high school jazz band, which consisted of only 5 members (including the director). Ricky played for The Sons of Soul, who performed at the 1969 Michigan State Fair, opening for
The Jackson Five
along with The Blazer, a band from Cooley High School in Detroit that included La Palabra.  Also in high school, he played such sports as water polo and swimming. His swimming talent eventually earned him a scholarship to college. Though he only spent one year at college and was asked to play drums for Stevie Wonder. Then in the 80's and 90's he played drums for Michael Jackson and Whitney Houston. He played on Whitney's famous hit, "I Will Always Love You". Ricky has a one note "solo" in the song, where he kicks the bass drum before Whitney's dramatic vocal finale. He says that this is his favorite solo of his career. Lawson has collaborated with many artists including Michael Jackson, Eric Clapton, Steely Dan, Phil Collins,
Babyface
,
The Yellowjackets
, Whitney Houston, Quincy Jones, Stevie Wonder, Bette Midler, Russell Ferrante, Toto, Al Jarreau, George Benson, Lionel Richie, George Duke, among others. Lawson, one of the founding members of
The Yellowjackets
, received a Grammy Award for co-writing their hit song "And You Know That". He also co-authored the Pointer Sisters' hit "Uh-Uh" and co-produced the album
Seriously Slammin'
and the Fattburger hit "Good News". Lawson appears on Steely Dan's
Two Against Nature
tour DVD,
Two Against Nature: Steely Dan's Plush TV Jazz-Rock Party
. He suffered a
brain aneurysm
while performing at night club on December 13, 2013 he was on life support for several days and taken off by his family on December 23.  He died peacefully in a Long Beach, Ca Hospital. 
Originally posted on 2013-12-24 01:03:16