Radio Facts: Radio Facts: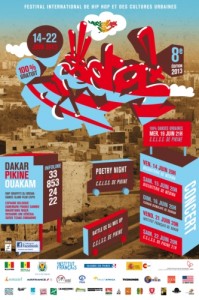 Raw Material, the music and media charity based in Brixton, will return to Senegal's Festa2h international hip hop music festival from 14th-22nd June to represent the UK.
Following the success of their visit to Festa2h 2012, where their artists brought a welcome slice of London culture to the event, Raw Material will be sending an eclectic mix of talent to engage the 20,000-strong audience and collaborate with local acts. The line-up this year includes fast-rising duo Nanci and Phoebe Irondread, DJ Snuff and Potent Whisper.
Tour manager Marc Brown, himself an expert producer, is looking forward to working with the Senegalese artists in the recording studio and on stage. "I'm pleased to be part of this tour, linking the UK to Africa, representing the uniting power of words and music and presenting south London's own rap and spoken word artists at a unique international festival," he said.