'People All Over the World' To Salute 'The Sound of Philadelphia' And Its Pioneering Architects, Kenneth Gamble & Leon Huff
Philadelphia International Records, the legendary record label which introduced "The Sound of Philadelphia" to "people all over the world" through an enormous catalogue of songs by pioneering songwriter-producers KENNETH GAMBLE AND LEON HUFF, is proud to announce the official launch of its 40th-anniversary celebration with a growing number of special events across the nation, beginning this week in Los Angeles.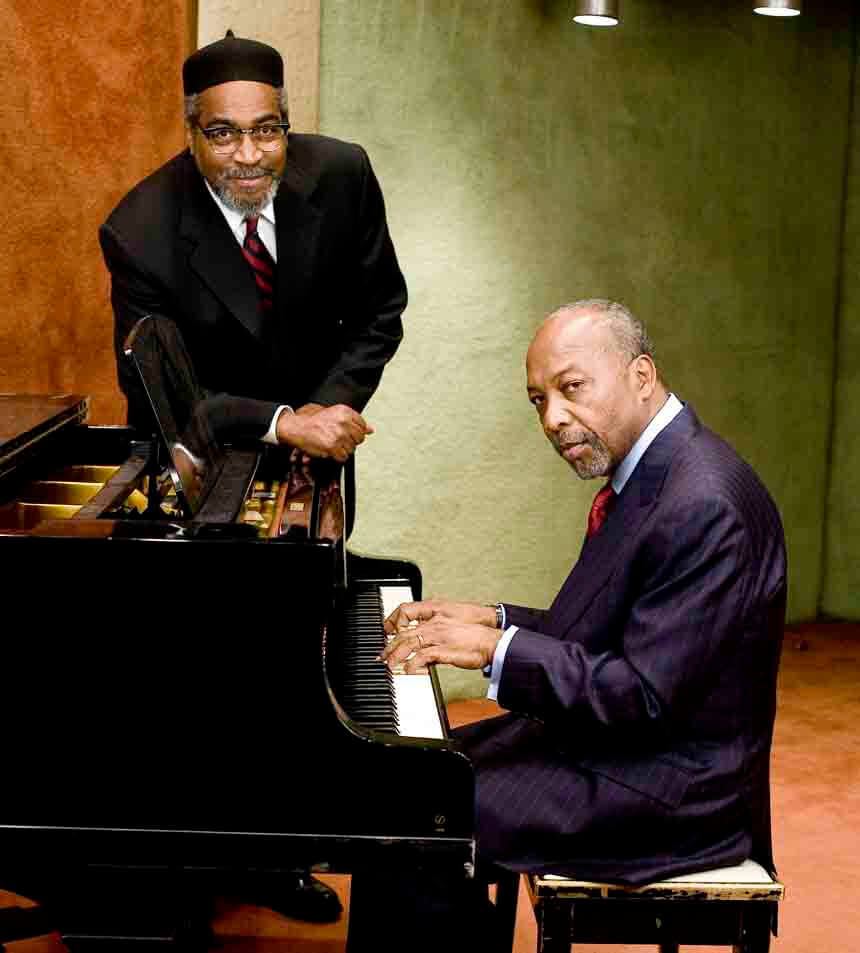 The yearlong celebration will extend into 2012 as Gamble & Huff, one of popular music's most prolific professional songwriting teams, mark the 50th anniversary of their historic partnership.
Songs Gamble & Huff have written and produced together include the hits "Back Stabbers," "Love Train," "For The Love Of Money," "If You Don't Know Me By Now," "Cowboys to Girls," "Don't Leave Me This Way," "Enjoy Yourself," "I'm Gonna Make You Love Me," "Only the Strong Survive," "Expressway to Your Heart," "Me & Mrs. Jones," and "TSOP" (better known as the "Soul Train" theme). Their songs comprise the most sampled R&B catalogue in the world, by artists such as Jay-Z, Usher, Cam'ron, Ja Rule, Jaheim, and Avant. Gamble & Huff have recorded and collaborated with a galaxy of stars from the pop, rock, soul and jazz universes, including Michael Jackson and the Jacksons, Elton John, Lou Rawls, Teddy Pendergrass, Patti LaBelle, Harold Melvin and the Blue Notes, Aretha Franklin, Billy Paul, the Spinners, the Stylistics, the Delfonics, Dusty Springfield, Jerry Butler, Wilson Pickett, Labelle, Archie Bell & the Drells, the Soul Survivors, Laura Nyro, the Trammps, McFadden & Whitehead, Phyllis Hyman and Grover Washington Jr.
The 40th anniversary celebration of Philadelphia International Records (PIR), one of the most successful African-American-owned record labels of all time, will include special award ceremonies, honors and gala festivities for Gamble & Huff on both coasts, from the National Association of Recording Merchandisers (NARM) to the Chamber Orchestra of Philadelphia. NARM, the music business association, will kick things off by honoring Gamble & Huff with the 2011 Outstanding Achievement Award for Musical Collaboration. The presentation will take place during the Awards Dinner Finale at NARM's 53rd Annual Convention on Thursday evening, May 12 at the Los Angeles Hyatt Regency Century Plaza. Gamble & Huff will share special honors with Nicki Minaj, Brian Wilson, Annie Lennox, and American Idol, which saluted Gamble & Huff during the 2005 season. Performers that night will include David Cook, Tyrese and Matt Nathanson.
The Chamber Orchestra of Philadelphia,a founding resident company of the Kimmel Center for the Performing Arts, will host its annual Lifetime Achievement Award Gala in honor of Gamble & Huff on Saturday evening, May 21, at the Westin Philadelphia. The black-tie event will include live performances by legendary PIR Grammy winner Billy Paul ("Me and Mrs. Jones"), backed by the TSOP Band. And, in a special presentation for Mr. Gamble and Mr. Huff, Chamber Orchestra Music Director Dirk Brossé will direct members of the Orchestra in classical orchestrations of Gamble & Huff songs. This worldwide, first-ever gala event will serve as a prelude to a soon-to-be-released album of classical interpretations Gamble & Huff hits to be performed by the Chamber Orchestra of Philadelphia.
The groundbreaking, influential and altogether unforgettable music created by the Rock and Roll Hall of Fame icons will be coming to life on numerous occasions performed by both the label's classic artists, as well as younger artists who've been influenced and inspired to pay tribute to the Philly Sound.
Nowhere will the music be seen and heard before more people at once than on Independence Day, when Philadelphia's annual Wawa Welcome America! caps its 11-day citywide festival with a musical boom. A live TV audience will watch as hundreds of thousands of people pack the Benjamin Franklin Parkway for Philly's Fourth of July Jam, the free concert which this year will be highlighted by a very special tribute to PIR's 40th anniversary, and also featuring The Roots; Earth, Wind and Fire; Michael McDonald; and many others – with a massive fireworks display.
Also boarding the "Love Train" for the 40th anniversary of PIR will be the Philadelphia Phillies, the newly re-opened Dell Music Center (formerly the Robin Hood Dell East) and many more events to be announced as this milestone year continues to unfold. The Phillies will devote its annual Sound of Philadelphia Night to PIR's 40th anniversary, with special guests Jerry Butler, Chubby Checker and Dee Dee Sharp. The Dell Music Center will be honoring Gamble & Huff in July with special performances by PIR recording artists.
A major step toward cementing the legacy of Philadelphia International Records at the highest of levels occurred in March, when Gamble & Huff signed with William Morris Endeavor (WME) in all areas, including film, television, theater, books, and lecture appearances. It was the first time they have enjoyed agency representation of this magnitude, despite having written and produced over 3,500 songs within 50 years, and amassing a catalogue that includes numerous pop #1 hits, R&B #1 hits, 100 gold and platinum records, Grammy winners and BMI songwriters' awards honorees.
A hot independent R&B producing team in the late 1960s, Gamble & Huff co-founded Philadelphia International Records in 1971. Almost from the day PIR first opened, its artists began to dominate the charts. Within two years, Philadelphia International was the second-largest African-American-owned music company in America.
Their songs also have been covered by a myriad of artists including Elvis Presley, the Rolling Stones, Bette Midler, Simply Red, Michael Buble, Johnny Mathis, Lesley Gore, Donny & Marie, Thelma Houston, the Brand New Heavies and recently, Rod Stewart, who sings four Gamble & Huff classics on his 2009 album, Soulbook.
Featured prominently in television programs ("The Apprentice," "Cold Case"), films ("The Nutty Professor") and advertising spots (Verizon, Chevrolet, Coors Light, Old Navy, The Gap, Office Max) for more than 30 years, Gamble & Huff's songs have entered the musical DNA of contemporary culture. In 2005, Gamble & Huff appeared on American Idol in a show devoted entirely to their music. It is estimated that one of their songs is played on the radio somewhere in the world every 13.5 minutes.
Gamble & Huff have been the recipients of numerous accolades for their extensive body of work. They are enshrined in five music Halls of Fame, including the Rock and Roll Hall of Fame, the National Academy of Songwriters' Hall of Fame, the Dance Music Hall of Fame, and the R&B Hall of Fame. They have been honored by National Academy of Recording Arts and Sciences with the Trustees Award as producers and songwriters, and for their contribution to the entire fabric of popular music.
In 2010, Gamble & Huff were presented honorary doctor of music degrees – their first together – at Berklee College of Music's Commencement. A few months later, Gamble & Huff became the first people in Philadelphia history to be so honored on Broad Street with the renaming of a historic section of the city's major artery as Gamble & Huff Walk.
Here is the list to date of events celebrating the 40th Anniversary of Philadelphia International Records. More events are forthcoming:
May 12 – NARM 2011 Outstanding Achievement Award for Musical Collaboration, Awards Dinner Finale at NARM's 53rd Annual Convention, Los Angeles Hyatt Regency Century Plaza
May 21 – Chamber Orchestra of Philadelphia Lifetime Achievement Award Gala, Westin Philadelphia
June 11 – Philadelphia Association of Black Journalists Community Awards honors to Gamble & Huff
June 23 – Nancy Wilson in Concert at the Dell Music Center
June 24 – TSOP Night at the Phillies honors the 40th anniversary of PIR with Jerry Butler, Chubby Checker and Dee Dee Sharp at Citizens Bank Park
July 4 – Wawa Welcome America Fourth of July Jam salutes the 40th anniversary of PIR, Benjamin Franklin Parkway free concert, Philadelphia
July 11 – Dell Music Center honors Gamble & Huff
August 3-7, 2011 – National Association of Black Journalists National Convention salutes Gamble & Huff as honorary chairmen.