Host Cathy Hughes Takes Inventor of Phrase "Whazzup"on Wide-Ranging Tour of Family, Career and the Futur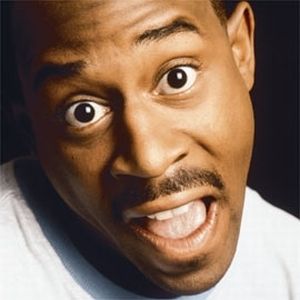 He's been a comedian his entire life, an actor who has starred in 28 feature films and he's now the executive producer of the new sitcom, Love That Girl!, airing Sunday nights on TV One.  He is Martin Lawrence, who sits down for a revealing and personal interview with host Cathy Hughes in an all-new episode of TV ONE ON ONE WITH CATHY HUGHES, to premiere Sunday, Feb. 13 from 7 "" 8 PM ET on TV One.
Lawrence recounts for Hughes that as one of six children growing up outside of Charlotte, North Carolina, he was not the funniest one in his family.  He anoints older brother Robert Lawrence, now retired from the U.S. Army, with that honor, telling Hughes, "He's hilarious.  When you sit down with him, I mean, he'll have you laughin' literally all day long."
With his frequent impersonations, quick retorts and fake falsetto musical bits, Lawrence has host Hughes laughing for much of their conversation, which is punctuated by an extended diagnosis of the origins "" and effects "" of the Lawrence-coined phrase, "Whazzup," or as he says to Hughes' delight: "What u-u-u-u-up!," adding "I never thought my "˜whazzup' would be, like, the 90's "˜dynamite'.
The Lawrence interview with Hughes is pegged not only to his Love That Girl! sitcom, but also to a new sequel of his hit "Big Mommas" films, Big Mommas Like Father, Like Son that opens in theatres nationwide on Friday, February 18, five days after the TV One special which will include a few preview clips from the new film. Lawrence reveals to Hughes that the now-iconic comic character is based on a composite of his mother and grandmother. They, along with other family members, were supportive of his goal to become a comedian, an idea that came to him when he was a teenager.  Their sage advice: "You better be funny!" Lawrence has followed that family admonition well in a career that has spanned the decades, and included starring roles in more than two dozen feature films, many of which have spawned multiple successful sequels, as well as ratings- and attention-grabbing TV sitcoms, such as Martin.  An award-winning writer, Lawrence is perhaps best known for his improvisation, especially on the small screen, where he turns "scripted comedy" on its head. "The most unscripted is the Martin show," says Lawrence.  "You can't write "Dragonfly Jones" bein' thrown into this wall or that wall."
It was his experience on Martin that stretched Lawrence's acting talents, in a good way, setting the stage for his many successes to follow.  Says Lawrence: "I was just trying to figure out a way for the Martin show to work and be successful, and I just thrust myself into these characters, and the next thing I know, I started comin' up with characters I didn't know I could do."
Lawrence also discusses the series of Bad Boys films he did with Will Smith, telling Hughes that he improvised a fair amount in those popular movies and showing that his make-it-up-on-the-fly talents also extends to the silver screen.  "In "˜Bad Boys II,' we had one scene where the young boy comes to take my daughter out, and me and Will ad-libbed that whole scene," Lawrence tells Hughes.  When pressed by Hughes about another Bad Boys sequel, Lawrence adds: "We gotta make a (Bad Boys) III, so I think it's gonna happen."  That's not an official announcement, but it comes awfully close.
The "announcement" that Lawrence does make on the program is in answer to Hughes' question "Who is your favorite comedian?"  "Richard Pryor," Lawrence says unequivocably.  A close number two comedian for Lawrence is another familiar name, as he tells Hughes "after that, in the now, in the living, it's Eddie Murphy."
A very accomplished comedian himself, Lawrence admits to Hughes there is "one area" where he is not successful.  "Mine is singing," says Lawrence, though he does admit that he has always evoked a spirited comedic response to his impersonation of the singer Prince.  Lawrence does cause a similar reaction with Hughes, who brings up "" and laughs at "" Lawrence's fake Prince falsetto again and again in the interview.
The Martin Lawrence episode of TV ONE ON ONE WITH CATHY HUGHES  is produced for TV One by Standing O Productions. Co-executive producers are Paul Skorich of Standing O Productions and Bentley Kyle Evans of Bent Outta Shape Productions.
Launched in January 2004, TV One (www.tvoneonline.com) serves nearly 51 million households, offering a broad range of entertainment, reality and lifestyle-oriented originalprogramming, classic series, movies, and music designed to entertain, inform and inspire a diverse audience of adult African American viewers.  TV One's investors include Radio One [NASDAQ: ROIA and ROIAK; www.radio-one.com, the largest radio company that primarily targets African American and Black listeners;  Comcast Corporation [NASDAQ: CMCSA and CMCSK; www.comcast.com, the leading cable television company in the country; The DirecTV Group; Constellation Ventures; Syndicated Communications; and Opportunity Capital Partners.