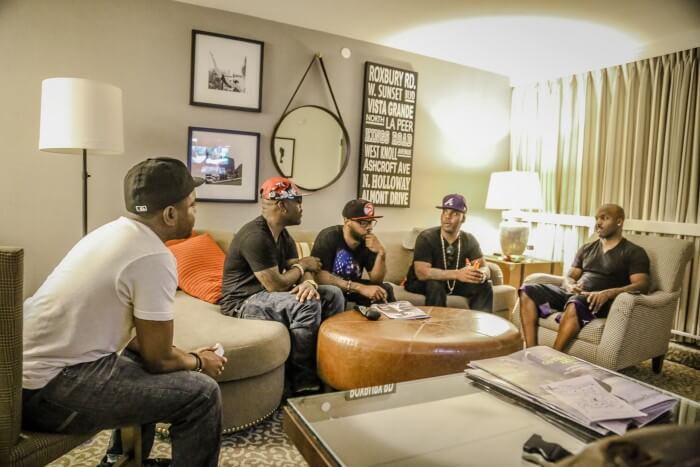 During a time where R&B music has morphed into so many subcategories where the lines are blurred and R&B with a hip hop music edge seems to be more prevalent, at least on the radio, there is still room for strong harmonies, impactful words, themes of passion, love, and ultimately "Hope" that true Rhythm & Blues will live on. That aforementioned "Hope" for R&B can be found in the music of an R&B crew that may look the part of a hip hop music collective yet sound the part of the soul survivors that will last a lifetime and beyond. Individually
Brandon Casey
,
Brian Casey
,
Kyle Norman
, and
Richard Wingo
are extremely talented, driven, and could hold their own on any stage. Collectively they form a Rhythm and Blues crew that has garnered a
multitude
of
top 10
singles, sold over 8 million albums, and is slated to
drop
their 8th studio album, which is already being deemed as a potential classic before it hits the airwaves, streets, and the internet. Although they never really left,
Jagged Edge
is back and they have linked up once again with acclaimed producer, Jermaine Dupri, not just musically, but also on the business end as they have partnered with Dupri to link their Hard Case Records to his SoSo Def brand. With hits like "He Can't Love You,' " Gotta Be," "Let's Get Married," and several others, JE has delivered classic after classic. Their
JE Heartbreak
album was deemed an absolute classic by critics, fans, radio, and sales standards and it continues to get major play in my car, home, and anywhere I listen to music. Knowing there is no way to recreate the magic of their most successful album , 
JE Heartbreak
, the quartet is confident they have grown as artists, men, and business partners and now they are ready to create some new magic in the form of their new label, Hard Case, and their new album
JE Heartbreak Too
, which is slated for release this fall through their aforementioned partnership as well as BMG Primary Wave Artist Services. With their new single "Hope" already heating up radio,
JAGGED EDGE
sat down with us at their suite in West Hollywood, CA to talk about the new album, R&B as a whole, their new partnership, and their place in music history. We talked everything from their sports roots to the roots they have cemented in music but here are the top 5 moments from the interview.
Radio Facts : Let's talk about the album gentlemen. First and foremost, let me say thank you for the original JE Heartbreak album because it did work wonders for me and it was a complete album.  In this new singles driven market where most people just download, stream, or buy hot single does that worry you about trying to create another classic album with JE Heartbreak Too or do  you feel more empowered to create a full album?
Brian Casey: People got tired of buying albums because they were not getting them and that aided in this current singles market.
Kyle Norman: What are you looking for when you buy music?
Radio Facts : I'm personally looking for a full album but I grew up in that era.
Kyle Norman: I think we are bringing "Hope" back to R&B and full albums.
JAGGED EDGE
hasn't changed. Wingo: We are prepared to deliver an album full of singles so no matter what song we release or people hear, it has single potential. We don't feel any pressure at all because we are making great music.
(CLICK NEXT FOR MORE WITH JAGGED EDGE)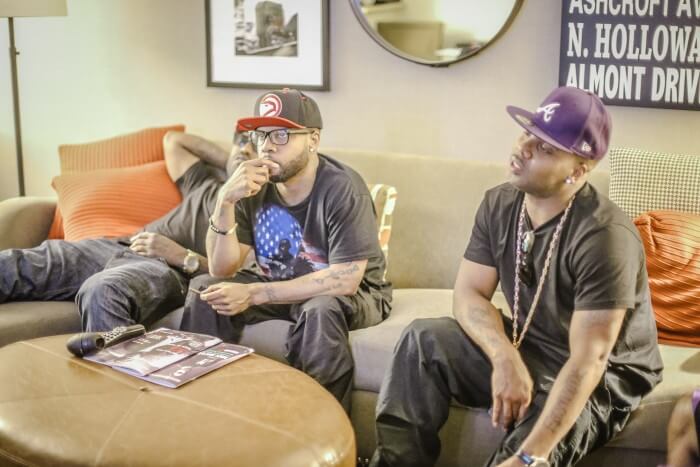 Radio Facts : You all are back in the studio with Jermaine and things are different now because you have more a partnership with him vs. you just being one of his groups.  How has the chemistry been this time around and how have things changed? I know he always gave you guys creative control but what would you say is different?
Brandon Casey: I think it's probably even more intense than the first time. Back in the day Jermaine used to sort of strong face us. He would let us know in subtle ways that he was feeling something but now he goes crazy in the studio in a good way. He is loving it and w