Radio Facts: Radio Facts: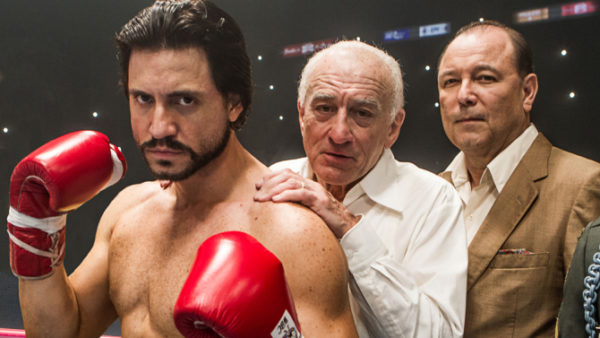 The Weinstein Company released a new film clip from their film "Hands Of Stone," starring Robert De Niro as boxing coach Ray Arcel and Usher Raymond IV and Edgar Ramirez as the legendary boxers Sugar Ray Leonard and Roberto Duran, exclusively through global music and entertainment platform TIDAL. The film is slated to be in theaters nationwide on August 26, 2016.
TIDAL members can view footage from the film featuring an introduction from one of its stars, music superstar, Usher Raymond IV, who plays Sugar Ray Leonard. The exclusive "Hands of Stone" teaser is the latest example of the content available for TIDAL members, solidifying the platform as a go-to destination for exclusive premieres and unique experiences. This video adds to TIDAL's growing list of more than 140,000 high-quality videos.
Commented TWC Co-Chairman, Harvey Weinstein: "We're thrilled to, once again, be collaborating with Jay Z and the incredible team at TIDAL as we continue to push the limits of content distribution. It's a phenomenal platform that provides creators and innovators with a unique setting to display their work and further engage and entertain new audiences."
Hands of Stone follows the life of Roberto Duran (Edgar Ramirez), the Panamanian fighter who made his professional debut in 1968 as a 16 year‐old and retired in 2002 at the age of 50. In June 1980, he defeated Sugar Ray Leonard (Usher Raymond) to capture the WBC welterweight title, but shocked the boxing world by returning to his corner in their November rematch, famously saying the words "no mas" (no more.) Both Duran and Leonard have a karmic effect on each other's journey. They come of age as only the best opponents can in what many experts consider the biggest rivalry in the history of sports.
The film, written and directed by Jonathan Jakubowicz, stars Golden Globe Best Actor Nominee Edgar Ramirez as Roberto "Hands of Stone" Duran, two time Academy Award® winner Robert De Niro as legendary trainer Ray Arcel, and eight time Grammy Award Winner, Usher Raymond IV as the sports icon Sugar Ray Leonard.
This marks the second pairing between TIDAL and The Weinstein Company who previously collaborated to showcase additional content for TWC's 2015 film Southpaw.