New modular Intraplex IP Link innovation will debut in time for the IBC Showcase virtual event, alongside a new low-cost IP Link codec for remote contribution and STL connections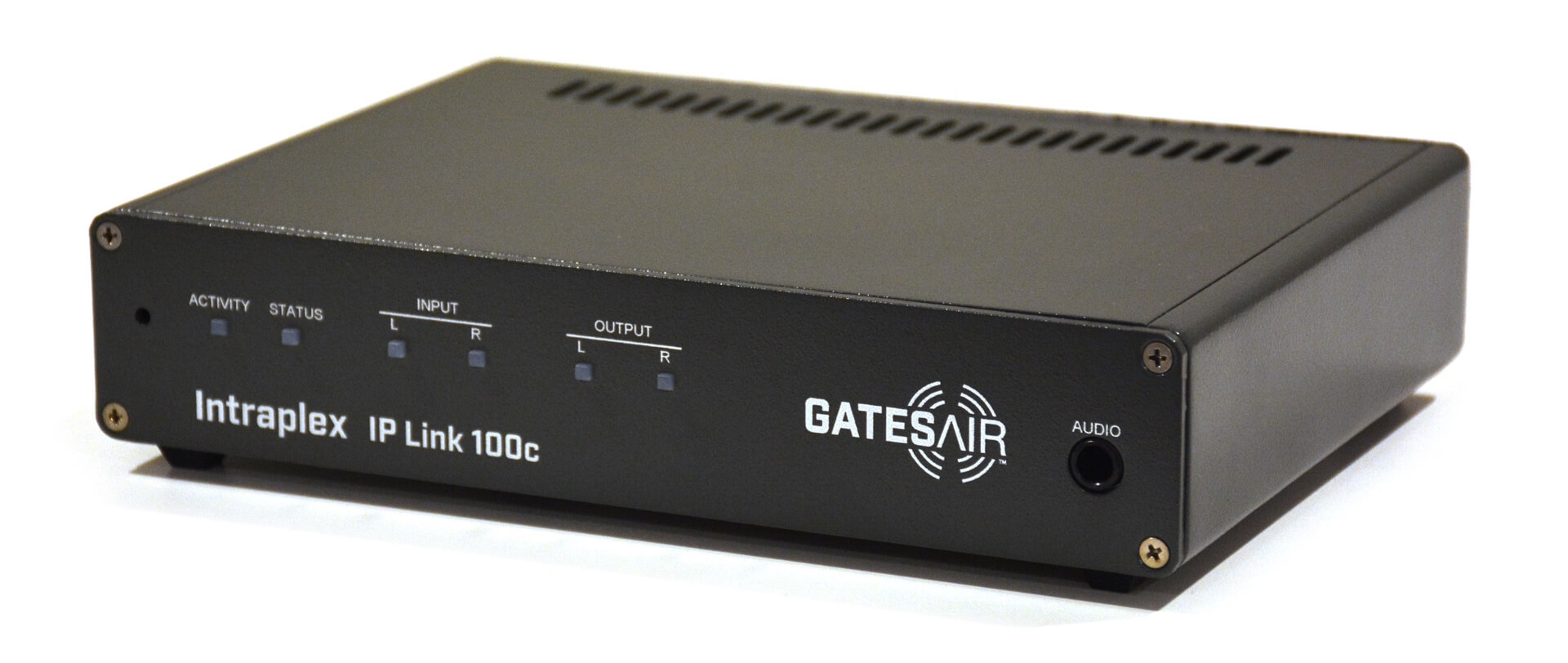 GatesAir, a global leader in wireless, over-the-air content delivery solutions for TV and radio, announces two new Intraplex IP Link Audio over IP innovations that move the brand into new designs and applications. The IP Link 100e is the Intraplex family's first modular plug-in card built for integration within radio transmitters, while the IP Link 100c is a new compact hardware codec built for remote contribution and standard STL IP connections. GatesAir will showcase both products on its microsite at the IBC Showcase virtual event, taking place September 8-11.
The IP Link 100e is purpose-built to receive FM and digital radio content directly within GatesAir Flexiva transmitters. The module is added to Flexiva FAX exciters to reliably receive and feed AES67 and other Audio over IP formats direct to the exciter. The smaller, integrated form factor reduces the cost of using Intraplex Audio over IP transport at the transmitter site since no separate hardware codec is required, and frees a 1RU equipment rack slot for auxiliary equipment.
The module retains all functionality associated with IP Link codecs. In addition to GatesAir's traditional robust connectivity, the IP Link 100e builds GatesAir's industry-first Dynamic Stream Splicing (DSS) software into the module. DSS software sends multiple identical streams over the same network or two separate paths, and each stream borrows data from companion streams to avoid service interruptions from packet loss. The IP Link 100e also supports the SRT (secure reliable transport) protocol and provides failover service to Icecast or locally stored audio for optimal reliability. The module also provides storage for program content and full duplex capability, allowing engineers to monitor signals off-air.
"The Intraplex team is always seeking new and innovative ways to build Audio over IP transport into existing networks and infrastructure, as demonstrated last year with our Ascent solution," said Ted Lantz, Vice President and General Manager, Radio and Intraplex Products, GatesAir. "The IP Link 100e optimizes total cost of ownership by leveraging the same reliable IP Link and placing it on a Flexiva module. The module establishes a foundation to integrate audio processing and additional air chain applications in future generations, which sets us on the path toward a truly all-in-one platform."
The IP Link 100c also adopts a cost-reducing strategy but within a standard hardware codec. GatesAir has halved the form factor to better serve portable applications, providing a half-rack-unit footprint ideal for remote broadcast and studio-to-studio applications. The codec design includes a DC power supply, allowing broadcasters to quickly plug in and stream program audio for sports contribution, live remotes and news coverage, for example.
The IP Link 100c is also suitable for STL service, particularly as an affordable backup for primary STL connections, or for delivery to Icecast streaming servers. As with the IP Link 100e, this codec integrates standard Intraplex features such as Dynamic Stream Splicing software, SRT protocol support, and three separate network ports.